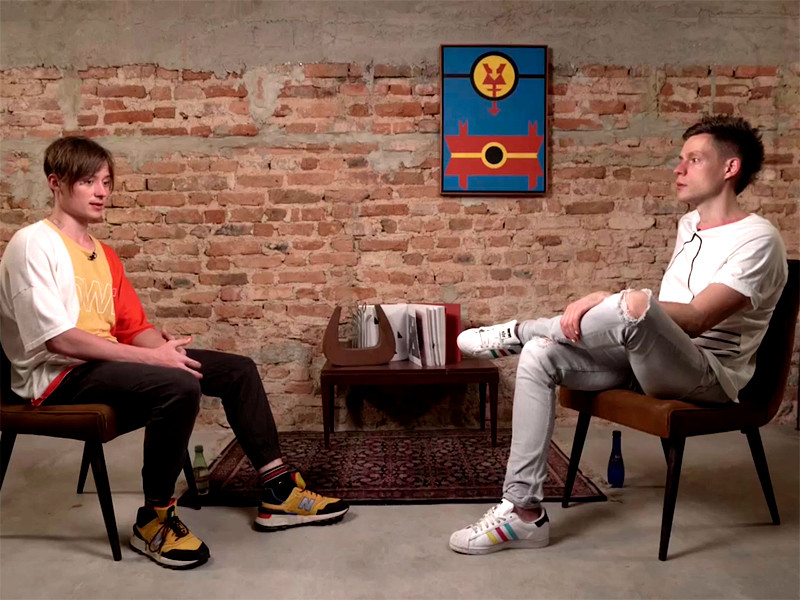 Dud / Telegram
Russian journalist Yuri Dud responded in a telegram channel to the accusations of blogger Ivan Rudsky (Ivangai), who suspected him of deliberately removing an excerpt from an interview with him about the mass famine in Ukraine and Stalin's repressions.
"As a rule, everything uninteresting is thrown out during editing, sometimes what could be interesting, but expressed so incoherently that it is very difficult to understand and just listen," wrote Yuri Dud.
According to him, he assesses such montage as respect for both the viewer and the hero. "You are worried, confused in chronology and in logical connections, you do not fully understand what you want to say – this is normal, especially for a person with minimal (as he says himself) experience of public speaking. And it is just as normal not to take this into the final editing ", – says Yuri Dud.
However, according to him, this time "tactfulness in relation to the hero turned out to be excessive." Therefore, the journalist published a 12-minute fragment in which Ivangai talks about the annexation of Crimea, the Holodomor and the fate of his grandfather, who suffered from Stalin's repressions.
A two-hour interview with Ivan Rudskiy was published on Dudya's YouTube channel on March 18. A month and a half later, on May 2, Ivangai wrote on Twitter that Dud cut out the "main message" from their conversation.
"My great-grandmother is a victim of the Holodomor. My grandfather is a victim of the NKVD repression. And now Ukraine has a war with Russia," he wrote. When one of the readers asked Ivangai to explain the motives of Dud, who cut out this fragment of the interview, the blogger replied with obscene rudeness: "Ssyklo *** (worthless)."
Meanwhile, Yuri Dud claims that immediately after the publication of the interview, he received a message from Ivangai: "Very cool, thank you!"
In a 12-minute video that Dud posted on Telegram, Ivangai, who was born in Ukraine and lived in Moscow for a long time, answers a journalist's question about when he stopped liking the Russian government.
"There is a historical context, all the time there were some graters. My grandmother told me about the Holodomor, all the horrors that took place in the village, then my grandfather, to whom the NKVD troikas came, squeezed grain. that grandfather, when a gun was pointed at him, knocked him out and hid somewhere in the winter for two weeks with people, they couldn't find him. He kind of showed some courage. This part of me, of course, is also, grandfather's stories, of course. Now I still see, too, some kind of war between Ukraine and Russia. Everything is clearly somehow unclean, this war is somehow dishonest, "Ivangai reflected.
He went on to say that Ukraine was in a "dishonest" position because of the war in Donbass. "We are so scampering, talented, but they interfere with us. And who, the older brother, turns out … Or the younger brother, but the big one, who has grown up, fellow. Damn, we could … And the war is terrible, dishonest. This is These are methods of intimidation, they are dishonest, "the blogger added. His words are quoted by RBC.
After his monologue, Yuri Dud doubted that his interlocutor knew what he was talking about. "How right am I (if I assume) that you just recently began to consume something for politics?" – asked the journalist, suggesting that Ivangai "began to watch TV and read something." According to Dud, the interlocutor was influenced by some people, since his speech sounds "confused and mixed."
Ivangai explained that "he began to read Wikipedia and hammer interesting tags into the Google search bar. He also added that this is" a rather chaotic method of learning about the world. "
Recall that at the end of April, the Ministry of Internal Affairs of the Russian Federation had complaints about an interview with Ivangai in Dud's program. The department opened a case for the promotion of prohibited substances. A complaint to the police before this was filed by the Safe Internet League, which is headed by Yekaterina Mizulina, the daughter of Senator Elena Mizulina.
Even earlier, TV presenter Vladimir Soloviev accused Yuri Dud of bias. He called the journalist an "insignificant scum", "degenerate", "liberal" for his film "Beslan. Remember" with criticism of the authorities.
We add that Yuri Dud's accusations of trying to bypass the topic of Stalinist repressions look unfounded. It was he who, in 2019, shot the documentary "Kolyma – the Homeland of Our Fear", dedicated to this terrible page in history.
Article Categories:
Politics