The other day, Ksenia Borodina made it clear that she deleted Kurban Omarov from her life and even at Teona's birthday he will not be.
Taking a short pause, Kurban decided to answer his ex-wife, but he did it in a strange way, contradicting himself.
A post with the following content appeared on his Instagram page:
"When a person is indifferent to me, I will not remember him, scold him or answer questions concerning him. This person simply does not exist. I strive for the horizon while the rest live by me. It has always been like this, only later, when it's too late. Therefore, I live my life and do not bother anyone. And I would like not to touch me ".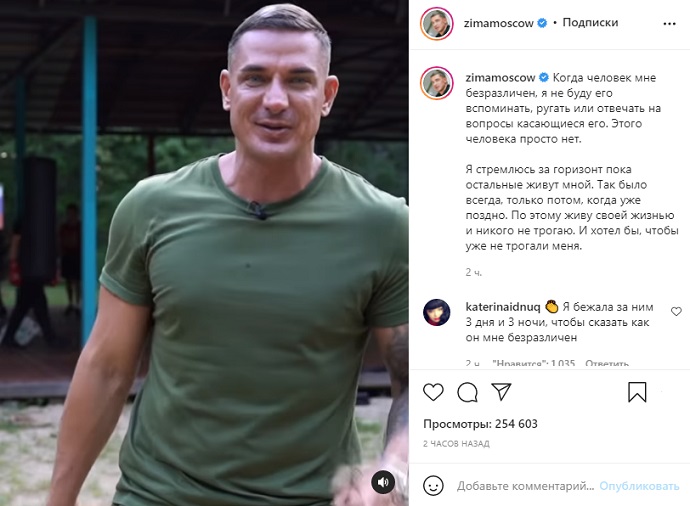 Everything seems to be clear – I do not care about Borodina, I am not going to discuss her, she is indifferent to me, and I go into a distant distance, and she will have enough to live by me and do not need to touch me.
But pay attention to what track Kurban put to his post. It just says about a girl who broke up with her man, but still believes that he needs him.
Is he teasing Borodin like that?
We remind you that we have a large photo archive, which contains photos of Ksenia Borodina, when the host of "Dom-2" was pregnant with her first daughter Marusya …
There is also a photo of Ksenia's first wedding with Yuri Budagov …
Draining intimate photos of Borodina from the bath to the Network …
Erotic photo session in lingerie …
Then Ksenia Borodina hung out with Mikhail Teryokhin, who also appeared in negligee in these photos …
Numerous photos of Ksenia Borodina in a swimsuit already with her husband Kurban Omarov …
Photoshoot of Ksenia Borodina for Playboy in October 2011 …
Even more candid and forgotten photos of 2008 for SIM magazine …
Erotic pictures of naked Ksenia Borodina in the bedroom 2008 …
Photo of Ksenia Borodina in a doggy-style pose for Playboy in 2007 …
The first attempts at intimate photos in December XXL 2005 …
Article Categories:
Show Business