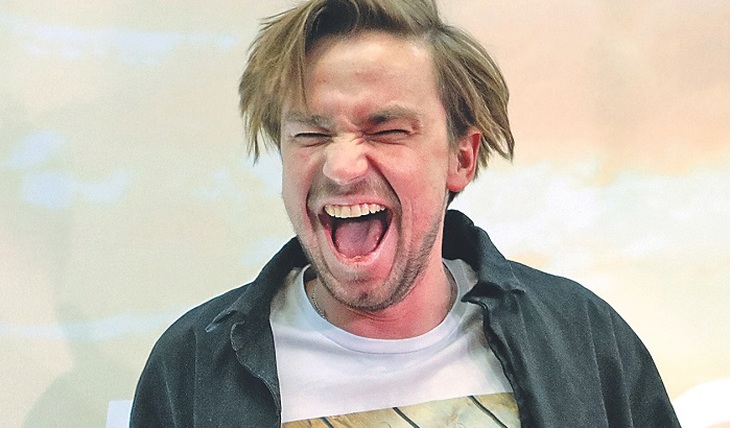 Sasha Petrov showed his luxurious two-level apartment
Apparently, Sasha Petrov did not work hard for nothing. While some of his peers huddle in rented apartments and complain about life, the actor built real Hollywood mansions. It's time to think about successors!
THERE IS EVEN A SAUNA!
Alexander Petrov rarely lets into his personal life. Prefers to talk about the high. But recently, he suddenly discovered the most sacred, and literally – he took a tour of his own apartment. It turned out that the star of "Streltsov", "Gogol" and a dozen other movie hits lives on a royal scale. His fortress is a two-level loft with a terrace.
– Since childhood, I dreamed of the second floor in the apartment. I think it's inspired by American culture, Hollywood movies, – admits the 32-year-old actor.
At one time there was a joke: they say that Sasha Petrov, moving from one film to another, only changes clothes. But now, having earned so much that other actors can only envy, he can have a good last laugh.
"You can't forbid living beautifully" – this is about Petrov. Of course, he is far from Bari Alibasova, who once arranged a real pool in his home and put golden toilets. Or before Svetlana Bondarchuk, whose fur coats "live" in a separate apartment on the Patriarch's Ponds. But Petrov does not seek to measure himself in meters. He made his "modest" property as comfortable as possible for life. Why are there only two toilets on different floors, so that at night you don't have to wind circles once again and burn calories. And the living room was joined not only by the kitchen and bathroom, but even by the sauna! It turns out that the actor is a big fan of relieving tension with a high degree after exhausting filming.
His favorite place is not in front of the TV with a remote control in his hand, like many men. And where you can sit or lie down. There are more than enough options to do both in the apartment. For example, on a grid stretched on the second floor. This is one of the most photogenic places in the apartment.
– Cool thing – can withstand up to 400 kilograms. On it you can safely walk, you can lie down. The feeling that you are in weightlessness, boasts Petrov.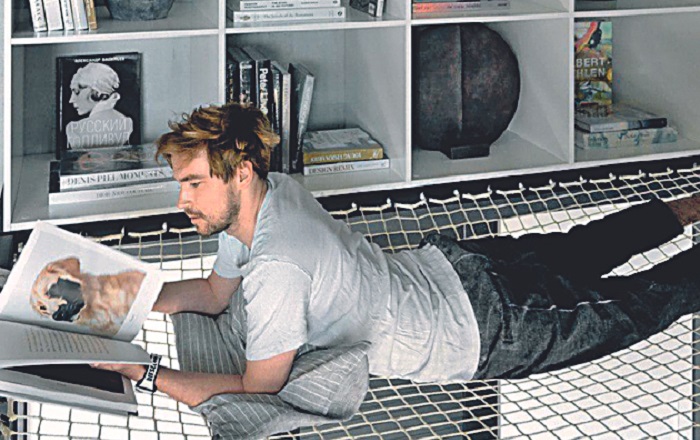 It is strange that with such preparation he was not offered a role in the film "The Challenge", which was filmed in real space.
The main role in the film "Sasha Petrov's Apartment" is assigned to a huge terrace.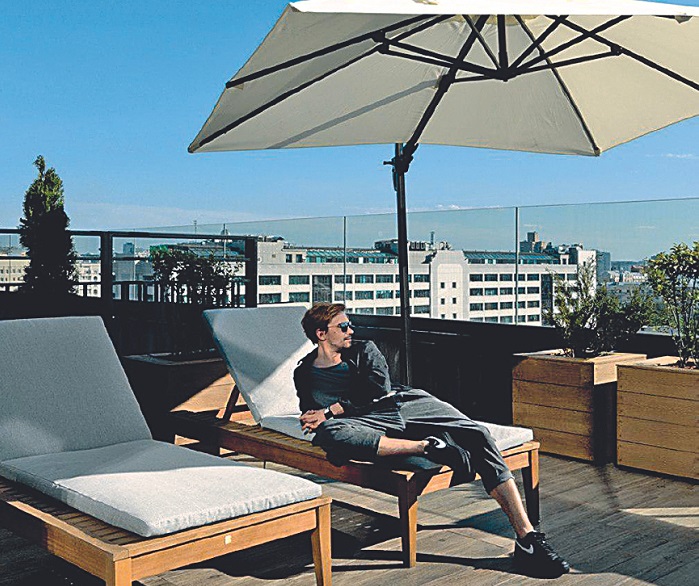 You can spend time on it both in summer and in the cold that is just around the corner. The space is divided into two parts – glazed with heating and open with comfortable sun loungers. What else does a person need to meet old age?
SOFA SCANDAL
In luxurious housing, Petrov lives not alone, but with his beloved – an actress Stasey Miloslavskaya. The stars converged three years ago – on the set of the film, where they played husband and wife. However, a great bright feeling overtook them only a year later in Istanbul. Miloslavskaya went to the Bosphorus to celebrate her birthday, and Petrov congratulated her with an SMS. It turned out that he, too, was resting in the ancient capital. They met and since then they have not parted.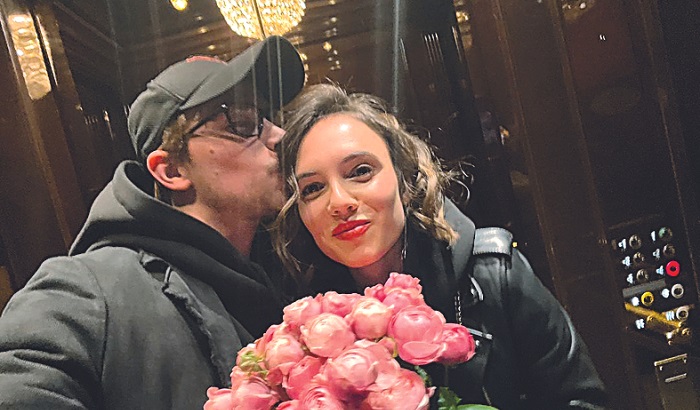 "My man is reliable, caring, educated, with a sense of humor and self-irony," the actress cannot get enough of. – In life, I am strong and independent, and with him I want to feel like a baby.
In the apartment, Stasya has already managed to put things in order. Initially, the invited designer offered Petrov a variant of a typical bachelor's lair with an abundance of "rough textures". But with the advent of the beloved, the power has changed. And now light colors prevail in the loft. But this was not enough for the girl: in the living room on the ground floor, a turquoise sofa stands out as a bright spot against a pastoral background.
"It seems to me that she treats this sofa as if it were alive. If he sees at least a crumb on him, there will be a scandal. Therefore, sometimes I'm even scared to sit on it, – Petrov smiles contentedly.
Stasya got to the walls. One of them is decorated with a portrait of the Joker by a Spanish artist who paints not with a brush, but with his hands. The actor himself has long dreamed of reincarnating as Batman's sworn enemy, so the girl gave him this creation for his birthday. It remains to wait until Petrov and Miloslavskaya enter this apartment as husband and wife. According to rumors, Sasha is ready to race down the aisle even now. But Stasia is not in a hurry. He says that he does not want to force things and just enjoys the relationship.
ROME IS NEXT
A luxurious apartment in Moscow is not the actor's only investment in real estate. Four years ago, he bought a house in the suburbs, where the hand of his beloved is also felt. Soft sofas, a fireplace, candles are placed everywhere, and photographs of covers with a portrait of Sasha were clustered near the stairs. It was in this suburban home that the couple waited out a tough lockdown last year.
"It was an amazing time when you enjoy a person, and he enjoys you," Petrov sentimentalizes.
Now one of the most popular Russian actors is aiming at the Italian capital. Dreams of buying a modest apartment in the center of Rome. The main thing is that the windows offer a view of the Trevi Fountain – one of the most popular attractions, which attracts tourists from all over the world.
Photo: Andrey Nikerichev/Moskva Agency
Article Categories:
Show Business