21:24, 01/29/2021
The producer called the number of the ward of the pop king Natalia Gordienko the main decoration of the competition.
The popular Eurovision Song Contest in 2021 will be held in the Netherlands. Contestants will perform from May 18 to 20. It is not yet known who will represent Russia, but Philip Kirkorov has already announced that he will go to the competition from Moldova and perform with the singer Natalia Gordienko… In his microblog on Instagram, he said that together with the artist, he was preparing a number that would surprise viewers.
Today Yana Rudkovskaya said that she had already seen the production, which is being prepared by the pop king of the Russian stage together with his ward. In his microblog in Instagram the producer suggested that a bright number could enter the top five. "Don't part with your loved ones! Philip is preparing a bomb project with Moldova for Eurovision 2021 This collaboration will undoubtedly become the main decoration of the competition! I already know all the secrets, and you will soon find out! My forecast is Top-5, and in a good scenario and Top-3! Good luck to Philip and his team! It won't be long to wait, I'm in anticipation! ", – wrote the producer (spelling and punctuation of the author are given unchanged. – Prim. Line.).
Yana Rudkovskaya said that the number set by Philip Kirkorov for Eurovision-2021 will enter the top 5
Yana Rudkovskaya took part in Eurovision as the producer of Dima Bilan. The singer represented Russia in the competition in 2007 and 2008. Only withabout the second time Bilan was able to conquer European audiences with a soulful performance of the song Believe. In the overall standings, Dima received 272 points. By the way, the Russian artist impressed the voting viewers not only with a memorable composition, but also with a bright performance.
On the same stage with Dima performed Edwin Marton, who accompanied the Stradivari violin singer, and the Olympic champion Evgeni Plushenko. Moreover, the skater skated on a small ice rink specially created for him. Then Dima Bilan was the first Russian performer in the history of Eurovision to take first place.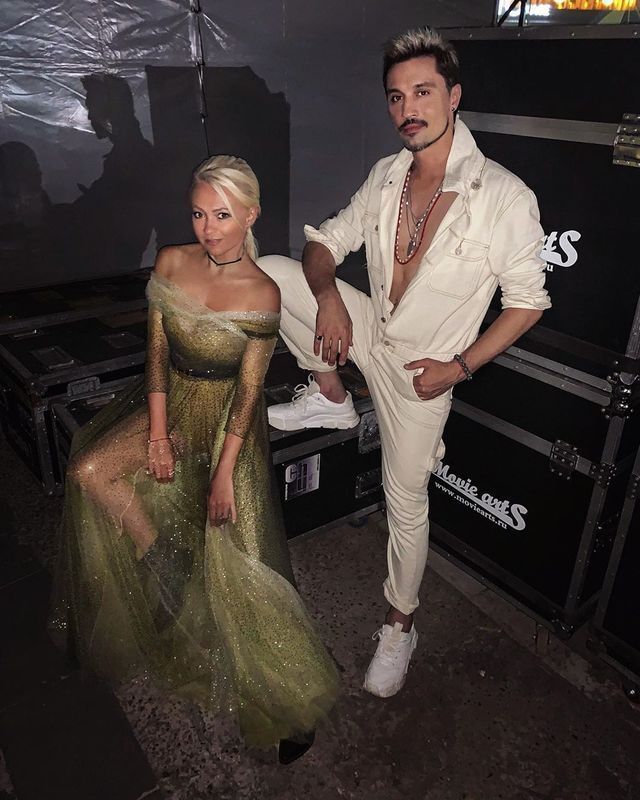 Yana Rudkovskaya and Dima Bilan
Note that Eurovision was supposed to be held in the Netherlands last year, but the organizers canceled it due to the coronavirus pandemic, which began in the spring. Then Russia was supposed to be represented by the Little Big rave group with a song One… The video shot for this composition gained 134 million views in four months.
The Little Big group this year also expressed a desire to take part in a popular competition with the same composition. However, some representatives of the domestic show business opposed this idea. For example, producer Iosif Prigogine suggested sending 22-year-old rapper Morgenstern to the Netherlands this time. The musician himself said that he agreed to enter the Eurovision stage, noting that he would "tear" everyone at this competition.
Morgenstern
Read also:
The 8-year-old son of Yana Rudkovskaya and Evgeni Plushenko will undergo a second examination for Asperger's syndrome
Evgeni Plushenko showed how his 8-year-old son from Yana Rudkovskaya plays hockey with figure skaters
Yana Rudkovskaya named the brand the nickname of her eldest son from Evgeni Plushenko
Article Categories:
Show Business