A lot of public people, in an attempt to draw attention to themselves or to their work, are ready to openly lie or commit unethical acts.
Unfortunately, Russian show business knows many cases of PR divorces, PR novels and even PR miscarriages. So Christina Asmus told a curious story from her life the day before.
She admitted that she is in a difficult relationship with her parents
"We have a difficult relationship with my parents. I don't want details now, but there were many tests that I still deal with," Christina began her post.
And then she said that while recently filming a film, in one of the difficult scenes she had to make a phone call. And then she inserted a SIM card into the fake phone and dialed her mother's number from memory.
"I just called my mother and in a tearful voice right in the frame asked, "What is wrong with me? .. Finished the scene as it should have been. And after the "stop" command, she went to her personal phone, on which during these 2 minutes of shooting there were a lot of missed messages and messages "What happened? And where am I? I called my parents and reassured them that it was a movie. But it was so important to me that my mother would answer me. Not on behalf of the character, but on her own – "What is wrong with me?" … Mom recognized me by my voice, although she has 4 daughters, and I spoke quite quietly. But she didn't say anything. She did not expect and simply said "Christina? Christina! Where are you? Do you hear?" And I had to play on … ", – said Asmus.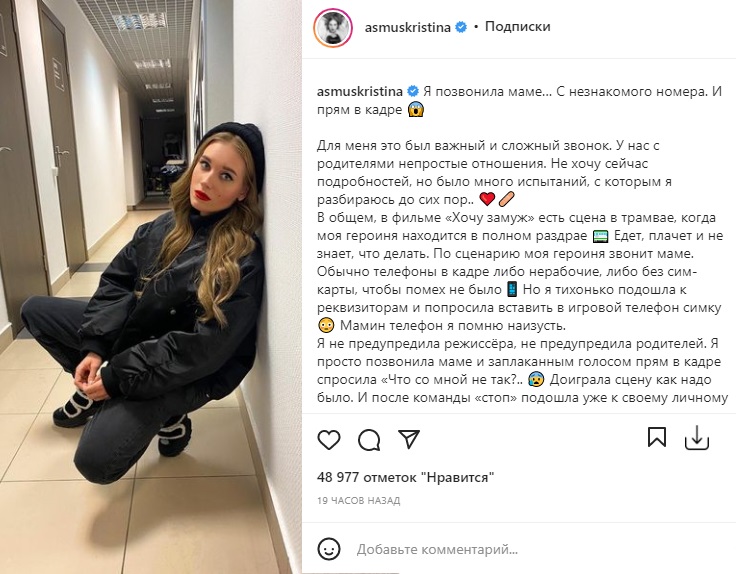 It is clear that this whole story is only aimed at drawing attention to the new film and getting as many people as possible to come to the cinema and look at this very scene. But the real question arises – and if Christina did not invent all this, but did it in reality, then did she think at that moment, and her mother or did she not care about her?
It was this question that Asmus subscribers asked.
enjygram – With you, Christina, it's not like that. Making fun of mom for the sake of a frame is not very smart. And apparently, it's also difficult for your mother with you if she began to translate the topic
al.lalaka – Why it was necessary to scare the real mother for the sake of the film, I did not understand. explain
olgakhramova1970 – Why are you doing this with your mother? ((she must have been really scared for you…
arinajuvenal – And what's normal about that? You made fun of a loved one and he was worried. Stupidly for the sake of the frame, nerves frayed. It was worth it? A strange and not wise act.
It must be assumed that Asmus expected admiration for her acting skills, but showed herself to be an indifferent person and ran into fair criticism.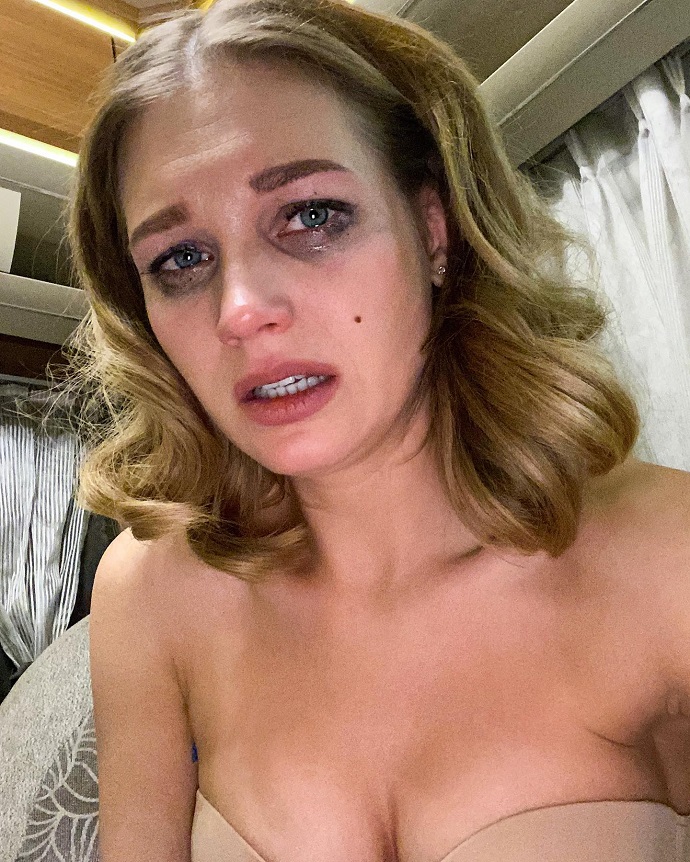 Article Categories:
Show Business