On the last day of 2020, a Resolution was signed establishing the amount of the subsistence minimum at 11,653 rubles.
However, it is different for different groups of the population. For the working-age population it is 12 702 rubles, for children – 11 303 rubles, for pensioners – 10 022 rubles. The official explanation for this difference is that pensioners do not pay 13% of personal income tax and real estate taxes, and due to their age their need for food should be less. But is it fair?

Tamara Perova, pensioner, Chernyakhovsk, Kaliningrad region: – Yes, we really do not pay taxes, and there is even a small subsidy for a "communal apartment", but, believe me, I don't want to eat less! I will say as a nurse with 35 years of experience: the functional characteristics of the body do not change in retirement, only the hormonal background changes. That is why many are pot-bellied at age, and not at all because they eat enough.
I turned 71 on December 23, and I want to eat no less than when I was young. Sometimes I even get up at night. I dive into the refrigerator, I won't find anything there, then I'll warm up the tea and take a bite with a piece of bread – only then I'll fall asleep. They say on TV that you need to eat a variety of foods. What else would they say? I have a pension of 10,600 rubles. plus from the new year added 670 rubles. Kommunalka – 1200, in summer (when there is no subsidy) – 1800 rubles. Judge for yourself how much is left for the notorious "grocery basket". Enough for bread, milk, potatoes, Rollton, bagels. Sometimes I allow myself 200 grams of sausages or "cat" sausages, a piece of butter. A neighbor gave a jar of pickles – that's all the variety. From such a diet, the stomach reduces, earning gastritis or even worse is elementary.
I don't know what guides those who calculate the "grocery basket". They find that a pensioner's subsistence minimum can buy 200 eggs, 54 kg of meat, 16 kg of fish, 45 kg of fruit and a lot of other products per year. I haven't seen a chicken egg since last year. I generally keep quiet about meat. I wore fruits in the fall from the school garden – I was full. Now apples are too expensive. On New Year's Eve I pleased myself: I bought five tangerines at a discount of 89 rubles. per kilo. I live in a permanent state of hunger – at least climb the wall.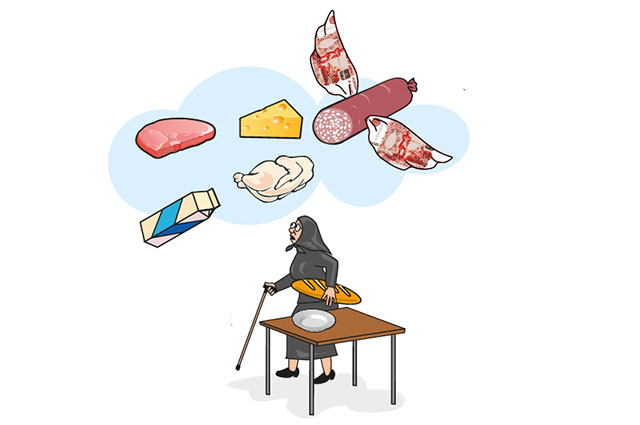 And the cost of medicines ?! Have the legislators forgotten about them? After an operation on the liver, Essentiale needs to drink twice a year, and a pack of 90 tablets – more than 2,000 rubles. You can't lie down with such prices. Everyone who can earn extra money as cleaners, nannies, cloakroom attendants. And they are also deprived of working allowances, the cost of living is cut. Take your eyes off the statistics, see how a real person lives.
The opinion of the author may not coincide with the position of the editorial board
Article Categories:
Economy