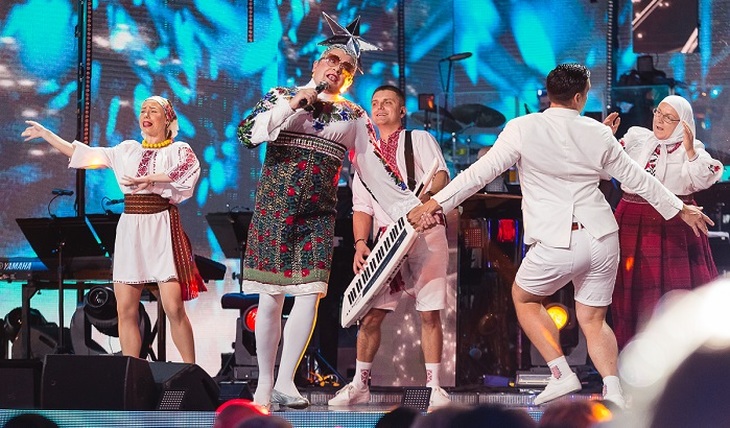 Serduchka and Grigory Leps preferred to work during the New Year holidays. And, of course, expensive. Tickets for their concerts were sold at exorbitant prices. But they were quickly sold out!
Verka Serduchka (aka Andrei Danilko) has not had big concerts for a long time. And then suddenly a performance right on New Year's Eve. In Dubai. In a posh hotel. Those who paid 2-3 thousand euros (165-250 thousand rubles) for the entrance to the event could dance to Serdyuchka. Moreover, the Russian-speaking audience swept away tickets at such prices long before the holiday! It is not known how much the organizers helped out in the end. But Danilko himself, according to some sources, was paid 140 thousand euros (about 12 million rubles) for an hour of performance.
The fee of Grigory Leps, who sang in Courchevel on the holiday, has not been announced. But tickets for his concert were also sold for no less than 2 thousand euros. And then, of course, you can breathe: well, of course, this is Dubai and Courchevel! Elite resorts after all. However, according to the Timepad agency, which is engaged in analytics in the field of cultural events, in our country, in general, over the past 2021, the demand for premium tickets has grown significantly. How can this be explained?
"Such high ticket prices are possible only at VIP venues in large cities such as Moscow or at VIP resorts during the peak season," says the famous concert promoter Sergei Lavrov. – If we talk about Russia, then tickets at such prices are sold out, for example, in Barvikha Luxury Village (this is Moscow Rublevka) or to Rosa Khutor in Sochi. And this is on New Year's holidays. If we talk about world resorts, then these are indeed Dubai and Courchevel. Millionaires and billionaires from all over the world come there. There are many Russian speakers among them. Take Courchevel, for example. There is a gradation even along the tracks: there are slides for ordinary riders, and there are slides for VIPs. And there are generally closed clubs, where mere mortals cannot get, there you need to buy a subscription for an annual service, which costs from 50 thousand euros per year. And such people will willingly buy a ticket for Lepsa for 2 thousand euros. This is such a trifle for them!
The same is in Dubai, where Serduchka performed. This is an expensive restaurant that can accommodate a very limited number of guests. And of course, the concert there is purely exclusive, since it takes place in a very narrow circle of wealthy gentlemen. I had a case when I was doing Valeria's concert in Dubai. There was also a playground for 40 people. Tickets cost about a thousand euros. And one rich client – he is a very famous businessman, but I will not give his name – said that the space near the stage should be cleared of tables, since his daughters would like to dance during the singer's performance. The organizer says: "Sorry, but the hall is small, every table counts, and we cannot remove one." He replies: "It's nothing! How many seats are there at these tables? I will pay for everything, take it away. " And he bought all the seats at the tables near the stage so that they could simply be removed. Such people are willing to spend a lot. They come to the store and buy bags for 10-30 thousand euros. And for them a ticket to Serduchka or Leps for 2 thousand is nonsense!
But if you announce the concert of the same Leps somewhere – I don't want to offend anyone – in Kostroma or about Serdyuchka's tour in Perm, then the maximum ticket price that can be delivered is 5 thousand rubles. Nobody will buy more expensive there! ..
But what else should be noted that even in resorts for the rich to sell tickets at high prices, the artist must also be exclusive. Topov. Leps is now just one of the most expensive artists. He collects large halls in Moscow. And Serduchka is just a rare bird. Andrey was not on the market for a long time, they missed him and are ready to pay decent sums for his concert.
For whom else do we easily sell expensive tickets? To Loboda. She collects stadiums. And if you call her to Barvikha, where the site can accommodate a very limited circle of rich guests, then, accordingly, a ticket to such an event will be very expensive. By our standards.
Lydia Mezina.
Photo: I. Popelnyukhova.
Article Categories:
Show Business