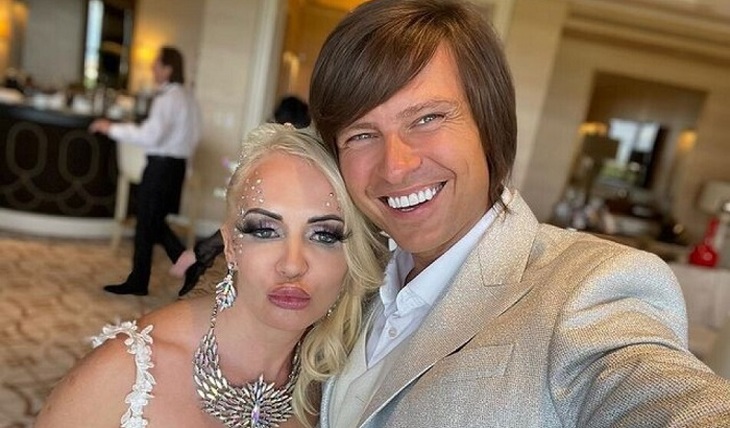 Recently, cases have become more frequent when our celebrities talk about themselves something out of the ordinary … But they do not believe! They denounce, expose. But why should famous and respected people spoil their reputation with all sorts of scandalous notions?
Now everyone has attacked Prokhor Chaliapin. In late July, he married Tatiana Claudia Davis, a Canadian millionaire of Russian origin. Immediately after the wedding, she fell ill with coronavirus, fell into a coma, and soon died. Of course, many sympathize with Prokhor: he has just found his happiness, and here is such a tragedy. But there were also those who considered the whole story to be fiction and dramatization from beginning to end. Moreover, his colleagues undertook to expose the artist. So, the singer from New York Oleg Fish, who was the host at Shalyapin's wedding in Las Vegas, hinted that the wedding was just a beautiful performance: they say, in Las Vegas "you can arrange any tomfoolery, any phantasmagorias, from all this bribes smooth ". And the star of the 90s Natalya Sturm doubted even the death of the newly-made wife of Prokhor, calling it a monstrous fake:
"A blooming middle-aged lady with gorgeous medicine in Canada, a millionaire died suddenly after her wedding. Nobody saw the deceased, they were immediately cremated in a closed coffin … Does it remind anyone of a detective story? Think about it, the person changed his first name, last name, appearance and … is he alive? "
Sturm suggested that the businesswoman had financial problems, maybe huge debts appeared. And she first arranged a magnificent wedding, and then faked her own death so as not to pay the bills. And Prokhora may have used it in the dark.
Aziza also did not believe in the reality of the tragedy:
"I suspect that Tatiana's death is Prokhor's PR move. Lately, some artists have been using all means. Often they cross the line between good and evil. "
True, Aziza's statements caused a flurry of comments on the Internet on the topic: "Well, she really knows a lot about PR!" The eastern diva was recalled how she more than once announced an imminent wedding with another lover, and then canceled everything for far-fetched reasons. This year, at the end of August, Aziza finally got married. But there was a discrepancy with the groom. He was introduced to the public as a restaurateur from Italy, Alessanro Lorte, and turned out to be an aspiring singer Alexander Sokolov from Lipetsk, who in 2019 tried to assert himself with a clip on YouTube, but gained too few views.
However, Aziza correctly noted that recently artists have been using any means. The question arises: why do celebrities need all this? After all, if they come up with something about themselves, then they must understand that sooner or later they will be exposed.
"I'll tell you why and what all this gives," promised us the well-known PR technologist Vadim Gorozhankin, who has since promoted a high-profile story with the "poisoning" of Bari Alibasov. – The fact is that in the Russian show business today a fairly large layer of stars has formed, who were not particularly glamorous, and now they are completely broke. All these, as you know, are not stars of the first magnitude. And in a pandemic, their situation became just awful. There are few performances, no full-fledged concerts, and top performers are rarely invited to corporate parties, what can we say about the rest … How can they make money? What to do? Suggest a loud topic to television! The prices are made up of two components: how resonant the topic turned out to be, and what caliber the star is. If the star is of average rank, but at the same time her topic is quite acute, rating, you can get about a million rubles for one issue of a talk show. If the audience is hooked on the story, they are discussing it, then you can make more than one issue or go on three or four talk shows. And for three or four million we have a lot of stars agree to tell anything about themselves. The main thing is to get paid. If the star level is above average, then the prices are two or three times higher. So consider how much you can earn by lying once. Or, let's say delicately, greatly exaggerating something.
Another point is self-promotion. Any scandal, any resonance is an opportunity to shake off the dust from your popularity, remind you of yourself, make you talk. Finally, the stars just enjoy being in the spotlight. It doesn't matter for whatever reason this attention is riveted on them. They are just made up like that – they need fame. Even if it is bad. There are such artists who declare: "I will never do that! No way! " And then he looks: a colleague went to a talk show, earned money, and they also write about him all the time … But the second colleague did the same, and the third … Why am I sitting there? I'll go and earn some money too! I'll tell you something too. It has truly become a stellar trend that will only intensify in the near future. There are still a lot of scandals awaiting us with performances, with showdowns and with hanging underwear on talk shows.
Lydia Mezina.
Photo: INSTAGRAM
Article Categories:
Show Business