The highest unemployment rate at the end of 2019 was in three subjects of the Russian Federation: the Republic of Tyva, the Republic of North Ossetia - Alania and the Karachay-Cherkess Republic. The five regions with the lowest wages and the highest unemployment rate also include the Chechen and Kabardino-Balkarian Republics. This is evidenced by the labor market index in these regions, calculated by RIA Novosti experts on the basis of key indicators of the socio-economic sector, such as the level of wages, employment, working conditions, as well as the capacity of the labor market.
The higher the index value, the more favorable the situation on the labor market in a particular constituent entity of the Russian Federation. In general, unemployment in Russian regions by the end of 2019 fell to record levels, and the capital region remains the leader in the labor market index. It has a high index (96.4 points), it is characterized by a large labor market capacity, low unemployment, high wages and relatively short job search times. The second place is taken by St. Petersburg (93.0 points), and the third place is taken by the Moscow region (81.3 points). The top five regions with the highest labor market index also include the Khanty-Mansiysk Autonomous Okrug - Yugra and the Republic of Tatarstan.
At the same time, experts emphasize that COVID-19 has dealt a serious blow to the labor market. Under quarantine restrictions, employers were forced to resort to various optimization methods, including through staff reductions, the introduction of a part-time work week, unpaid holidays, etc.
According to Rosstat, since March 2020, when the coronavirus epidemic began in Russia, the number of unemployed has increased by 36%, or by 1.25 million people. In July 2020, the unemployment rate in Russia rose to 6.3% of the labor force, compared to 6.2% in June. And in comparison with July 2019, the number of unemployed in the country increased by 40.6%.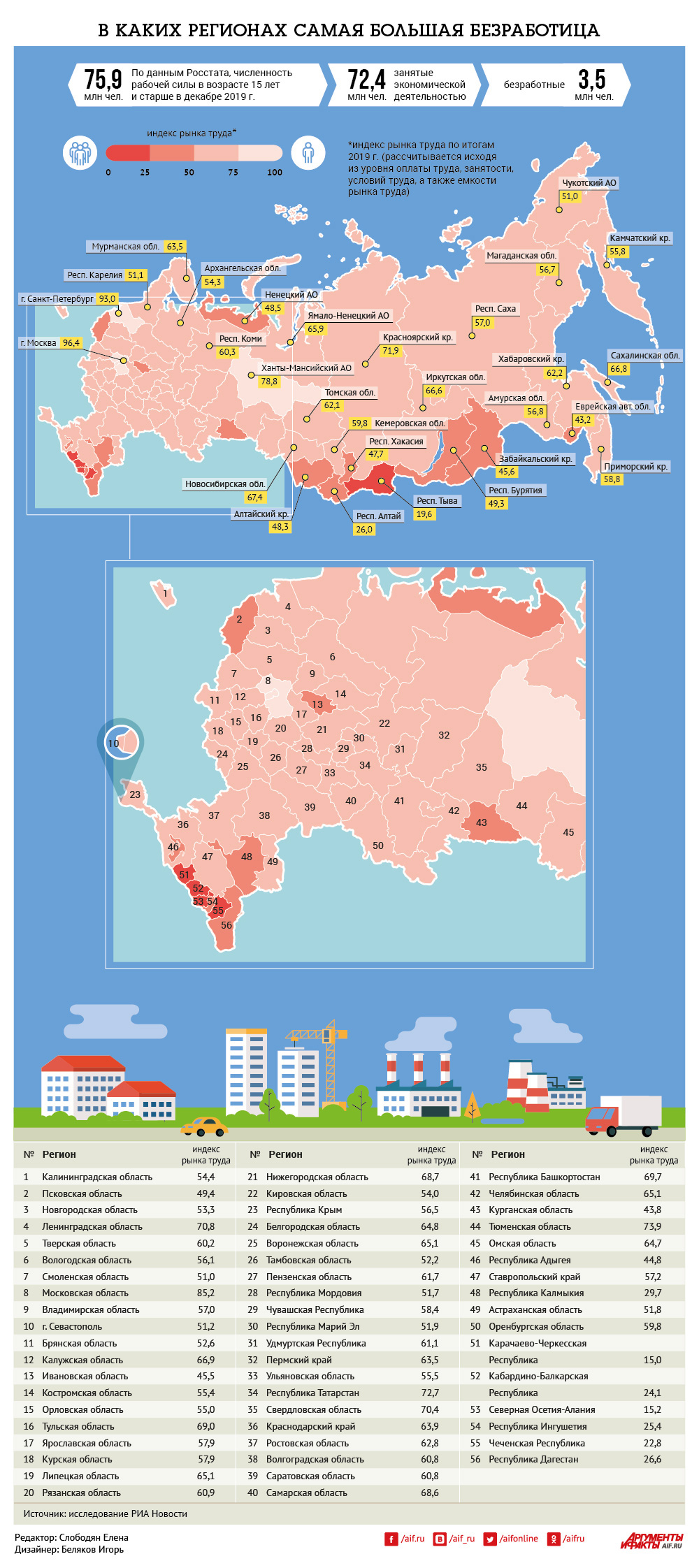 Article Categories:
Politics