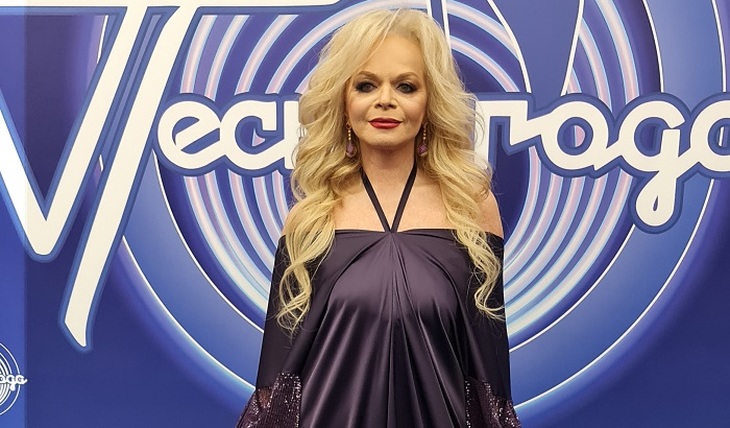 A singer like that Figaro, now has time everywhere!
It used to be that she strictly measured her presence in public space. And now she has become the main character of the secular news. Often scandalous. What's going on?
Here is the Valley talks about personal on the show "The Stars Aligned". But she, on the Doctor Style YouTube channel, reveals the secrets of her miracle diet, thanks to which she managed to lose weight up to size 44. At the same time, rumors are swirling around the Valley that she spent a million dollars on her transformation, made plastic surgery, got a lover …
She refutes something, does not comment on something, keeping intrigue. But further – more! Larisa Aleksandrovna launches a stylist into her house, who scolds her on camera for her tasteless wardrobe, takes scissors and shreds the hem of her outfit right on the artist. The valley smiles. Although everyone expects that she will at least slap the insolent man on the hands and yell at him. Indeed, in a short time, the artist became the queen of scandals.
For example, in the Internet show of Maxim Galkin "Muzykiliti" she gave a loud blast to the 19-year-old tiktokersha Vale Karnaval, whose vocal abilities and views on creativity the star did not like: "Let him sing in the kitchen!", "All this is uninteresting and unpleasant for me! A freak show of some kind … ". And soon on another show "Come on, all together!" The valley entered into a skirmish with a graduate of the "Star Factory" Mikhail Grebenshchikov.
In general, the People's Artist has recently turned around in earnest: she is here and there, and always in the center of some kind of turmoil.
"A very good producer Alexei Novatsky (director of the Comedy Club) began to work on Larisa Dolina," reveals the secret of the star promoter Sergei Lavrov. – Probably, somewhere he helps her to hype. In addition, she hit the crest of the news wave, and it would be a sin not to take advantage of it.
Another question: why does she need all this hype? She is a brilliant artist. But lately, unfortunately, Dolina's concerts have not sold very well. Because the music she presents is not in great demand now. And it's not about Larisa Dolina. She is mega-talented! This is due to the fact that people now require generally incomprehensible music. Two floats, three flops – that's what is in demand. It's not even music, but damn it.
Singers from the Internet such as Vali Carnival, with whom Larisa Alexandrovna entered into an argument, or rappers like Morgenstern, are now in demand. The people want something completely simple, primitive. And the Valley has a different level. And this is the problem. And not only her. For example, Valeria's work is now also not entirely commercial music. And the Valley, which has amassed an impressive array of albums and film soundtracks, which has an indisputable cultural record, whose range of voice and professionalism deserve only admiration, is forced to compete with the newly minted stars who suddenly fell in love with the public.
Larisa Aleksandrovna has a gorgeous repertoire, very beautiful songs. But now she needs some unassuming hits like her "Weather in the House". If you listen carefully to this hit, it is clear that there is straight pop-pop, there is nothing intricate there. But at one time this hit collected full houses.
I don't know how much the hype that is observed around it will help Dolina in promoting concerts. As my friend Joseph Prigogine says, the foam will dissolve, but the name will remain. The name of the Valley will definitely remain forever.
"Seeking everyone's attention is normal for artists," says psychiatrist Alexander Belikov. – They almost all belong to the narcissistic personality type. They are characterized by narcissism, they are pleased when people talk about them, write about them, discuss them. Larisa Alexandrovna remained in the shadows for some time, not because everything was different with her. And because she, perhaps, had complexes because of her figure, appearance. But now she lost weight, became prettier and immediately came to the fore. And the fact that she has time to scandal somewhere also fits into the outline of her psychotype. Creative people are mostly hysterical. They are prone to demonstrative expressions of feelings and emotions.
Lydia Mezina.
Photo by I. Popelnyukhov.
Article Categories:
Show Business