The Russian Direct Investment Fund (RDIF) has applied for the registration of the Russian vaccine against COVID-19 Sputnik V in the European Union. On January 22, the World Health Organization (WHO) launches the Sputnik V pre-filing procedure. The RDIF noted that the process of a gradual examination of the drug will start in February.
The Russian Sputnik V vaccine has already been registered by Belarus, Argentina, Bolivia, Serbia, Algeria, Paraguay and a number of other countries. The use of the Russian vaccine has also been approved in the United Arab Emirates, where experimental vaccination of citizens has been taking place since October.
Hungary was the first EU country to approve the Russian Sputnik V vaccine. Earlier, the EU signed contracts for the supply of vaccines with several foreign companies. Two of them have been certified so far: the American-German vaccine from Pfizer and BioNTech, as well as the drug from the American company Moderna.
In the UK, a mass vaccination against the coronavirus is under way with the AstraZeneca drug, developed in collaboration with the University of Oxford. Also in early December, the country began vaccination with Pfizer – BioNTech.
In the United States, vaccinations began on December 13 with Pfizer – BioNTech and Moderna. It began to be carried out before the end of clinical trials of the vaccine. At the same time, despite the massive vaccination in the country, the number of cases of infection continues to grow. New US President Joseph Biden said he intends to organize 100 new vaccination centers across the country by the end of the first month after his inauguration, with federal support. Biden plans to create conditions for at least 100 million coronavirus vaccinations in the States within 100 days after taking office.
In China, the authorities approved two vaccines from the Chinese companies Sinopharm and Sinovac. Turkey has also approved the use of a coronavirus vaccine from the Chinese manufacturer Sinovac Biotech.
Israel is the leader in the rate of vaccination of the population; more than 20% of the local population have already received the vaccine. Residents are vaccinated with Pfizer vaccines – BioNTech and Moderna. In addition, the country is preparing to release its own vaccine "Brilife".
See in the AiF.ru infographic which vaccines against COVID-19 are used in different countries.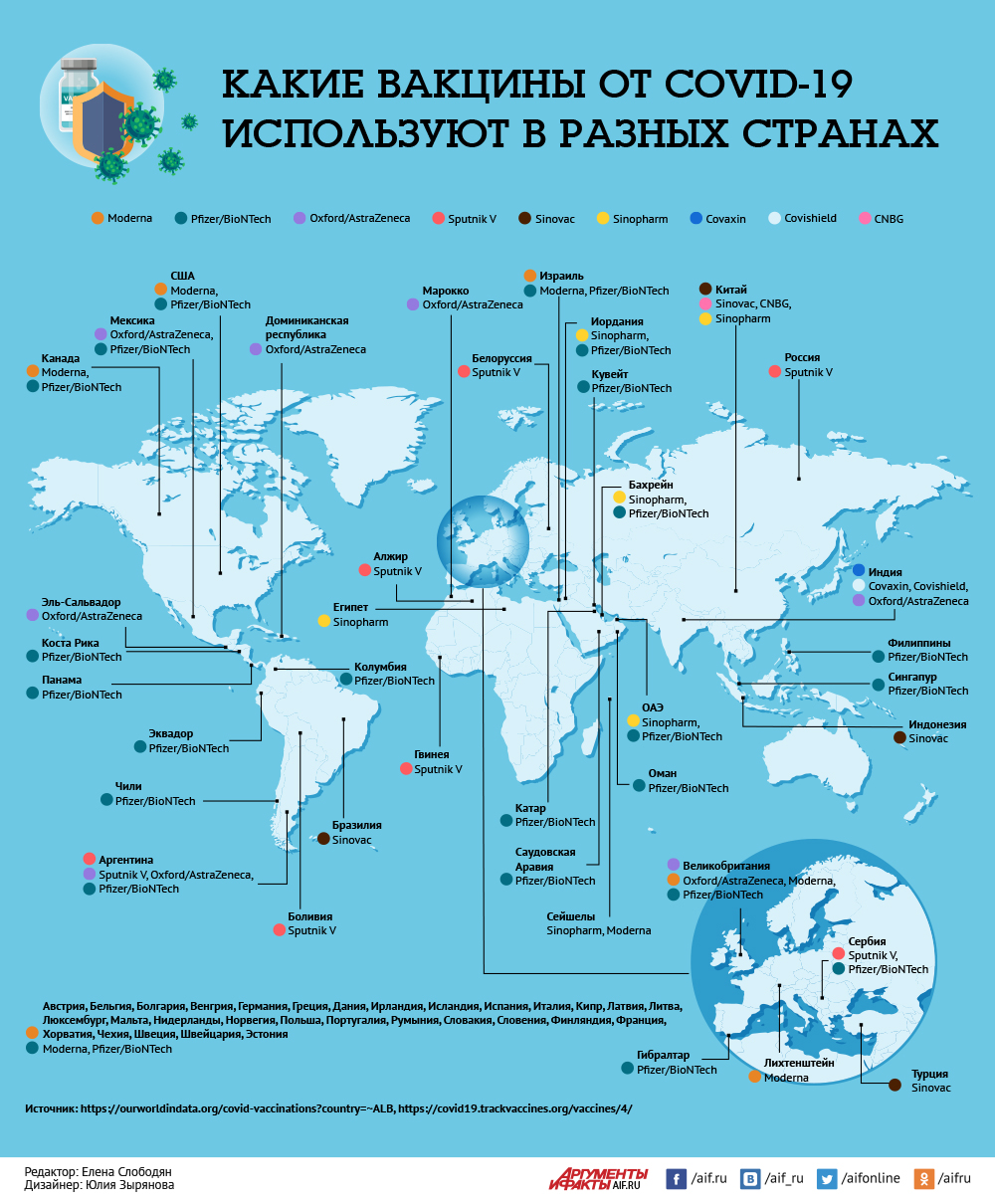 Article Categories:
Health