The Russian supply vessel "Ivan Sidorenko" has left St. Petersburg and is heading to the German port of Mukran to participate in the completion of the Nord Stream 2 gas pipeline. This is evidenced by data from the vessel tracking portal MarineTraffic.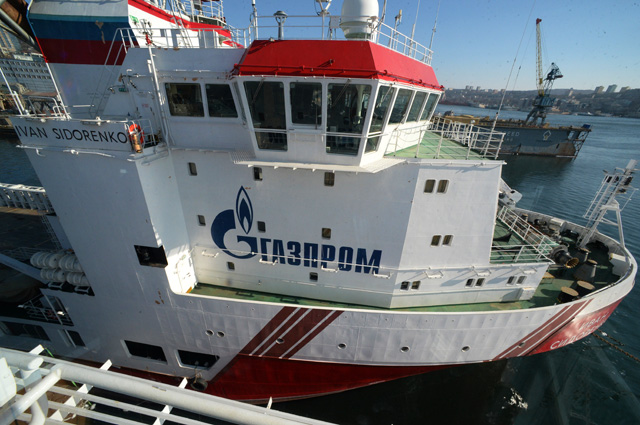 At the moment, the port of Mukran contains pipes for Nord Stream 2, as well as the Akademik Chersky vessel, which can act as a gas pipeline layer.
What is known about the vessel "Ivan Sidorenko"?
The vessel "Ivan Sidorenko" was built at the Amur shipyard according to the project of the Vympel ship design bureau. The ship was erected under an agreement between United Shipbuilding Corporation JSC and Gazprom Flot LLC in the interests of Gazprom PJSC.
Ivan Sidorenko is designed to supply floating drilling rigs with consumables, including pipes, cement, drilling and brine solutions, as well as spare parts, fuel, water and food. It can also be used to provide assistance to emergency ships, floating drilling rigs and other floating craft, to receive and accommodate rescued people. In addition, the vessel is adapted to participate in extinguishing fires on ships, floating and coastal structures in accordance with the capabilities of the ship's fire-fighting equipment.
"Ivan Sidorenko" has an unlimited navigation area, the area of ​​its exploitation is the seas of the Arctic shelf.
Specifications:
Swimming autonomy - 30 days;
The total carrying capacity of the vessel is 4415 tons;
Length of the vessel - 90.0 m;
Width - 19.0 m;
Depth to the upper deck - 9.5 m;
GVL draft (underwater part below the cargo waterline) - 7.0 m;
Maximum deck cargo weight - 1500 t;
Cargo deck area - 750 sq. m;
Full speed - up to 17 knots, economical - up to 12 knots;
Number of crew members - 20 people;
The capacity of the premises for accommodating passengers and special personnel is up to 40 people;
Accommodation for the rescued - up to 100 people.
Power point:
Main diesel generator - 2 × 2880, 2 × 4320 kW;
Rowing electric motor - 2 × 5400 kW.
Special equipment:
Bow thruster - approx. 2 × 1000 kW;
Cargo cranes - 18m x 16t, 12m x 3t.
Article Categories:
Politics