The flights of American strategic bombers B-52H from Estonia and Canada to the borders of Russia during the Allied Sky exercises on August 28 were aimed at practicing a strike on the territory of our country. Sergei Surovikin, Commander-in-Chief of the Russian Aerospace Forces, said this at a briefing for foreign military attaches.
- Crews of strategic bombers conducted training on the use of air-launched cruise missiles against targets in the Russian Federation from the airspace over the water area of ​​the central part of the Black Sea and the territory of Estonia. Simultaneously, two B-52Hs, operating from the continental United States, were practicing similar combat training missions in the Arctic latitudes over the territory of Canada- said the colonel general.
As the Russian commander clarified, during the Allied Sky exercise on August 28, four US Air Force B-52H bombers flew over the territories of 28 European NATO member countries. Their flight was accompanied by the work in the air of about 40 tactical aircraft from 12 countries of the alliance. And although Russia was warned back on August 21 of NATO's intention to conduct such exercises, Western representatives did not name the exact dates.
- We believe that working out the issues of the combat use of strategic aircraft in the immediate vicinity of the state border of the Russian Federation is hostile and provocative.- added Surovikin.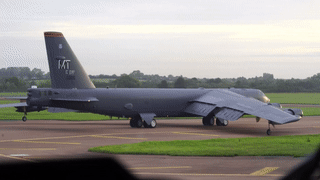 The Pentagon has published a video of the flight of US nuclear bombers over Ukraine
The American military department does not hide that the goal was to "contain" Russia.
Previously, possible versions have already been named about the purpose of the flights of the American B-52 Stratofortress bombers over the territory of Ukraine and around the Russian Crimea.
IT specialists have found out how artificial intelligence will affect programmers

today at 06:23

In Yekaterinburg, a young man was stabbed to death in a bar fight

today at 06:16

Media learned about China's choice between closing and selling TikTok in the US

today at 05:55
Article Categories:
Politics