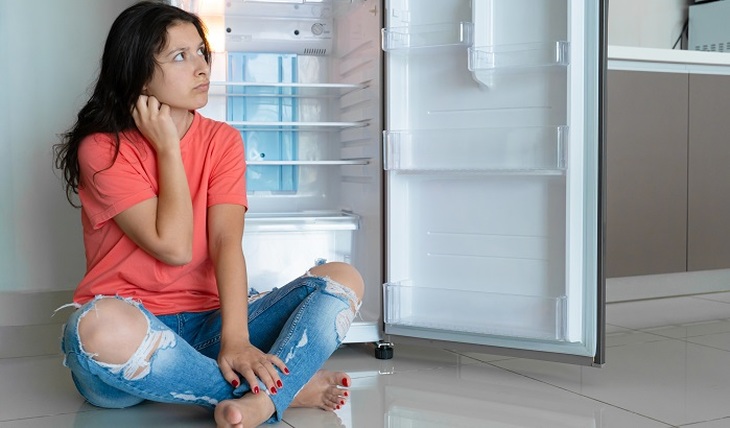 While we hear how Americans and Europeans are suffering from inflation and do not know what to do with soaring fuel prices that make their lives unbearable, the Russians are not rolling like cheese in butter either – their incomes are hitting new anti-records.
According to Rosstat, from January to September of this year, real incomes fell by 1.7%. If we take into account previous statistics, then in 10 years we have become poorer by 10%. But let's be optimistic: there is good news – the decline in the standard of living of the 90s is still far away.
It is believed that real incomes are one of the most sensitive and key indicators of the socio-economic situation of the population: these are the average salary adjusted for inflation and our other incomes (pensions, interest on deposits, business profits, etc.) minus mandatory payments like loans and utility bills. If the economy develops, then the real incomes of the population grow. For example, since 2000, our real disposable income has grown continuously, adding an average of 10% annually, and after the 2008 global financial crisis – 4% each year. Then, as you know, there was a protracted pandemic that did not bring anything good to the entire global economy. And in February of this year, a military special operation began in Ukraine, and again everyone was not up to fat. Agree, in this situation it would be strange if the real incomes of Russians grew.
Although in fairness it should be noted that the state supported citizens in the midst of Western sanctions. Did not leave their own, as they say. Since June 1, on behalf of the president, pensions for non-working pensioners, as well as the living wage and the minimum wage, to which many social benefits are tied, were unscheduled indexed. Over 500 billion rubles were allocated from the federal budget for these purposes. Support was felt by 50 million citizens, and real incomes, although they did not avoid a fall, nevertheless remained at the level of "near zero".
But in the third quarter, there were no longer economically prosperous January and February, no generous mass payments from the state, and revenues sank sharply. Even the relative slowdown in inflation did not help, which in the spring went off scale for 17%, and now is at the level of 12.5-13%.
What happened, happened, but now the main questions are: what to expect next and will it get even worse? The Ministry of Economic Development, in the latest version of its forecast, expects real incomes to fall to 2.8% by the end of this year, and a number of economists even believe that by the end of this year, Russians will see a decrease in real disposable incomes to 5% and the maximum decline will be reached at the end of the fourth year. quarter. Georgy Ostapkovich, director of the Center for Market Research at the Higher School of Economics, is close to the forecasts of the Ministry of Economic Development: "I think that by the end of the year we will have a drop of about 3%, and next year the negative dynamics will also continue. Our income depends on the state of the economy. If it grows, it means that the production of goods and services is growing, and business profits are growing. And then entrepreneurs are interested in raising the salaries of existing employees and are ready to hire new ones. And when the economy falls, the incomes of the population also fall. Profit decreases – entrepreneurs start to lay off people or reduce wages.
According to Igor Nikolaev, chief researcher at the Institute of Economics of the Russian Academy of Sciences, "the negative dynamics of real incomes is predetermined by the continuing decline in GDP and rather high inflation in annual terms." The economist also recalls the negative factors that are definitely waiting for us until the end of the year and that can cut real incomes even more: "In December, Russians will face an unscheduled increase in tariffs for housing and communal services by 9%, and from December 5, tough Western sanctions against Russian oil exports will come into effect, which could have a negative impact on budget revenues. Against this backdrop, a further drop in real incomes of people is more than likely, and they are very likely to continue to fall in 2023."
Even without being an economist, one can understand that little will change structurally in our lives – against the backdrop of the economic crisis, there are no stable and long-term drivers for the growth of real wages and other incomes, and if we face the truth, this crisis will last until at least 2025. Soon, for many, it will be a luxury not only to buy new boots, but also products from Pyaterochka.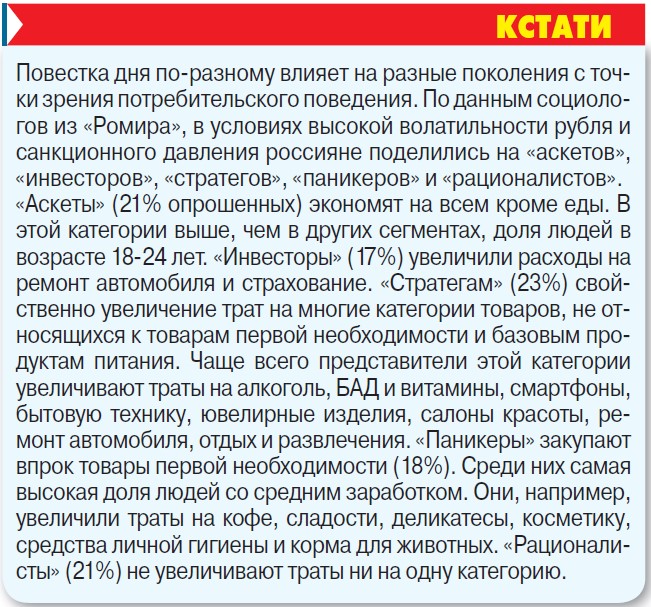 Elena Khakimova.
Photo: ADOBE STOCK
Article Categories:
Economy