Football players of the Higher and First Leagues of Belarus, players of the youth and national teams, as well as foreign championships recorded a video message in which they called for an end to the violence in the republic. The video was published on YouTube.
It is noted that 93 professional athletes took part in this action. Among them were the players who at one time played in Russian clubs. In particular, these are Stanislav Dragun, Pavel Nekhaichik and Yegor Filipenko.
"Life is not a movie from the Internet." Lukashenka reminded youth of the consequences of protests
You can ditch the economy and destroy everything that has been done during the years of independence.
- We recorded this video because we cannot remain silent. Silence when they beat our people, friends, colleagues. We are footballers of different teams, but of the same country. We are guided only by conscience and intolerance to everything that happens in our country, - said the players.
In addition, they said that the country's authorities should stop violence in Belarus, adding that no one should be subjected to torture and inhuman treatment.
- There is no other privilege but one - human rights, - told the Belarusian footballers.
We add that a number of local media outlets noticed that the players of Brest "Dynamo" did not take part in the action.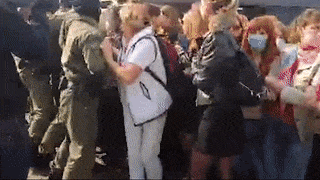 Detentions of participants of the "Women's March" began in Minsk - video
An uncoordinated rally is taking place at Freedom Square.
Let us remind you that on August 9, presidential elections were held in Belarus, in which Alexander Lukashenko won with a result of 80.1% of the votes. From that day on, uncoordinated protests began in the republic. The opposition refused to recognize the election results and announced the creation of the Coordination Council. Lukashenka called it an attempt to seize power.
Protests in Belarus. Chronicle of events
"It is impossible to live in Soviet Belarus in 2020". Political scientist Chesnakov told how Lukashenka could keep the trust of Belarusians

today at 15:41

Column of protesters in Minsk reached Lukashenka's residence - video

today at 14:47

In Minsk, a crowd of unknown persons in balaclavas attacked protesters - video

today at 12:10
Article Categories:
Sport