23:21, 15.10.2020
The showman didn't have time to shoot the rubrics remotely.
Vladimir Marconi was one of the first in Russia who began to master the blogosphere. At first, together with his friend Sergei Mezentsev, he launched the Pismoshnaya YouTube show, and a few years later the Reutov TV parody Internet project appeared. Later, the show was even aired on MTV and 2x2. After the closure of "Reutov TV" Marconi became one of the scriptwriters of the show "Evening Urgant" on Channel One. Last summer, Marconi talked about working with Ivan Urgant in an exclusive video interview with Vokrug TV. According to him, incredibly hardworking people work at Vecherny Urgant, who make the best late-night show in Russia. He also noted that writing jokes in Ivan Urgant's news every day, inventing games with guests, various stickers and intros in the show is a work.
Today it became known that Vladimir Marconi is no longer is a show employee. In an interview with the Macarena video blog, he said that he just didn't have time to shoot the rubrics remotely. "I wrote jokes and filmed rubrics. Then there was an offer from the Che! Channel. Make the "Jokers" project. I doubted, pondered, and then I realized: you can sit in the office for a long time, but it's better to push your career forward. And when at the "Evening Urgant" I said that I have such a proposal. I said that in August. I was asked: "What other options are there?" I offered to remotely shoot rubrics and give away. We stopped at this option. And now I don't deal with rubrics either. I hope that the bonds of friendship remain with us, and from time to time we call each other, I go to Ostankino, "Vladimir said.
Shot from the show "Macarena"
During the conversation, the issue of his salary at the "Evening Urgant" was also raised. Marconi replied that you cannot disclose this information in accordance with the contract. "I can not talk. This is written in the contract. Otherwise, they will take everything from me. True, there is not much to take. Is it more than 100 thousand rubles? I can not talk. I perceive that the appearance in the program "Evening Urgant" is like a visiting card. Many don't do it because of the incredible financial rewards. If you are in this program, then you are worthy, "says Marconi.
At the moment, Vladimir is the host of the Galileo show and also the provocative Comment Out show, of which he is the author. To comment fromstars should write funny and tough comments under the posts of their colleagues in show business. If the artists refuse to obey the rules, then they have to complete an unpleasant task. In July, Marconi said that the host of the Let's Get Married program, Larisa Guzeeva, refused to attend. Vladimir Marconi tried to convey to the star that the meaning of Comment Out is much deeper than it might seem at first glance. She was not at all interested in this project.
Ivan Urgant and Vladimir Marconi
In addition, Marconi takes part in the new season of the Ice Age show on Channel One. is he performs with thirteen times champion of Lithuania Margarita Drobyazko... Vladimir told about his decision to become a member of this project in his microblog on Instagram. He said that he was inspired to take this step.Roastmaster General Jeff Ross, who in his book talks about performances in the American "Dancing with the Stars". "After that, I had no doubts - I had to get involved," wrote Marconi.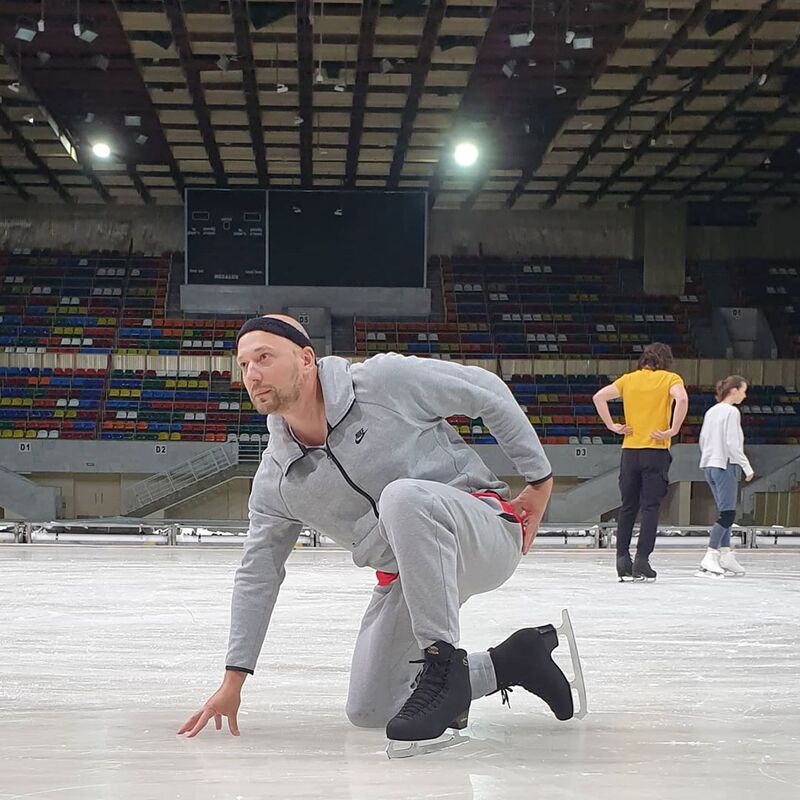 Vladimir Marconi
Read also:
Vladimir Marconi said that the producers of the Ice Age can promote Olga Buzova to the final for the sake of ratings
Vladimir Marconi justified his joke about the allegedly staged divorce of Garik Kharlamov and Christina Asmus
Vladimir Markoni said that Larisa Guzeeva refused to participate in the Comment Out show
Article Categories:
Show Business