There are actors whose appearance is known to everyone, but the name is known to few. Vadim Andreev, whose filmography claims to be a record, is one of those.
Vadim Yuryevich has no rank, his name has never been rinsed in the media in connection with some scandal. But he is the same Balamut from the cult Soviet film and Balabol's best friend from the popular detective series!
– Vadim Yurievich, you have more than 200 movie roles behind you. Bruce Willis, Mickey Rourke and, scary to say, The Simpsons and Teenage Mutant Ninja Turtles speak in your voice! Life is good?
– I do not know. But I don't feel like a popular actor. And this is not flirtation, but a sober assessment. In any case, I am not a member of the elite. Those who enter, they are filmed without casting, they are expected everywhere, they have packs of scripts and they choose which picture they will be filming in and which not. I'm not one of those. I occupy my own niche – quite popular, recognizable and, perhaps, not even deprived of the popular love of an actor, but that's all. I am a workhorse. And for the producers – not from the stars. I am one of those who replace. I still calmly go to auditions, and sometimes, imagine, they don't even approve of me. (Laughs.)
– Has your granddaughter Sophia seen the film "Balamut", in which you played the main role more than 40 years ago?
– "Balamut" – no, I have not seen. But I watched Balabola with pleasure, starting from the first season. She also went to the shooting with me, and now sometimes she goes. When I played in the theater, I also came. It would seem that they were adult performances, but she was interested. And looked behind the scenes. Sonya likes it all. But to draw some conclusions from this: they say, will follow in grandfather's footsteps, I think, is not worth it. She is eight years old, so interests, I think, will change more than once.
– Not so long ago, the fifth season of the aforementioned "Balabol" took place on NTV. It's interesting, when over the years the actors are filming in the same project, a strong friendship arises between them?
– It happens in different ways. But most often, in those periods when there is no filming, the actors each live their own lives, that is, that great need for each other, which is implied in friendship, usually does not arise. I generally leave for my village. For many years now, my wife Galya and I have preferred a house in the Moscow region to a Moscow apartment. As for friendship, I can say that always, especially after a long break, I return to the set with joy, because yes, a long joint work makes all its participants almost one family. And it's not just about the actors. At Balabol, for example, the director became my family. At least he is American, but ours, good. (Laughs.)
– American? Named Vladimir Melnik?
– Yes. He works for Paramount Pictures, by the way. His parents took him away when he was still a little boy in the USA, so he is our former. With Russian, Volodya is fine, but sometimes the turns are very funny. (Laughs.) By the way, he works with us, in my opinion, with great pleasure. He really likes our acting school. In general, we have freedom on the site due to the fact that Kostya Yushkevich, who plays the main character, is now also the creative producer of our project. Therefore, we not only participate in script readings, make our proposals, but also improvise on the set, come up with some reprises with the hope that it will be funny, and we sweep aside some. We are our wonderful team: both Vanya Agapov and the wonderful Grishenka Siyatvinda, who joined us since the fourth season …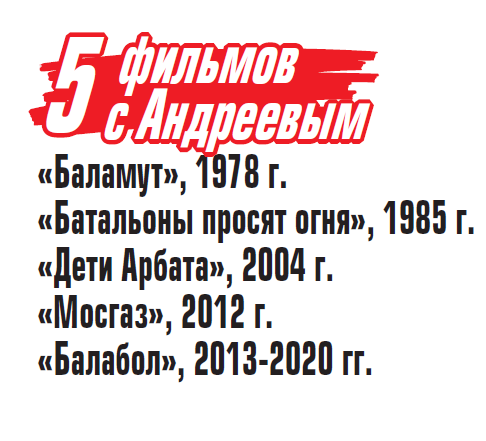 "I HAVE EVEN PLAYED STALIN!"
– You said that you live in the village. But are you a native Muscovite?
– Root, and was born in the center, on Sretenka, in a house that before the revolution belonged to my great-grandfather, a merchant of the third guild. He had 15 children, so one floor of a two-story house was still left to the family. But I'm tired of Moscow, and I don't like the current one at all. However, the initiator of our resettlement was not me, but my wife. We have an apartment in Moscow, but I am staying there only out of extreme necessity. Today I went to the capital to talk to the director, just entered the city – I was immediately tired, well, such a fuss of vanities! No, it's not for me.
– You and Galina got married at the age of 20 and together all your life. An enviable and rare story at the present time!
– I envy myself. (Laughs.) It cannot be said that all 43 years were cloudless with us. But now the period of life has come when we are very comfortable together in the village. Passions raged off, and complete harmony came.
– You played so many people in uniform! With what rank did you start your "military" career on the screen? Have you grown to a general?
– There were a lot of generals. I played Stalin too! Already there is nowhere higher – the peak of a career, higher than the generalissimo of the rank did not come up. (Laughs.) The role is small, but still two decent scenes – in the film "Chief" by Yuri Kara. And he started, as it should be, with a private, in 1984. In the four-part film "The battalions are asking for fire", filmed for the 40th anniversary of the Victory based on the story of Yuri Bondarev, I played a private Derevyanko, an artilleryman. A wonderful film, by the way, it is often shown.
– The military probably salutes you?
– Honor – no. But recently the Minister of Internal Affairs presented me with a medal. It is called For Assistance to the Ministry of Internal Affairs. State award! Need to know if there will be some kind of increase in pension? It seems that the award is due. Because 17,400 is a big pension, of course, but I want something else. (Laughs.)
– The premiere of the series "I Know Your Secrets" will soon be on TVC, and there you, in my opinion, also play a man in uniform?
– Yes, the colonel of the police. By the way, there was a great acting company. The leading actress Agata Muceniece is very good. And not only as an actress, but also as a person. Yes all! Starting with the director Ashot Keshchyan, who is such … an energizer, an unrelenting person, and even with a Caucasian temperament. This is not my first project with him. And the detective stories in this series are dashing. By the way, some snobs are surprised when, when asked what you are watching on TV, I answer: "Most often I watch the Spas channel, the Culture channel. But if I want something light and entertaining, I watch TVC, their four-part detective stories. "
"WHILE THE NAME IS, WE SHOULD WORK"
– When you have breaks between filming, what do you do?
– I walk around the village. (Laughs.) I drive along the Golden Ring or other historical cities of Russia. True, my wife and I usually do it spontaneously. The day before yesterday I finished filming the series "Port", woke up in the morning, I said: "Galya, let's go to Sergiev Posad!" And off we go. I rented a number there at the hotel so that I could spend the night. And we had a great time – they walked around the Lavra, venerated the relics of St. Sergius of Radonezh. Wonderful! We ate deliciously. We woke up and went back to their village. And when my wife and I plan something like that, as a rule, everything goes wrong. I've set myself up to rest for two weeks (then filming will begin in the next season of Balabol) and have planned a trip to Pskov. But one director called, offered to meet, and I went to this meeting today. That is, the work is pecking, so the trip to Pskov, apparently, is covered. While they are calling, we have to work!
– Do you have a business streak? You are the great-grandson of a merchant of the third guild!
"That vein ended on my great-grandfather. (Laughs.)
– And what about your son Andrey? After all, he is an entrepreneur.
– Well, yes. But he is not an oligarch either. He's got a little business. And I am absolutely far from business and all that. If a swindler sees me, he will immediately understand: this is my client, this is what I get into everything I can. (Laughs.) Yes, I never wanted to do anything else besides the acting profession. If we imagine that there will be no filming, I don't even know what I'll do. Because I can't do anything else. In the 90s I got on more or less well thanks to the scoring of Western films. Somehow, a materially difficult moment happened – I began to taxi, thank God, there was a car, but I somehow did not succeed in that. And, apparently, the Lord understands that I can't do anything else, so he throws up a job. Again, we can do it. If I had to shoot 365 days a year, as before, I would already be dead. As well okay. You work, you live. As soon as you start to feel that the money is running out, he immediately throws it up. Work, I mean. In general, the Lord does not leave me …
Marina Boykova.
Photo: NSTAGRAM
Article Categories:
Show Business