Mass vaccination against coronavirus infection began in Russia on January 18. At the moment, citizens can be vaccinated with one of two drugs that are officially registered in Russia – this is the Sputnik V vaccine, developed by the Center. Gamalei, and "EpiVacCorona", developed by the scientific center "Vector".
The first is a recombinant human adenovirus particle that does not contain the coronavirus that causes COVID-19. The second vaccine is based on synthetic peptides that induce protective immunity; it also does not contain a live virus or its components.
In most cases, the vaccine is well tolerated, no side effects are observed. In rare cases, the following reactions are possible: fever, headache, weakness, fatigue, pain in muscles and joints, nasal congestion, sore throat, rash, allergic reactions. As the chief freelance therapist of the Ministry of Health of Russia, director of the National Medical Research Center for Therapy and Preventive Medicine Oksana Drapkina said on the air of Channel One, after vaccination against coronavirus, you can feel symptoms similar to influenza. According to her, the temperature after vaccination rarely rises above 38 degrees and it is easy to knock it down.
Malaise after vaccination is a normal individual reaction of the body and one of the signs of the formation of immunity. Significantly more harm is caused to the human body by COVID-19. A new type of coronavirus can affect the nasopharynx, eyes, lungs, heart, blood vessels, kidneys and intestines, literally all vital organs. A person who has recovered from a severe form, after six months, may experience muscle pain, fatigue and psychological problems.
The severity of symptoms and the likelihood of developing severe complications with a new coronavirus infection is very dependent on age. So, for example, young people without concomitant diseases carry the infection easily, while older people have rather serious symptoms.
What side effects can be after vaccination, as well as complications and symptoms of COVID-19 disease, see the infographic AiF.ru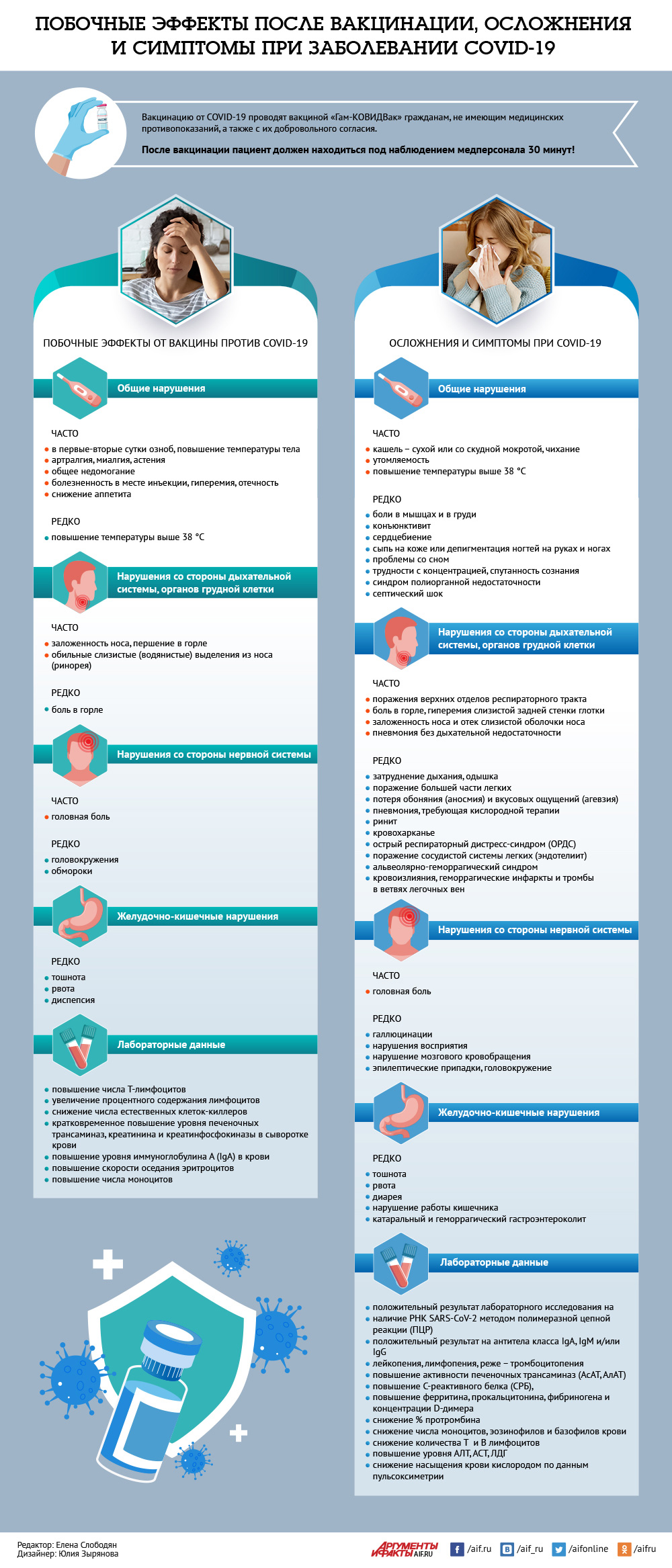 Article Categories:
Health