The Ukrainian Foreign Ministry sent a protest note to Minsk after Belarusian border guards searched the car of Ambassador Nezalezhnaya Igor Kizim. This is reported by UNN with reference to the statement of the department.
- The Ukrainian side sent a note to the Ministry of Foreign Affairs of the Republic of Belarus demanding to provide explanations and qualify the actions of the Belarusian border guards, - said the ministry.
In addition, Kiev assessed the search of the car as an unfriendly step and reserved the right to respond on terms of reciprocity.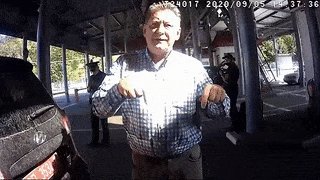 Ambassador of Ukraine threatened "diplomatic war" because of the inspection of his car at the border of Belarus - video
The representative of Kiev promised the border guards very big problems.
Earlier, a criminal case was opened in Belarus against an oppositionist who left for Ukraine.
Star Wars actress Felicity Jones hid the birth of her first child

today at 07:07

Bundestag deputy told who in Germany wants to "punish" Russia by closing Nord Stream 2

today at 06:47

The Mercedes was torn in half. Five people were injured in an accident with two cars in Moscow - video

today at 06:35
Article Categories:
Politics