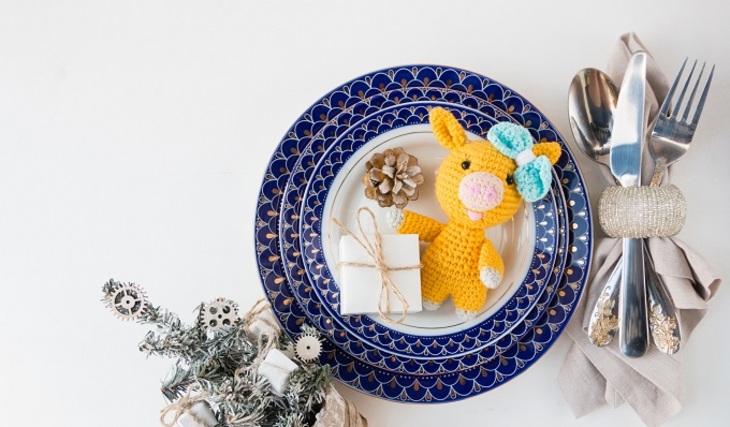 In order for 2019 to be successful, and your dreams come true, you need to please his hostess, the Yellow Earth Pig (Boar), with treats.
Connoisseurs of Chinese traditions assure that in no case should you put on the festive table dishes in which pork is present in any form, so we have found just such recipes for you.
Earthen Pig prefers dishes made from traditional products, so it's not worth caddling a New Year's symbol with elaborate novelties. Do not put new dishes on the table, but dispense, for example, with olivier and herring salads under a fur coat, but originally decorated.
Although a pig is an omnivorous animal, astrologers do not recommend putting too many different dishes on the table - a couple of types of salads, sandwiches, rolls, vegetable side dishes and meat dishes will be enough. If you can't do without meat, give preference to turkey, veal, lamb, duck, chicken, rabbit. Do not forget about all kinds of fish and caviar.
On the New Year's table there must be a dish that the totem animal likes. As you know, a pig prefers vegetable food, so a variety of vegetables in any form, fruits and greens should be present in abundance on the table.
It is good to put a bowl of wheat or millet in the center of the table, in order to certainly appease the mistress of 2019. By the way, she really appreciates the order and beauty, so you have to try and table setting. Do not forget about the festive tablecloth, beautiful dishes, elegant napkins and bright, preferably yellow, candles.
Be careful about consuming alcoholic beverages - the pig does not like people who are very intoxicated and does not like a person who does not control his behavior.
Baked chicken breast with pineapple and cheese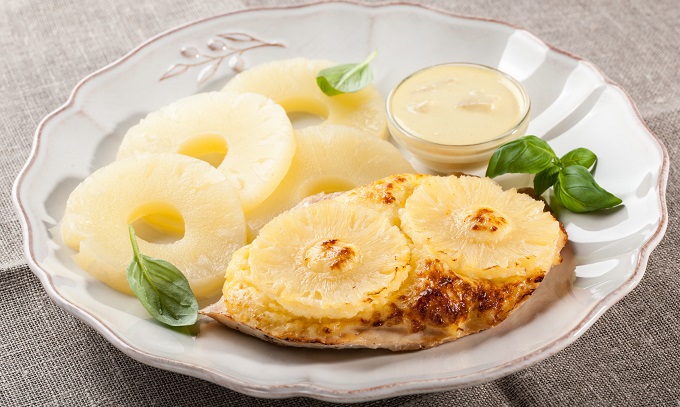 Chicken fillet - 1 kg, canned pineapples - 1 jar (preferably rings, not slices), hard cheese - 100 g, egg - 2 pcs., Mayonnaise - 100 ml, salt and spices, including turmeric, vegetable oil - 30 ml, a bunch of greenery.
Mix salt and spices to taste. In a bowl, beat 2 eggs by adding turmeric to the egg mixture. Grate the cheese on a coarse grater. Beat the fillet well with a culinary hammer.
Grate the prepared slices with salt, spices and dip in the egg mixture.
Bring the vegetable oil to a boil. Fry in it until browning every piece of the bird and lay on a baking sheet, greased with mayonnaise on all sides. Put pineapple circles on top of the chicken so that one serving ring lies on each serving. Pineapple juice, which contains many acids, makes poultry meat especially tender.
Pour cheese chips over the top layer and bake chicken for 30 minutes in a well-heated oven at a temperature of 1800 C.
Sandwiches "Funny Piglets"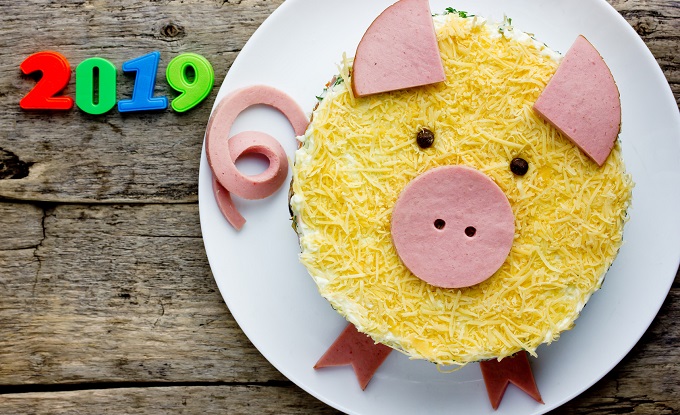 Appetizers with the image of the symbol of the year will turn out to be attractive if you use salmon pink or yellow caviar for their preparation.
A can of capelin or salmon caviar - 150 g, butter - 50 g, small carrots - 1 pc., Pitted olives - 7 pcs., Baguette - 1 pc., Lettuce.
Boil carrots, peel after cooling. Cut the baguette with a thickness of 2-3 cm, grease with oil, and then caviar. Manually cut out the eyes from the olives with a knife, and from the carrots - ears, spots and mouths for the "piglets". Garnish the sandwiches. Rinse the leaves of lettuce, dry with a paper towel, laying on them "piglets".
Hot snack "New Year's miracle"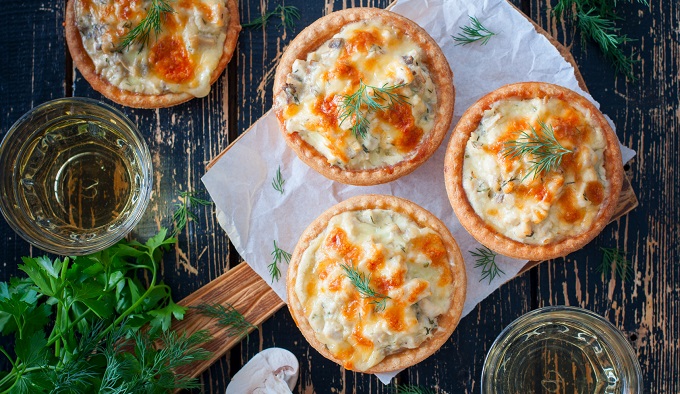 Hearty and delicious hot snack, easy to prepare, especially good for a festive table.
Hard cheese - 100 g, minced meat - 150 g, onion - 1 pc., Chicken egg - 3 pc., Potatoes - 4 pc., Garlic - 1 tooth., Sour cream (15%) - 2 tbsp. l., flour - 2 tbsp. l., salt and pepper to taste.
Boil the potatoes in their skins, cool, peel and grate on a coarse grater. Add squeezed garlic, one egg, flour, salt, pepper, mix.
Add finely chopped onions to the prepared meat, salt, pepper and mix.
Grease silicone molds with vegetable oil. Divide the potato mass into three parts and make balls from them. Lay out on the shapes and distribute along the bottom and edges to get baskets. So that the potato mass does not stick to your hands, moisten them in cold water.
Divide the meat into three parts, roll the balls and arrange them in potato baskets. Pour into the molds a creamy egg sauce consisting of two beaten eggs, salt, pepper and sour cream, sprinkle thickly with grated cheese on top and bake the baskets in an oven preheated to 180 degrees for 40 minutes.
"Christmas trees on a straw"
In the Year of the Pig, the original "Christmas trees" will become not only a tasty dish that guests will like, but also an excellent decoration of the festive table.
Flat cake - 1 pc., Salted straws - 1 pack, cottage cheese - 100 g, any greens, Bulgarian pepper - 1 pc.
Grind greens with a blender, add cheese and beat the mixture in a lush mass (you can add garlic or mustard if you want to be sharp). Bake a cake from an unleavened dough or take one already prepared. Cut it into triangles and brush with cottage cheese paste. Insert a half of straw into each triangle, creating an imitation of a tree trunk. Cut the pepper into small cubes and sprinkle the paste on them. Bright pieces of vegetable will look like balls on a Christmas tree.
Tropical sangria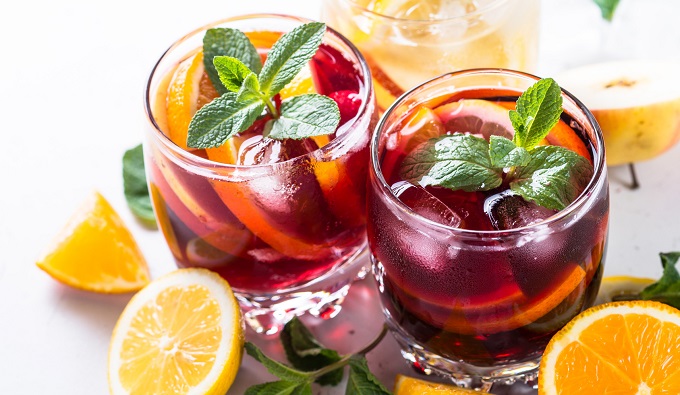 Any good dry wine - 2 bottles., Oranges - 2 pcs., Kiwi - 2 pcs., Apple - 2 pcs., Grape seedless - 1 bunch, mango - 1 pc. or canned pineapples, any red berries (strawberries, raspberries, cranberries, cherries, etc., even frozen ones will do), 2 tbsp. l sugar, a pinch of cinnamon.
Cut oranges into half rings, kiwi slices, mango slices, and grape berries in half. Put all the fruits in a bowl and fill with wine, adding sugar and cinnamon. Place the container in the refrigerator or on the balcony.
Before you put on the table, add the berries, and cut the large strawberries in half.
Having served such exotic sangria to the guests, you will surprise them with the fact that alcoholic drinks can not only be drunk, but also chewed.
Elena Khakimova.
FOTOLIA
Article Categories:
Interesting