Not eating after 18 hours has already become a law for those who want to lose weight. Allegedly, if you intend to lose extra pounds, then you need to finish your meals before 6 pm, and after that – only water and a healthy sleep. But does this rule really work? We will lose weight only if we open the refrigerator until 6 pm, and if we still decide to have dinner later, will we remain forever with extra pounds? Should I give up food in the evening?

We deal with matters of evening food together with Anna Ivashkevich, nutritionist, clinical psychologist-nutritionist, member of the National Association of Clinical Nutrition:
Each person has their own individual schedule. Someone likes to wake up early, and, accordingly, go to bed around 22.00 pm. For others, on the contrary, the day begins only at 12.00, but they fall asleep at one or two in the morning. It is completely wrong to tell people the same rules and diets.
The rule – not to eat after 6 pm, unfortunately, does not help in any way in weight loss. The majority either breaks down, after a few days of "exposure", or eventually gains extra pounds. Why is this happening?
The 18 hours rule only gets in the way
It's all about the wrong approach to the distribution of kilocalories during the day and no one takes into account that such a long time interval – from 6 pm to 7 or 8 am the next day – can lead to the formation of stones due to stagnation of bile. Fractional nutrition just helps to prevent this stagnation and not to overextend the gallbladder. Depriving the body of nutrients, minerals and vitamins for a long time, taking into account your activity and activity, leads to a storage function, so the body stores all the calories and your weight, and does not reduce it.
After 18.00, those who go to bed at 21.00 may not eat. But the best solution would be not to eat abundantly 1.5-2 hours before bedtime.
What foods can you include in your evening meal?
In the evening, foods that promote the production of melatonin should be added to the diet. It is a hormone that acts as a conduit to our healthy sleep cycle.
There is a combination of certain fruits and carbohydrates to keep melatonin in the right amount, and these foods contain tryptophan, which helps in the production of melatonin.
Dinner should consist of the following foods: radishes, tomatoes, celery, cucumber, hummus, brown rice, sprouted grains, a baked apple, eggs, barley, red caviar, soaked nuts, turkey and fish. By the way, you can drink a glass of red wine 1.5-2 hours before bedtime – this is also a product rich in melatonin.
What is not allowed before bedtime?
A light snack of fruit before bed can only make the situation worse. Fruits with a high glycemic index (grapes, ripe bananas, boiled beets, dried fruits), on the contrary, will increase your energy, you will not want to sleep, and you may want to eat in the middle of the night.
Try to avoid coffee in the afternoon. The effects of caffeine can last up to 2 hours. If you have trouble sleeping and are an avid coffee fan, try to reduce the amount you drink throughout the day.
Porridge with quinoa, pumpkin and seafood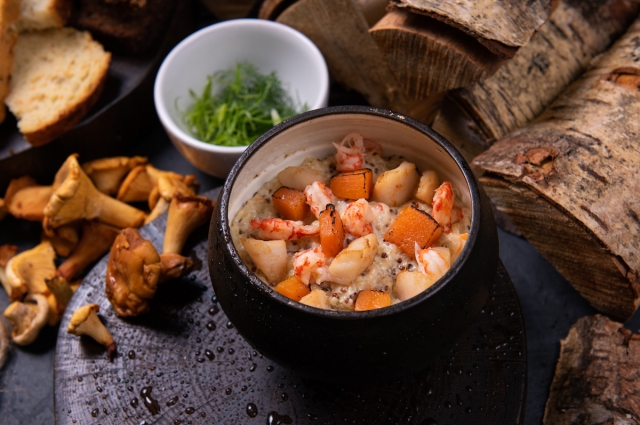 The author of the recipe is Viktor Beley, brand chef of the Uhvat restaurant
150 ml baked milk
80 g quinoa
60 g pumpkin
70 g scallop
30 g crayfish necks
50 g cream
10 g parmesan
10 ml green oil
Salt and pepper
Step 1. Fry the crayfish necks and scallops in a pan until golden brown.
Step 2. Bake the pumpkin until tender, sprinkle with sugar for caramelization.
Step 3. Quinoa with baked milk is baked in the oven at 170 degrees for 40 minutes.
Step 4. After that, we combine the crayfish necks, scallops, pumpkin and cereals and set to bake in a pot at 110 degrees for 10-15 minutes.
Step 5. Prepare the sauce. Warm up the cream in a saucepan on the stove and add grated parmesan, salt and pepper to taste. Stir until a homogeneous consistency is obtained. Then we punch in a blender.
Step 6. Serve the porridge with Parmesan cheese sauce.
Vegetarian sticks with hummus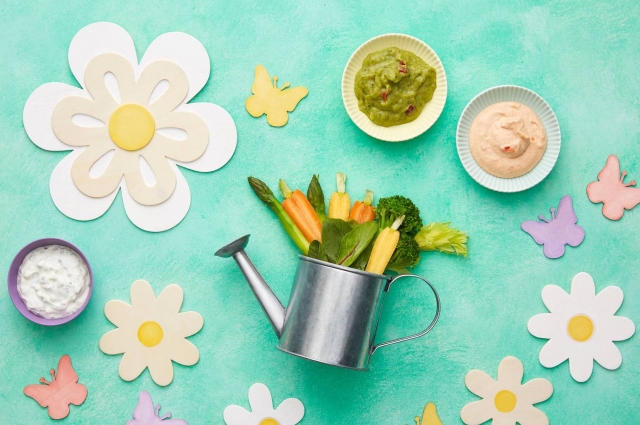 Recipe by Michael Ellison, Culinary Director, Beachcombers, Dubai
4 medium carrots
1 cucumber
100 g asparagus
150 g broccoli
Greek yogurt
Nut
Avocado
Lemon juice
Olive oil
Salt and pepper to taste
Step 1. Wash and cut the carrots in half, then peel and blanch some asparagus and broccoli.
Step 2. Hummus can be prepared by mixing boiled chickpeas (using a blender), salt and a little lemon juice.
Step 3. Then prepare the tzaziki. To do this, whisk together the Greek yogurt, cucumber, salt and lemon juice.
Step 4. For guacamole, crush the avocado, mix the puree with lemon juice, add red pepper, salt and olive oil.
Step 5. Place the sticks on a plate, place the sauces next to it.
There are contraindications. Be sure to consult your doctor
Article Categories:
Health