Facts indicate this: Katya suspiciously shut up, looks scared and no longer remembers the channel and the presenters.
Recently, Catherine, who lost her husband and friends at her birthday party, could not withstand the flood of attacks and told the whole truth about going to the federal channel and about how she was just "used" – the employees tried to "bribe" the blogger, turned the whole story up, poisoned them and did all this for their show and ratings.
However, if many n If the followers were waiting for the continuation of the story and frank confessions, the girl has been trying for six days not to touch on this topic at all. She initially understood that the channel has the right to sue Katya for divulging information, but still went for it. Katya, of course, could tell more, but now she suspiciously fell silent, looks kind of frightened, practically does not discuss what she said earlier.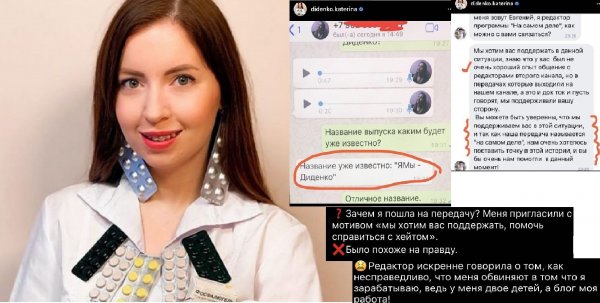 Based on this, we can conclude that Didenko, who told the truth about Malakhov, was "shut up." Moreover, the moment that Katya also said that she could collect evidence, which she has plenty of and also sue in order to achieve justice, looks suspicious, because the channel called for help, but in the end it "planted", "finished off "And tried to" bribe "guests in the studio. Now she seems to have forgotten about this moment.
I wonder if she is threatened or bribed? Maybe Didenko only looks defenseless, but in fact, everything is different. She was also accused of having appeared on channels for the sake of money. Apparently, she was simply afraid to compete with the federal channel, because she is a simple blogger, and they have good connections and pretty influential people. And it's unlikely that they will try to pay off when they can "push" it and influence it by silencing it.
Article Tags: SHOW BUSINESS