Leading Western livestock farms stop using antibiotics to increase meat mass and advertise their products as grown without chemicals.
But other pharmacological methods that are not indicated on the labels were hidden from consumers.
To minimize the use of antibiotics, farmers have turned to other vaccines. Pharmaceutical giant Merck KGaA produces 58 vaccines for poultry production alone – against infectious bronchitis, Newcastle disease, avian herpes and many other diseases. From only one of their enumeration becomes uncomfortable. There are also vaccines for cattle, pigs, and fish farming. This is a huge market, the turnover of which by 2020 reached 7.2 billion dollars. Over 90% of broilers in the US are vaccinated while still embryos in their eggs.
Vaccines are multiplying, but no one talks about the dangers of mass vaccination of animals. No one knows how this cocktail of high medical technology affects human health.
And then there are hormones. They are used by most manufacturers in the US and some other countries. More than 20 countries now use growth hormones, which allow producing more products at lower costs. These are estradiol, testosterone, progesterone, zeranol, trenbolone acetate.
Small capsules are injected under the skin of animals in the area of ​​​​the ears, they gradually release growth hormones into the blood. The European Scientific Committee on Veterinary Medicine and Public Health has indicated that hormonal implantation carries significant risks. It also indicates that North America, where most of the world consume hormone-stuffed meat, has the highest incidence of breast and prostate cancer.
And there is also the drug ractopamine, which helps to gain meat mass. It was banned in 160 countries in 2014 because it causes sustained tachycardia and birth defects. But farms still find ways to fool veterinary control – just like athletes who have learned to hide the use of hormonal doping.
As it turns out, all meat in South Africa has been produced with anabolic steroids for decades. An ear implant with zeranol was often used there. 40% of Australian cattle are raised on hormones. European experts believe that, despite all the prohibitions, hormonal meat seeps into the markets. It is no secret that growth hormones and steroids are widely used in fish farming, and aquaculture fish are often grown on them. And you and I, when buying Norwegian chum salmon, we see and feel very well that the texture and taste of its meat are very far from the wild relative that lives in our Far East.
The question is, how deep have these, in fact, metastases of the Western way of life penetrated into Russia? If you believe countless publications on the Internet, then in Russian stores this afternoon with fire you will not find meat that has not been perforated with steroid hormones, vaccines and antibiotics. And our experts have been ringing all the bells for a long time: such a "stuffing" in semi-finished products and carcasses can lead to cancer and affect the hormonal background of a person who has had lunch.
In Russia, unfortunately, there is still no proper control of organic production, which means that for the sake of profit, our businessmen are always ready to adopt "advanced" Western experience. To get 200% fat – now a chicken in two weeks weighs the same as her companion weighed in the 70s in three months – they will feed the bird with any poison. What to do?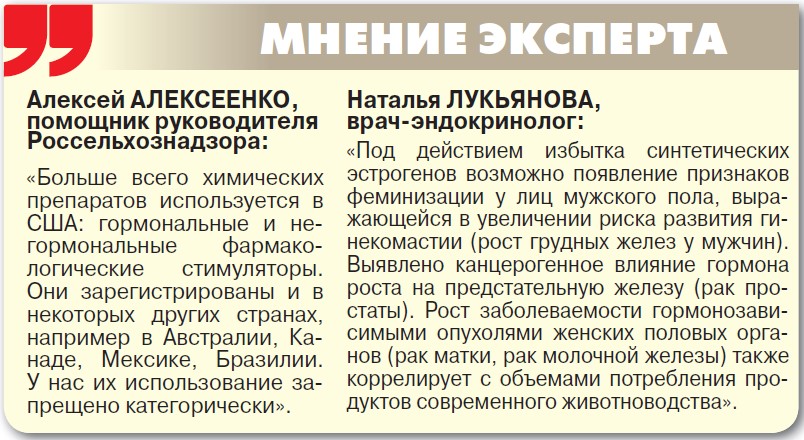 Nikolay Ivanov.
Photo: AdobeStock
Article Categories:
Economy