14:10, 14.10.2020
The beloved of the ex-participant of the TV show, Yulia Efremenkova, complained about non-professional doctors.
Last week, the stars of "Dom-2" Mondezir Svet-Amur and Yulia Efremenkova went on vacation to Turkey. After a scandalous breakup this summer, Mondezir and Yulia have reconciled and are showing an idyllic relationship. The star couple has already managed to relax in the Krasnodar Territory, and in October Svet-Amur and Efremenkova made a spontaneous decision to go abroad.
The rest of Julia and Mondezir should come to an end tomorrow, but a serious problem darkened the mood of the ex-participants in the TV show. Recently Svet-Amur received a severe leg injury. According to Efremenkova, her lover literally lost part of his thumb. As it turned out, Light-Cupid cut his finger with a door. The ex-participant of the telestroke himself shared a photo of the bloody floor in the Stories section of his microblog on Instagram. "Only in these minutes do you understand what you are worth and who really needs you ... For the faint of heart, please do not look," said Mondezir (the spelling and punctuation of the authors are here and below without changes. - Prim. row.).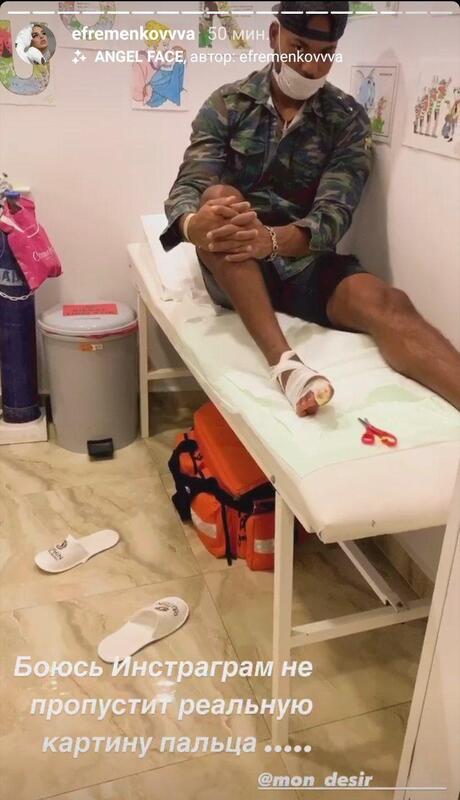 Mondesir lost part of his toe on vacation in Turkey
Yulia Efremenkova told the details of the incident. The TV presenter said that when her lover was injured, doctors refused to help him for free, because alcohol was found in Mondezir's blood. "The man in the hospital was bleeding and nobody gave a damn! To the doctors of the insurance company! " - the TV presenter was indignant, adding that she could not show Mondezir's wound without bandages, because such images would be blocked on social networks.
"And so Mondezir leaves for the hospital, sits there for 4.5 hours, and during this time, despite requests, he is not given first aid. Finally, they take an alcohol test from him and, of course, find alcohol in his blood, which is logical: although we are non-drinkers, why not relax on vacation? The analysis was taken without having processed the hand, just stuck a needle. This is unsanitary conditions! They could have brought something else there. And because of the presence of alcohol in the blood, the insurance refused us. We talked with them on the phone, but there was zero participation on their part. They did not even treat his wound, did not bandage his finger, did nothing at all !!! He was bleeding and no one even approached him. Sewing up a finger in this hospital starts from 800 euros. Mondezir did not have this money with him. And if there is no money, goodbye, "Efremenkova revealed the details. Only a hotel security guard came to the aid of the victim, who at night drove Yulia and Mondezir to hospitals in his own car until the ex-participant of the telestroke was helped. Efremenkova said that if all people were so sympathetic and selfless, the world would be much better.
It is worth noting that Efremenkova wanted to cancel her trip to Turkey. The day before departure, Julia complained about the autumn blues and the lack of desire to do anything. The TV presenter nevertheless decided to go on vacation so as not to lose money. "I also got a little bit unstuck today, and now I don't want to fly anywhere. But I was so looking forward to this trip, so preparing for it. And today we fly away at night, but nothing pleases me. I even wanted to pass the tour, but we would have lost almost 100%, therefore, so be it, we are flying, and I really hope that when I step on Turkish soil, my condition will completely change, "Yulia Efremenkova shared her experiences in her microblog on Instagram.
Yulia Efremenkova and Mondezir Light-Amur in Turkey
Recall that in recent months, the relationship between Yulia Efremenkova and Mondezir Svet-Amur has become much calmer. At the end of June, Yulia, in tears, announced that she was parting with her lover forever. During the quarrel, Svet-Amur locked Efremenkova in the apartment, taking away the phone. The TV presenter then said that she would never return to the ex-chosen one, because she could not tolerate such an attitude towards herself and constant scandals. However, a month later, Mondezir gave Julia a surprise by unexpectedly appearing at a restaurant where she was resting with her friends. The declaration of love and the gift melted Efremenkova's heart and she forgave her lover. At the end of August, the ex-participant of "House-2" demonstrated his serious intentions and introduced Julia to his relatives. Efremenkova, in turn, introduced her goddaughter to Mondezir. And shortly before the trip to Turkey, the TV stars jokingly got married in a virtual registry office. However, Mondezir and Julia prefer not to talk about the real wedding yet.
Read also:
Ex-host of "House-2" Yulia Efremenkova introduced Mondezir Svet-Amur to her goddaughter
Ex-host of "House-2" Yulia Efremenkova met with relatives of Mondezir Svet-Amur
Ex-host of "House-2" Yulia Efremenkova touchingly congratulated her lover on his birthday
Article Categories:
Show Business