22:40, 12.10.
The reality TV participant said that she already weighs 150 kilograms.
Alexandra Cherno first became a mother on July 30. The participant of "House-2" gave birth to a son Stefan married to Joseph Hovhannisyan. Sasha's pregnancy was not easy and she really did not like the changes in her body. Black even thought about hiring a surrogate mother for the birth of her second child. At the moment, Alexandra is trying to reduce her weight. Back in May, pregnant Sasha announced that after giving birth she would take up her figure. The TV show participant claimed that she was developing her own weight loss system, which she would begin to follow immediately after giving birth.
AT At the end of August, Cherno announced that she weighs 130 kilograms and called herself "very, very fat." However, due to the fact that Alexandra underwent an operation during childbirth, she needs a long recovery, and there could be no talk of restrictions in nutrition and physical activity at that time. The reality TV participant said that she was shown sports eight weeks after the birth of her son, that is, almost a month later. Another weigh-in took place in Cherno today. Sasha posted a video on her microblog in Instagram, which shows that her weight has increased significantly. Now the TV show participant weighs 150 kilograms. Sasha promised that from that moment she would start to play sports and in a week she would check her weight again. She gave her first lesson today.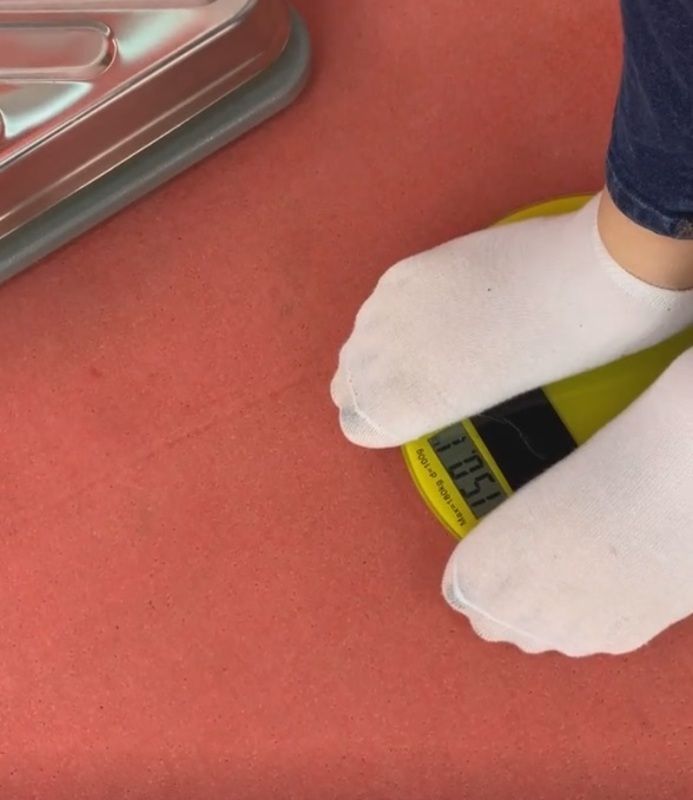 Alexandra Cherno published a video of the first workout after childbirth
Let us remind you that Alexandra Cherno and Iosif Oganesyan returned to the Dom-2 project in early September. The spouses were not on the TV set for several months, as they temporarily lived in a rented Moscow apartment awaiting the birth of their first child. On September 8, happy parents baptized their son. The boy's godmother is the creative producer of the show "Borodina vs. Buzova" Tatiana Svetlova... But the name of the godfather Sasha decided not to name, referring to the fact that this person has nothing to do with publicity. Cherno and Hovhannisyan refused to publish footage of the sacrament itself. But on this day, the parents decided to show Stefan's face for the first time.
Immediately after returning to the project, Sasha told her subscribers that behind the rainbow posts and photos in the account, she and Oganesyan were hiding the child's health problems. According to her, a few days after the birth, the boy was taken to intensive care. Blackly published a video of the child in intensive care and asked the subscribers to seriously prepare for pregnancy. It turned out that the child there was a hypoglycemic attack...
"This is all because of my insulin resistance. Adaptation has failed. First he was taken to the pathology department, then when the convulsions began to the intensive care unit ... and he stayed there for 4 days. Then I prayed to all the gods, if only my child was alive. Fortunately, the doctors caught on in time, "Sasha said (the author's spelling and punctuation are given unchanged hereinafter. - Prim. Row.). Two-month-old Stefan had another health problem in early October. The boy had a fever and a severe runny nose. Doctors prescribed treatment for the child and Sasha and Joseph did not sleep for several days, being next to him.
Iosif Hovhannisyan and Sasha Cherno
Note that Sasha Cherno often becomes the object of ridicule from subscribers. The haters were not satisfied with her appearance, weight, haircut, the way she cares for the child. Black was accused of drinking alcohol during pregnancy, which could have caused Stefan's health problems after birth. Recently, Cherno began to reproach even for the fact that she is not always with her two-month-old baby. In early October, Alexandra demanded not to blame her for entertainment, noting that she urgently needed a visit to her friends and nightlife. She explained that she does not want to get bogged down in a routine and therefore communicates with the participants of the TV show, friends and even travels to entertainment venues.
Read also:
The star of "House-2" Alexandra Cherno said that she was ready to support her younger sister after the death of her grandmother
Pregnant star of "House-2" Alexandra Cherno criticized those who defend her younger sister
The star of "House-2" Alexandra Cherno complained that her younger sister, along with haters, was poisoning her on social networks
Article Categories:
Show Business