11:22, 22.02.2021
The comedian did not disclose the identity of the chosen one.
The star of "Crooked Mirror" Alexander Morozov spoke about his attitude to prostitutes. The 47-year-old comedian said that the representatives of this profession are very honest. In addition, Morozov noted that he had an affair with one of them.
According to Morozov, the woman with whom he had a relationship was from Tver. However, Alexander did not mention her name. At the same time, the comedian noted that he became close to a woman not on the basis of intimacy. Alexander parted with his chosen one in a friendly way and even kept in touch for some time. "She is a normal and funny girl. Such a redhead. She then came to me many, many times to visit, "- said the comedian in the YouTube show" Pchelka ".
Alexander Morozov in the YouTube show "Pchelka"
At the moment, Morozov's heart is free, and he is in search of a soul mate to start a family. Also in the new episode of the show, the artist said that he has a weakness for cats. He noted that he was the owner of a pet named Mazik, who supported the comedian during quarrels with his ex-wife.
Recall that the first legal wife of Morozov was the artist Nonna… At the time of her acquaintance with Alexander, she was married, but in the end she divorced for the sake of a humorist. Alexander and Nonna have been legally married for six years. Then Morozov lived with two women at once, and then left to conquer Moscow. In Moscow, Alexander met a ballerina and a stripper in combination, whose name was Lola… The humorist lived with her for five years. However, the couple broke up. Alexander has no children.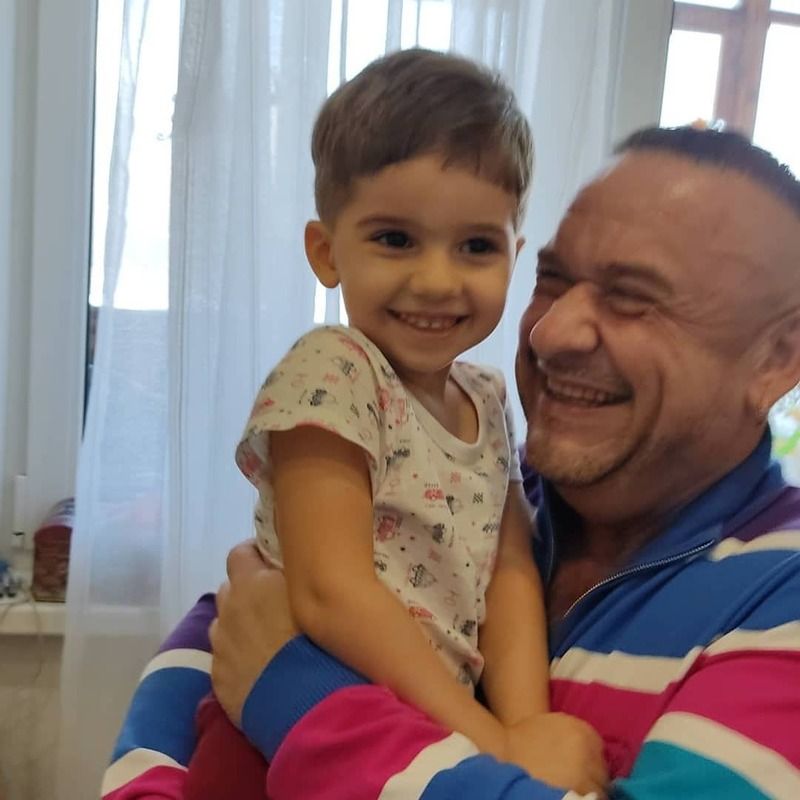 Alexander Morozov with his nephew Danil
We add that in early December 2020, Morozov had an illegitimate daughter. She turned out to be 26 years old Anastasia from Magnitogorsk, who stated that she was a relative of the artist. Then Morozov and his possible child had to undergo a genetic examination in Andrey Malakhov's show "Live" in order to establish the truth.
Morozov did not believe that Anastasia could be his daughter, but still treated her with warmth. "Do not worry!" – the humorist encouraged the girl, who was very worried, standing next to him in the talk show studio. "I am very glad that our meeting took place, because I did not think that it would happen at all!" – Nastya noted timidly.
The alleged illegitimate daughter of Alexander Morozov Anastasia
The result of a genetic examination could help to sort out this story. However, as soon as the expert began to announce the results, Morozov's mother intervened. Ludmila stated that she did not want to hear about the DNA test and its results. "Whatever the result, Nastya will be ours. I want her to communicate with us! " – Lyudmila Morozova declared with tears in her eyes.
It is worth noting that at the end of December Morozov said that repeated DNA tests did not confirm his relationship with the declared illegitimate daughter. Alexander noted that this greatly upset him. However, despite the results of the examination, Morozov said that he communicates with Anastasia every day, and she calls him dad
Read also:
The star of the "Crooked Mirror" Alexander Morozov lost 40 kilograms after having surgery on the stomach
44-year-old humorist "Crooked Mirror" Alexander Morozov for several years suffered from addiction to illegal substances
Yevgeny Petrosyan's theater artist Alexander Morozov began to be threatened by collectors due to mortgage debts
Article Categories:
Show Business