In 1961 in Sverdlovsk the writer Vladislav Krapivin created a teenage squad "Caravel", which, by the way, still exists. Its participants are taught how to sail yachts, build ships, fight with swords, make films, play in performances, etc. For half a century, tens of thousands of graduates have gone through the school of life there, and not one of them has gone to jail. On the contrary, in the crews of a flotilla of dozens of homemade yachts, real men and, moreover, patriots of their country were brought up.

How does a passion for sailing contribute to such education? "AiF" told about this famous yachtsman, master of sailing of international class, publisher of Yacht Russia magazine Vasily Senatorov...
Vladimir Kozhemyakin, "AiF": Vasily Yuryevich, they say that today's children will never see a detachment like the "Caravel". That all this is in the past ...
Vasily Senatorov: It all depends on the approach. If we want our children to spend three quarters of their free time in gadgets, get used to getting everything on a silver platter, be pampered and pampered, then, of course, the sail is not for them. And if the goal is for them to mature without fear of difficulties, and to be brought up in the spirit of collectivism - better education than at sea, I honestly do not know. As well as another activity where parents could spend so much time with their children. I know for myself: you live with them on board, that is, in a very small area, without the Internet: talking, cooking, swimming - everything is together. It is very rare when parents generally go somewhere with their children, and if they do get out, then the children scatter in all directions, and there is no special communication with them. And here - everyone is close by, on a journey and busy with one thing.
In the USSR, the sail was popular: several tens of thousands of people were engaged in it. It was very cheap - for example, as a student, in the early 1970s, I paid 3 rubles a year, received a "wrecked" yacht, putty it all winter, polished it, planed it, painted it, darned the sails. It was indeed a very democratic type of activity. It all belonged mainly to trade unions, and there were many sailing clubs in the country. Only in Moscow, for example, 18, Leningrad counted no less. The kids from these clubs were mostly drafted into the navy. There, the heroic spirit of their fathers and grandfathers who served at sea was transmitted to them.
- Recently you noticed that the younger generation "is characterized by such traits as indecision, infantilism, inability to make decisions, selfishness, weak socialization, effeminacy, irresponsibility and cyber dependence." And Vladislav Krapivin once said: "I hope just for modern children. They seem to me better, kinder, smarter, bolder than adults. They look at the world more broadly and see the joy of being not only in the possession of foreign cars or the latest smartphones. " Who is right?
- Krapivin was an idealist and romantic. He made his dream come true - he created a community that surrounded him. He communicated less with a wider circle of children, lived in his own world. Natural selection took place there: to sail, you need a strong romantic spirit, otherwise it is difficult to understand why climb into cold water, be thoroughly wet, stand in the piercing wind and train when there is snow on the deck. To many, this seems masochism. But in fact it fosters character ... Sail is not football, where, if something happens on the field, you can be replaced by another player due to injury. If something happens to you at sea, you must still return to shore. And when you go on a boat alone, no one will help at all. This makes the children understand: you need to finish everything to the end.
Inexpensive pleasure
- Known collective image of the so-called "Krapivinsky" boys - brave teenagers with wooden swords in their hands, endowed with a heightened sense of justice and dreaming of the sea. What about this now? Yachts are now seen as entertainment for the rich - a place where oligarchs have fun with call girls. Who needs beautiful impulses of souls now?
- Yachts are the entire line from Optimists (racing single-seater sailing dinghy for children sailing - Ed.), "Boxes" made of fiberglass with a length of slightly more than 2 meters, up to superyachts worth hundreds of millions of euros. This is a pyramid, based, of course, on teenage sports and the mass hobby of people who came to sail in adulthood. And 99% of them sail on relatively inexpensive yachts.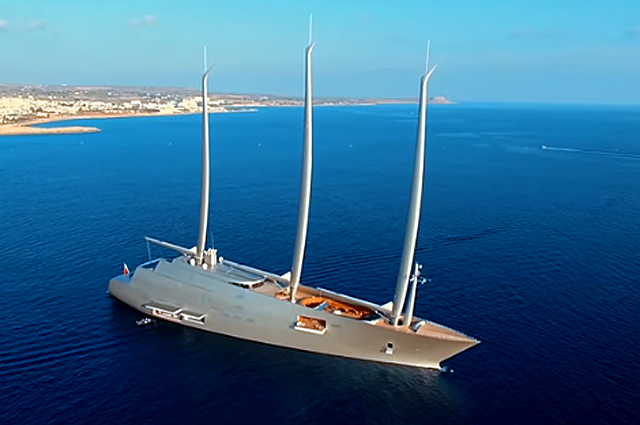 Such a boat for amateurs, on which you can go to the open sea for a short time, with a cabin and with a keel, 9 m long, costs 2-2.5 million rubles. This is a fairly durable product that lasts for 30-40 years. If you want to go on a trip for a week or two, you need a bigger yacht - 10-12 m long, costing an average of 3 million 750 thousand rubles. I know a lot of people who have sold summer cottages or apartments, bought yachts and roam the world on them: such modern wagabundas, wanderers. Yachts in the mass segment have not risen much in recent years, in contrast to luxury vessels with a length of 20-25 m, which are made to order. These are, as a rule, unique creations of engineering: hydrofoils, a swinging keel, a huge amount of electronics, a carbon mast and hull - that is, absolute high-tech. They are created by large design bureaus, and the technologies used in this are then introduced into wide production for use in tourism and mass competitions. By the way, if you send two ships - a motor and a sailing one around the world, then the sailing one, of course, will outstrip, because the motor ship will not be able to carry so much fuel.
But sailing is not so much a sport as a way and lifestyle. Sports here on the strength of 2%. The rest is tourism, expeditions, recreation, etc. Today, due to global warming and the melting of ice, there are almost no places left on Earth that could not be reached by yacht, including in the north of Russia.
- But now it is a really expensive pleasure: only wealthy people can afford to buy a yacht, even a small one. And what should others do?
- Unfortunately, nowhere in the world is there such a paradox as in Russia: our compatriots own the most expensive yachts in the world, and our children's and amateur sailing is not in a very good state, to put it mildly. However, it is not necessary to own a sailboat: now there are many commercial fleets where you will be provided with a yacht, and if you have the rights to operate a sailing boat, you can sail on it yourself, without a skipper. On all the reservoirs there are a lot of such yachting youth: all the shores are covered with sails. On Sunday, for example, up to 200-300 yachts go out onto the waters of the Pirogov reservoir - several thousand people a day. In most countries of the world there is a yacht charter - for example, in Croatia, Turkey, the cost of a yacht charter for a family of 4 people. comparable to the cost of staying in a 3-star hotel. Only your view from the window is constantly changing: you do not live in a hotel, but on the water.
To drive a sailing boat, you need to practice this in practice for two weeks and repeat it three times a year - after which it is quite possible to go on short voyages in regions where there are no strong currents and violent winds. A modern yacht has a lot of storm warning electronics, making it much easier to operate. In addition, there are a huge number of warnings: on the alpine lakes, for example, on the entire coast, every 200-300 m there are "flashing" beacons installed: when everything is calm, they are turned off, and if a fresh wind starts, they start blinking slowly. If they flash quickly, this is a signal: "It's time to get back to the harbor." If they are constantly on - "A storm is beginning!"
Unfortunately, in Russia the relevant infrastructure is not yet well developed: there are few marinas and equipped yacht parking. And in Turkey, for example, there is a marina for every 5-7 km of the coast, in contrast to the Russian shores of the Black Sea. In addition, we have a different geography: Russia - the country is northern and its shores are mostly rugged for sailing.
Under your flag
- They say that the passion for sailing has a positive effect on the love of the motherland. How? It doesn't seem to affect a person's moral convictions?
- People who do not follow the rules and foundations are in any business. But the sea always involves discipline. The naval charter is written in blood, because it is an environment hostile to man. In addition, yachtsmen always fly the flag of their country. And this is important. We usually do not fly the Russian flag in front of our house, but on a yacht, including abroad, it is always in front of you. In the evening you lower it according to the sea regulations, in the morning you raise it at the stern. And if you commit an unseemly act, they will make you a remark that will surely be unpleasant to listen to - like, "Those Russians again!" That is, they will reproach not only you specifically, but also your country. Therefore, most of the citizens of Russia, with whom I met at sea, behave quite smartly. They have their own pride. And Russophobia, which is now actively propagated, leads to the opposite effect - on the contrary, we want to emphasize that we are not indifferent and are trying to help each other. As a rule, there are no egoists under sails: such people do not stay there.
- They also say that a sail can subjugate a person's entire life, become fate.
- Sail is a kind of escapism, a departure from everyday life. Those who can afford it go to sea for a month or two and feel great. Russians on yachts can be found in any port. At the same time, the costs of people who live on their own ship are not very high: once you buy a yacht, you can go around the whole world on it. Someone does that.
- It's all good, but for what money?
- On the road, you can earn extra money - for example, by repairing ships, fees, renting out your apartment, using crowdfunding. This lifestyle, of course, will not become widespread. But to go with your children on a sea voyage for a month or two, renting a yacht is quite possible. There are more and more such people.
- Including sailing?
Today the interest in it is much higher than the number of yacht clubs that can satisfy it. State yachting schools are usually involved in preparing athletes for professional racing. There are few of them: for example, there are three in Moscow, and the same in St. Petersburg. There are many private schools or sailing schools, but the number of the clubs themselves, alas, is gradually decreasing, as they are tasty prey for raiders and developers. The clubs, as a rule, are poor, their territories are unkempt - skeletons of yachts stand on props, all shabby because they are waiting for painting. Planks and spare parts are lying - it does not look very nice and, as a rule, is a thorn in the eye for city authorities, who would be happy to see there a granite embankment, expensive apartments or a parking lot for beautiful boats. As a result of raider seizures, when these tidbits are taken for a penny, the yachtsmen are kicked out or, as handouts, they are given a shed, an old boat and a dozen "Optimists" for children. And then they advertise that they have built almost a club like New York.
It's a pity. People who own huge sailing and motor yachts gravitate towards them, they like the rest of the sea. Willy-nilly, they must have respect for people who are also associated with the water element. Therefore, it would be very correct to tell these very wealthy people that it is necessary to help children and Olympic sailing. That this is an undoubted benefit for them.
- Which one?
- I know, but this is a topic for a separate conversation.
- You, like Krapivin, are an idealist-romantic and you believe that the rich will help, give you a "sail" ...
- If I were like that, I would be sure that the rich themselves will come to such charity. But no. They need to be convinced of this.
Article Categories:
Sport