A video recording from the marathon venue was sent to Life by a citizen journalist via the LiveCorr application (available on Android and iOS)
A large-scale marathon is taking place in Moscow, in which, according to the Moscow Department of Sports, about 25 thousand people are participating.
The event, which is considered the main race in Russia, is being held for the eighth time. At the same time, the capital's authorities recalled that the marathon was organized taking into account all the restrictive measures that were taken in connection with the spread of coronavirus infection.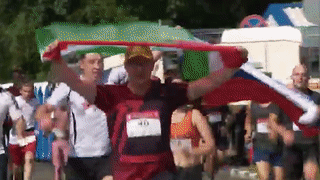 Acting Governor of the Kaluga Region took part in the "Atomic Marathon"
Vladislav Shapsha began to reach this distance, while still being the mayor of the city of Obninsk.
Runners have been spotted on the boulevards and streets in the city center. There are already winners. So, Yuri Chechun finished first, covering the distance of 42.2 km in 2 hours 16 minutes and 7 seconds. The second place was taken by Iskander Yadgarov - 2 hours 16 minutes 16 seconds, Nikolay Volkov closed the top three - 2 hours 18 minutes 30 seconds.
Among the ladies, Sardana Trofimova took the first place, it took her 2 hours 28 minutes and 2 seconds to cover the distance. The second place in the Moscow marathon was taken by Elizaveta Erokhina - 2 hours 35 minutes 36 seconds, the third with a result of 2 hours 41 minutes and 15 seconds was finished by Irina Sergeeva.
Earlier, the coach of the "Running Community" Pavel Kondrashev said that it is necessary to prepare for a long race in advance, it is worth constantly consulting a specialist. He also pointed out the need to exclude junk food and drinks from the diet.
Two more regions of Russia met the first snow - video

today at 03:14

German MP says US threatens Germany over Nord Stream 2

today at 02:48

Degtyarev told which of his orders in the Khabarovsk Territory have already been completed

today at 02:37
Article Categories:
Sport