August is traditionally the time for watermelons. How to choose the right "striped"?
life hack of agronomists
"The Astrakhanskiy watermelons, loved since childhood, are practically not on sale now. They were replaced by varieties of earlier ripening periods, - says Head of the Food Quality Control Department of the Moscow State Inspectorate for the Quality of Agricultural Products, Raw Materials and Food (MosGIK) Ekaterina Cherdakova. - The most popular domestic ones now are Ogonyok, Sakharny, Lyubimets of the Pyatigorsk farm, Bykovsky 22, Lotos, Dessertny 83, Atamansky and Early Kuban. "
But already from the middle of summer, all sellers assure that they sell exclusively domestic watermelons! Is this possible?
"Yes, there are few early varieties that are sown in late April and bear fruit in late June. There is another way to get a watermelon in June: first sow in greenhouses and then plant seedlings in the ground, "explained Svetlana Starshova, head of the branch of the Russian Watermelon Museum of the Astrakhan Reserve.
The problem is, you never know if the grower raised an early variety or used a ripening "chemistry"?
"To speed up the ripening process, unscrupulous growers often add large amounts of fertilizer to the soil," says senior state inspector of the phytosanitary supervision department of the Rosselkhoznadzor Administration for Moscow, Moscow and Tula regions Sergey Eroshenko. - In watermelons stuffed with chemicals, the middle tends to have an unnaturally shiny gloss. They spoil very quickly - by the evening after cutting, if not put in the refrigerator, they turn sour.
In addition, according to Svetlana Starshova, yellow or purple veins in a cut watermelon, as well as turning the water pink if you put a piece of berry in it, signal "chewing".
Prices for watermelons vary from 25 to 60 rubles. - depending on the variety and month of purchase. "The most expensive are those that are bought out of season, exclusive varieties - for example, yellow or black watermelons (this can cost 3 thousand rubles per berry)", - says Development Director of the Fruit and Vegetable Union Kirill Fomin.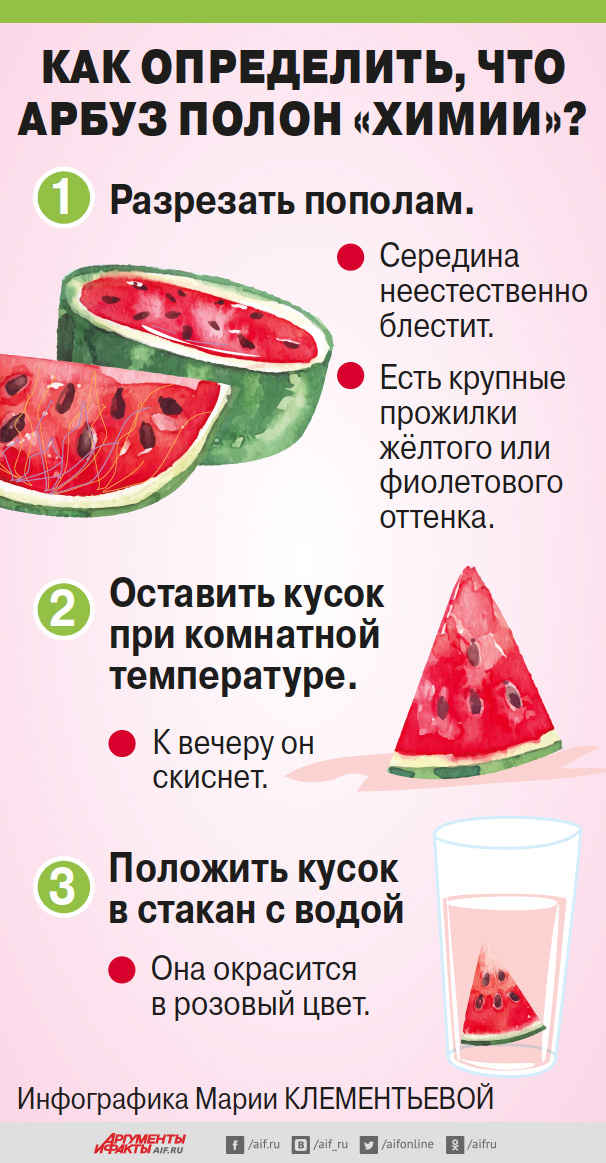 Where to buy?
It is not recommended to buy watermelons off the road. Exhaust gases and heavy metals can settle and be absorbed on them.
"Watermelons should be protected from rain with a canopy and should not lie on the ground, but on special pallets. You cannot buy them cut into wedges at the market or in the store. It is impossible to control who cut them, how and with what. According to the rules, the berry must be stored at a temperature of +8 ... + 10˚С. The seller must have a declaration specifying the manufacturer and supplier of the product, the conformity of the quality of the product to certain standards and its validity period. If you buy watermelons without documents, you can bring quarantine plants and soil pests along with them, "Sergey Eroshenko explained.
You shouldn't cut a watermelon on the market and taste it. During the time that elapses between buying and eating it, microbes can develop in the pulp. Before use, the berry should be washed well - preferably with soap.
How to choose?
A ripe watermelon has a hard, shiny crust that cannot be pierced with a fingernail. When tapped, it gives a clear and sonorous sound.
"It is desirable that the barrel is yellow. This suggests that the berry is grown on melons in natural conditions. The yellower the barrel, the more ripe the watermelon. If the inflorescence of the peduncle is large, wide and speckled, then this is a "girl". If small - "boy". But, according to scientists, male and female fruits do not differ in taste, "says Svetlana Starshova.
It is believed that the first sign of ripeness of a watermelon is a dry tail. This is not true. "A dry stalk indicates that the watermelon was picked a long time ago, it lies, and the moisture evaporates from it," the expert explains. "Therefore, the ponytail should not be too green, but not completely dry either."
First of all, at the end of spring, watermelons from Iran and Azerbaijan come to Russia. There they ripen the fastest. Then they bring watermelons from Uzbekistan, Kazakhstan and Turkey. This year, 4648 tons of watermelons have already been imported to Moscow.
Unusual recipe
Watermelons can be used to make smoothies, non-alcoholic sangria, various salads and even "watermelon honey". This product is appreciated not only for its beneficial properties, but also for the fact that it does not cause allergies. To make it, you need to pass the pulp of several watermelons through a sieve and boil for 6-7 hours.
On a note

In the world, according to information Director for Development of the Fruit and Vegetable Union Kirill Fomin, there are 1 thousand varieties of watermelon. In Russia - 100.
The most unique of the Russian ones are: Lunny (yellow), Sugar hut (early ripening watermelon with nutmeg flavor and a lot of monosaccharides), Portion (weighs up to 2 kg), Vinta (late ripening, stored for 3-4 months). There are also seedless watermelons. They are usually expensive because they are manually pollinated. In nature, watermelons are round. But if you wish, you can give them another. To do this, manufacturers place them in boxes of the desired shape during growth. So, square berries have become especially popular - they are convenient to transport.
Article Categories:
Health