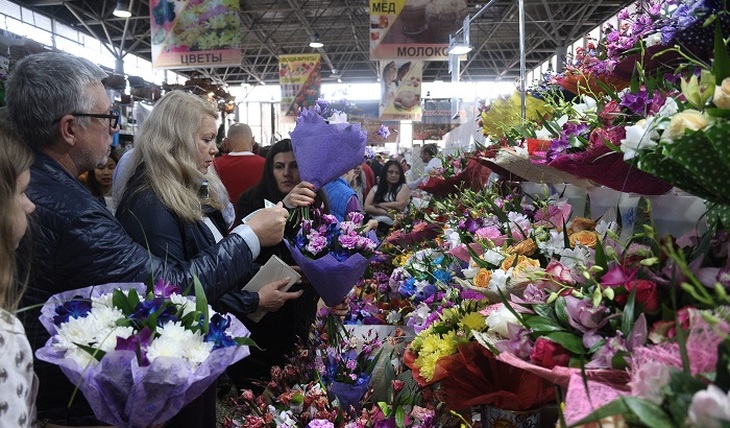 At flower bases and in stores, they started talking about the shortage of products for the holiday. This means only one thing – a sharp jump in prices.
All men in Russia know that on March 8 without a bouquet of flowers it is better not to appear before the eyes of their mothers, wives, girlfriends, colleagues. Tradition obliges representatives of the strong half of humanity to sometimes get the last steward, but pay for the flowers. And this, on the eve of the women's holiday, is used not only by individual cunning sellers, but also by entire structures and corporations. Is there an alternative to colors? Alas, it is not, although today in social networks there are bitter jokes on the topic that a bunch of dill already costs so much that it will not be a shame to give it on March 8. They also say that instead of a bouquet of 11 Dutch chrysanthemums or roses, which will cost about 3 thousand rubles at the current rise in price, it is better to buy a gift, for example, a gold ring.
Flower sellers do not want to be blamed for the shortage and the rise in product prices, so they readily communicate with journalists and express extreme alarm. According to them, there is a serious flower shortage at the flower bases. What does it mean? Only one thing: the prices for flowers, already increased due to epidemic restrictions and the seasonal factor, by the tasty day of March 8 will become simply transcendental.
For what and by whom is an artificial deficit created, if, of course, it does not just come from our usual bungling and slovenliness?
Experts informed in these matters say that Russian manufacturers have not yet learned how to cover the needs of buyers by March 8. And there are problems with imports. In February, on the border with Belarus, according to some observers, special flower trucks lined up in a huge queue. There, in the cold, millions of flower bushes, roses, tulips, mimosas die or risk perishing …
But it was inexpensive tulips and mimosa, collected in bouquets and sold in chain stores on the eve of March 8, that helped millions of Russian men who have to buy more than one or even two bouquets for a gift. And now all this "luxury for the poor" is threatened?
Sellers say that many flowers, which after a while miraculously managed to get to the bases, come in unmarketable and even obscene form. It is clear that putting them up for sale is just a waste of time and energy, no one will buy a sluggish product.
"Flowers are perishable goods, and if it is detained at customs for three days, this is already 30-40% of losses, and if for 5 days or more, then this is up to 70-80% of losses, that is, almost one hundred percent losses. As a result, the flowers become just golden, "Svetlana Shetirikova, General Director of the Flower Delivery Service in Russia, admits bitterly.
Interestingly, officials from the customs service believe that there are no problems at the border. Perhaps they simply did not see that the flower collapse began even before Valentine's Day, when sellers sometimes did not reach even half of the required goods and he arrived in the capital only by the twentieth of February.
It is clear that in the offices and according to reports, everything can be fine, like a beautiful marquise. But reality says something else. Perhaps someone organizes delays on the spot, so to speak, informally? Requires re-issuing a pile of documents, finding fault, while putting compensation from drivers and wholesalers in his pocket so that the trucks will be allowed through?
There is even a version that flower caravans tried to break into Russian territory through Latvia, and they say that some people succeeded in this scam.
Federal Customs Service officials deny problems at the border. According to their official statement, "the registration of flower products imported into Russia takes place without delay, the goods are released on the same day."
Is it so? The market, the real situation on the eve of March 8, will show the correctness of one side or the other. Will we see the 40% price hike (y / y) that skeptics warn about, or will things get better?
Evgeny Alexandrov.
Photo: Agency "Moscow" / A. Avilov
Article Categories:
Economy