13:25, 11.01.2021
Anna asked everyone to show empathy for the actress.
49-year-old Anastasia Zavorotnyuk has been struggling with a severe form of oncology for over a year. At the same time, little is known about the state of the star of the series "My Fair Nanny". The artist's family tries to protect her from close public attention, and none of Anastasia's relatives almost interacts with the media. Most often, it is Anna Zavorotnyuk who gives truthful information about the mother. However, the daughter of the actress rarely talks about her mother's health; more often she shares her pictures and details of her personal life. She does not hide that a difficult period continues in their family, which began two years ago, but if she starts talking about the actress's illness, she tries to limit herself to general words.
The day before, Anna decided to answer several questions from Internet users in her microblog on Instagram. One of them concerned her mother Anastasia Zavorotnyuk. So, many are surprised how the star's family manages to hide the artist from journalists. The daughter of the actress did not explain why the pictures of her mother did not get on the Web, but only expressed her indignation and asked to show empathy for her mother with cancer (the author's spelling and punctuation are given unchanged – Prim. line.): "I don't understand why people are so interested in someone else's grief. Of course, extremely ill-mannered individuals exist. Show empathy. And look better at the paintings of great artists, maybe it will help, at least a little. "
It is worth noting that the last time Anna spoke about Anastasia Zavorotnyuk's condition was in November last year. Then, on Mother's Day, many representatives of the domestic show business remembered their mothers. The stars shared archive photos with their parents in their microblogs on Instagram, publicly confessed their love to them and thanked them for their support. Among these stars was the daughter of cancer patient Anastasia Zavorotnyuk, who congratulated her mother only after some time.
Anastasia Zavorotnyuk with her daughter Anna and son Michael
Anna Zavorotnyuk then admitted that she herself does not know why she could not publish a post on Mother's Day in honor of the famous parent, although she planned to do so. Zavorotnyuk noted that mothers are the most important and dear people in the life of every person. Anna also shared then that during the last holiday she was especially hurt by the state of her own mother now.
"Now my mother is seriously ill, but we will overcome all bad, I am sure of this. For some reason yesterday it was especially painful from what was happening. My Mom is not only the most beautiful and smartest woman, but also a real fighter and will cope with everything. I want her to be always there, "shared Anna Zavorotnyuk in her microblog on Instagram. By the way, earlier she published a rare joint photo with her mother in the Stories section, confessing her love to her.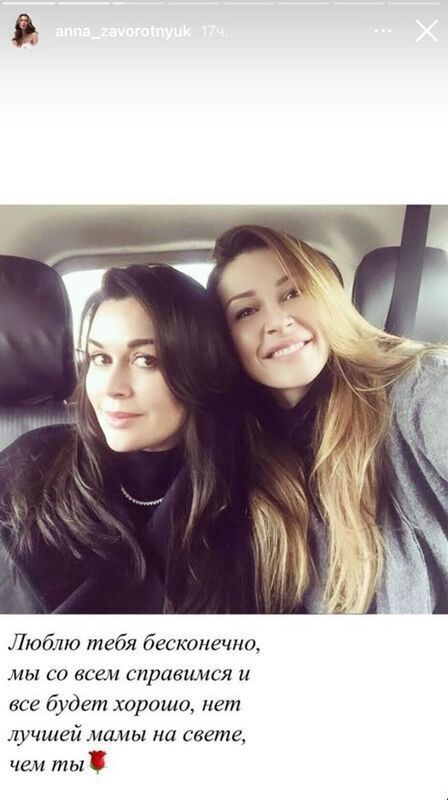 Anna Zavorotnyuk published a rare joint photo with her mother
Recall that on the eve of the New Year 2021, Anna decided to answer several questions from Internet users in her microblog on Instagram. One of them concerned her dreams. The daughter of the actress spoke about her main desire. "So that my mom is healthy and happy," Anna shared her dream on her Instagram microblog. Zavorotnyuk noted that she does not have a special festive mood, but if there was an opportunity, she would like to celebrate the New Year by the ocean in the company of her beloved people.
Nevertheless, Anna tries not to lose heart. She is actively involved in blogging. The daughter of the actress explained that for the sake of this she left the office, in which she was not satisfied with the level of wages. Now Zavorotnyuk gets as much as she wanted. Anna also invests in the renovation of an apartment in Moscow, to which she plans to move in the near future.
Anna Zavorotnyuk
Read also:
The daughter of Anastasia Zavorotnyuk admitted that she was complex because of her height
The daughter of Anastasia Zavorotnyuk showed how she looked at 16
The daughter of Anastasia Zavorotnyuk commented on the information about the filming of her mother in the show of Andrey Malakhov
Article Categories:
Show Business