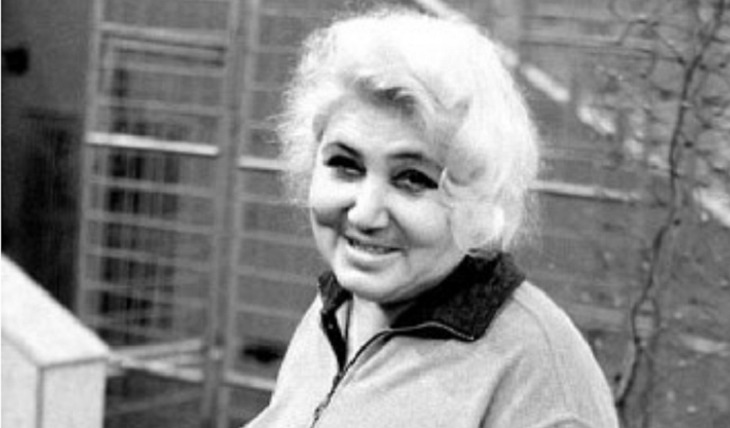 On August 11, Maritza Zapashnaya Sr. died quietly and modestly in Bryansk.
Trainer of panthers and tigers, the first wife of Walter Zapashny. Maritza was a person no less legendary than Margarita Nazarova or Irina Bugrimova! She was applauded by millions, she traveled the whole world just at that fertile time when the Soviet circus thundered in all countries and on all continents! But this great woman met old age almost as a hermit.
Outside the public field
– Indeed, I was outside the public field. She shared with me: "My colleagues are calling – I hang up: there is no desire to talk to them." So, they offended – a person will not just break all old ties. I was one of the few who communicated with her in the last weeks of her life, – the actor, director, public figure Denis Kiris told us. – I tried to persuade her: be sure to write a book about your life, you yourself are an era! She agreed, but not too willingly: "Maybe we need to write. About that Soviet time, irretrievably lost … But what to write about me ?! " Very modest, did not boast of her merits …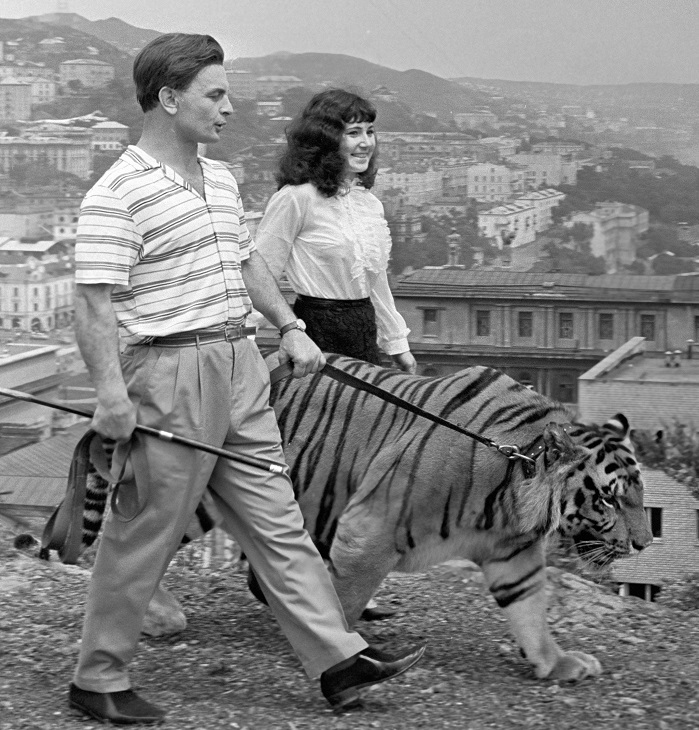 We've already started doing some sketches for the book. She laughed, telling how she and Walter Mikhailovich fought creatively and vividly at rehearsals, and once, in the heat of the moment, they even started firing at each other from nominal (both had gifts from fans) revolvers, everyone who was nearby rushed scatteringly … both were, as I understand it, fire! "Therefore, in fact, and ultimately divorced …" – she said.
– How did you know that Maritsa Mikhailovna fell ill?
– In the next telephone conversation, she mentioned that she had a cold, fever. And she coughed. I got scared for her, I said: "Urgently to the hospital – what if you have a covid ?!" (In the end it was confirmed.) She said a phrase that still gives me goosebumps: "I can't go to the hospital yet. We must wait until the fourth of August – on this day I receive my pension. Otherwise, there is nothing to feed the animals. " She has a whole zoo of kitties, dogs, with whom she previously performed and took it for herself, they are also "retirees". She kept it at her own expense. As they say, no comment … She waited for her pension.
Realizing that she was worse off, he began to call the government of the Bryansk region and the local Public Chamber, asking to urgently resolve the issue – to arrange for Maritsa Mikhailovna to be hospitalized. Her daughter and son could not quickly come and help, since they were in Omsk, her daughter was also ill. Well, besides, Maritsa Mikhailovna did not tell them about her problems – she tried to protect them from disturbing news.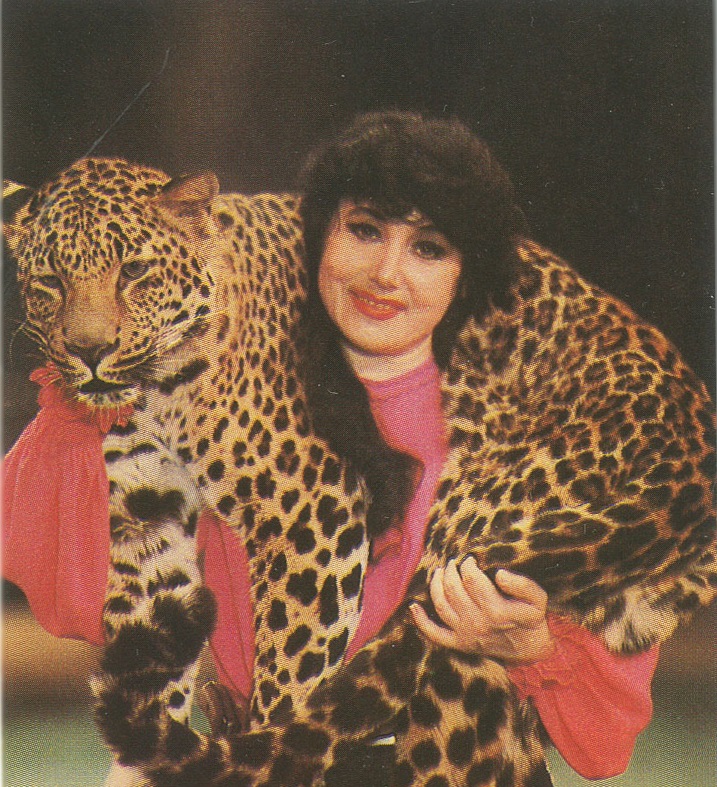 Heartbreaking fate
– In the government structures of Bryansk, everyone was terribly amazed at my calls. After all, they didn't even know that the queen of the Soviet arena was living in their city – Zapashnaya herself, who went to the arena of the Soviet circus riding a tiger and with a panther around her neck! – continues our interlocutor. – Because she really lived quietly, modestly. She did not require attention and support, I would never go to ask for anything personally for myself – such a character …
She was admitted to an excellent hospital under the supervision of the best doctors. We did everything we could, and I am very grateful to everyone who responded and helped. Unfortunately, the body was already exhausted. On Saturday we spoke on the phone for the last time. She did not want to die: "We must live …" The next day her phone was turned off, I learned from the doctors that they had been transferred to intensive care …
– I would very much like Maritsa Mikhailovna to be remembered and not forgotten, – Kiris almost cries. – Incredible character! And a heartbreaking destiny: a movie must be made about her!
MEANWHILE
Two weeks before her death, Zapashnaya Sr. celebrated her 77th birthday. Modestly, as she lived. The holiday was with tears in our eyes – literally on the eve of the Rosgoscirk presented a "surprise": scandalously fired Maritsa Jr. – the successor of the dynasty and grandson Dan.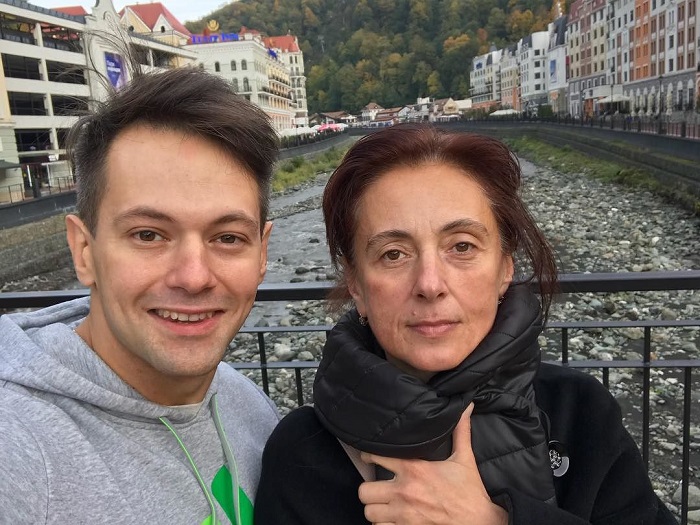 Maritza Jr. was charged with alleged cruelty to animals and even an attack on an employee of the organization, Dana – truancy. They have already turned to lawyers with the intention of challenging the dismissal and charges that, in their opinion, were unauthorized. "Rosgoscirk, in principle, has been shaken by scandals from time to time for many years. Directors change one after another, behind-the-scenes intrigues rustle, and now my daughter and grandson are under the distribution, "complained Maritza Sr. Already leaving for the hospital, she repeated: "I will speak in defense of my family in the press, in the courts … If it is necessary, I will reach the president, I will ask him to figure it out, to defend it …"
– This whole situation with dismissal, of course, negatively affected both the well-being and the general morale of Maritsa Mikhailovna, – Denis Kiris cautiously notes. "The Kingdom of Heaven, eternal memory to this strong woman, who once went to the circus arena astride a lion and with a panther around her neck."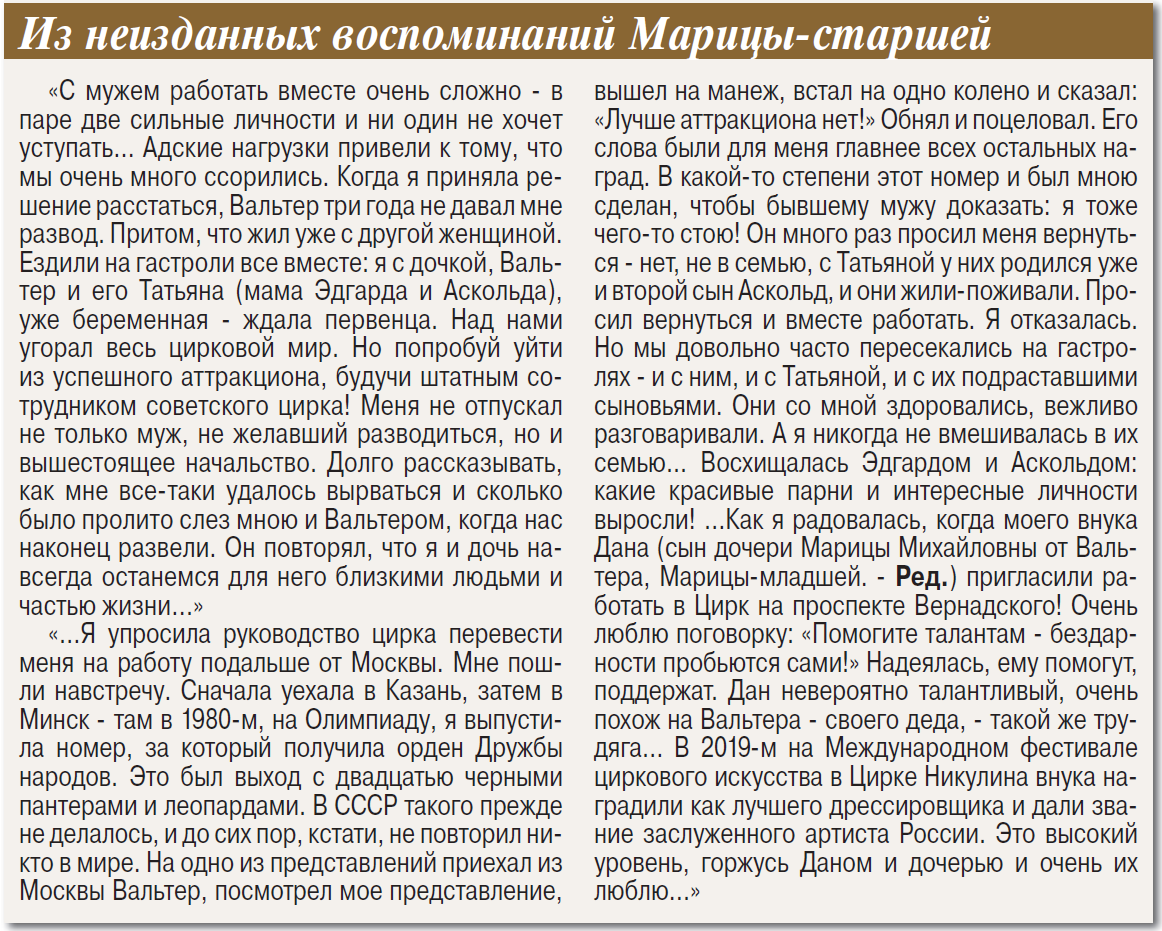 Victoria Kataeva.
Photo: V. Marikovsky / RIA Novosti,
VKontakte, Odnoklassniki, INSTAGRAM
Article Categories:
Interesting