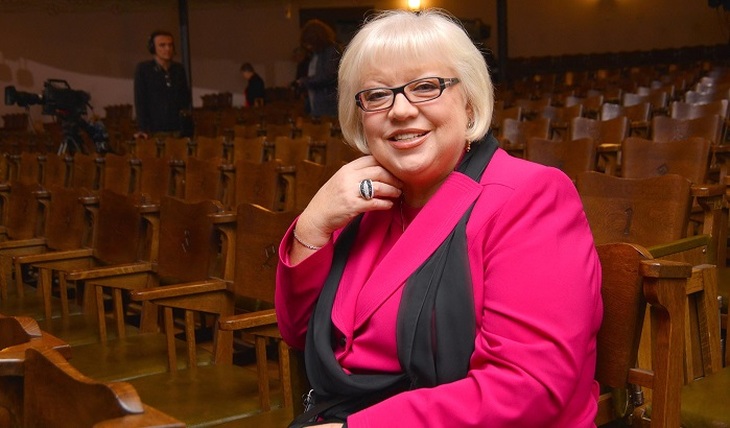 If Kryuchkova is removed, then someone needs it. First of all, to herself, anyhow, to what she does not agree. Well, to the audience, of course!
Almost every role of an actress is an event. And not only the days long gone. Yes, there used to be "Big Break", "Elder Son", "Marriage". But now everyone is hearing and in full view of "Brezhnev", "Bury me behind the plinth" and "Liquidation". She is always and everywhere good!
Not so long ago, Svetlana Kryuchkova celebrated her 70th birthday and published a book of memoirs with a rather modest title "I am a student in life." We managed to talk with the actress, and the people's favorite shared vivid memories of significant roles and little-known facts from her personal life.
"I NEVER CONSIDERED MYSELF BEAUTIFUL"
– Svetlana Nikolaevna, even now, despite the fact that you have starred in a huge number of films, you are remembered by Nelly from "Big Change". This was your first big role in a movie, wasn't it?
– The fact that I began to act in films, I owe my first spouse. The script for "Big Change" was proposed to Misha (Mikhail Starodub – the first husband of the actress, actor and poet. – Ed.). He played the guitar, sang, according to the script, his hero Ganzha was supposed to sing too. Misha read the script and then asked me to take it to Mosfilm. There I ran into a director who immediately offered me to try one of the roles … It just so happened that another wonderful artist, Sasha Zbruev, was taken to Ganzha. By the way, he is not singing. And so it turned out that the script was slightly altered and I sang …
– You once said that the roles of beauties in films are not for you. Why?
– I really don't like to play beauties and never considered myself to be such. This is a different sensation. I am often asked: what was your favorite fairy tale in childhood? I can answer: "The ugly duckling." I always felt like such an ugly duckling. Now I have white gray hair, I don't dye it. And when I was young, I had red hair and white eyelashes. Everyone teased me: "Red, red, freckled …" – and so on. I have always felt different from everyone else. And she remembered the words of Alexander Grin: "People can forgive each other for everything: indifference, cowardice, even meanness. Except for one thing – dissimilarity to yourself! "
THE PERFECT TOAD
– You have many different roles, but you probably have favorites?
– One of my favorite roles is Aunt Pesya in the film "Liquidation". Before filming this series, I had clinical death, two operations and pain that did not leave me (the artist was diagnosed with cancer about 15 years ago, and she was treated in Germany. – Ed.). And so one film company called me and offered to play some role. I said what physical condition I was in (and I always tell everyone the truth: I am what I am). They called from another – she also honestly told them, they refused. And then a man called who offered to play with Sergei Ursulyak. I said that I needed a trailer on the set (the series was filmed in Odessa. – Ed.), so that he constantly stood and no one went there, except me, an apartment with all the amenities and that I was taken to the sea every evening: I will swim. They agreed to this. And who has benefited from all this? Won Elimination! (Laughs.)
– You also starred in fairy tales, in "Thumbelina" for example …
– There was a funny story with this film. It happened at the Kinoshock festival. I was with my eldest son Mitya, and he was with his girlfriend then (now she is his wife) and the youngest son Sasha. And so I, like a real Jewish mother, looked after everyone. "Mitya, swim only along the coast so that I can see you all!", "Sasha, where did you go, don't you dare take unwashed tomatoes!" And so for two days. And during this time I noticed that some man was constantly looking at me. I think: well, you never know, maybe he likes fat old women. (Laughs.) People are different. And suddenly he comes up to me and says: "You know, I've been watching you for two days! Do you know what I want to tell you? You are a real toad! " And it's good that my sense of humor always comes first, I laughed. The man introduced himself. It turned out that it was director Leonid Nechaev, who filmed "The Adventures of Buratino", "About Little Red Riding Hood" and many other children's films. Now he wanted to shoot Thumbelina. And I, as he thought, was ideal for the role of the Toad. And so we met and began to knock out money for this project, which was then removed after a few years …
"EVERY TIME IMMORTAL FALL IN LOVE"
– What are your childhood memories? Do you often remember your hometown Chisinau?
– The place where a person was born and raised has a very great influence on him. The city of Chisinau was absolutely amazing! Those people who come to it now cannot have any idea of ​​what it was like. A huge number of good people were born in this city. For example, Sasha Oleshko – he is from Chisinau. Or Yura Nikolaev, who was always an active participant in amateur performances, a theatrical circle in the House of Pioneers. We did not communicate with him, I was younger, but everyone there knew about him. And Nikolai Lebedev, an eminent director, he lived in a neighboring yard. You see what kind of people this land gave birth to! For me, this city was made of warmth, trees, fruits, sun and wonderful people who communicate with each other.
– After Chisinau, you lived in Moscow, entered the Moscow Art Theater School, though not the first time, and worked at the Moscow Art Theater. And then suddenly we moved to Leningrad. Why?
– Yes, in this city I met my second husband. I went there on business – and, as it happens, love at first sight. I fell in love with cameraman Yuri Veksler and left Moscow. It was August, and I called Oleg Efremov's home, who was then the artistic director of the Moscow Art Theater. "Oleg Nikolaevich! I'm leaving the theater! " – "Are you out of your mind ?! We have so many plans! " – "I'm getting married!" He, knowing my amorousness, because every time I fell in love to death (laughs), paused and said ironically: "Well, for whom? For Veksler? Come out! " They worked together on the picture "Hello and Goodbye", and Oleg Efremov knew Yura very well. So I stayed in Leningrad, where I still live.
"THE LIFE REMAINS NOT SO MUCH …"
– Svetlana Nikolaevna, I know that you have a rather reverent attitude towards books …
– I was raised by books. In the Soviet school we were often asked to write an essay on the theme "I owe everything good in me …". I can say quite clearly that I owe everything good in me to books. At the age of five she learned to read and first read newspapers, and then, at the age of six, she read a novel found in the attic …
– Recently your new biographical book came out. Why did you decide to tell everything about your life honestly and frankly?
– The reason that I began to write and publish my books was that now the facts are very distorted – who is in what. I'm tired of this. There is not so much life left between us. While I am here, I may still have time to say how it really was: with whom life confronted me, what bumps it carried me over and how I could stand on this not entirely easy road …
– By the way, the name is wonderful!
– "I am a student of life" – said Anna Andreevna Akhmatova. In fact, I can repeat these words after her, because I study all the time. And I don't think this process is over or will ever end. Every day you can learn something from any person, and this only shapes your personality …
Valeria Khvaschevskaya
Photo by V. Tarakanov
Article Categories:
Show Business