Regular exercise is the best thing a person can do for their health. This is the opinion of specialists from Harvard Medical School, WHO and other equally reputable organizations. According to their logic, it is useful to go in for sports in any season, and summer is no exception. Moreover, good weather is a powerful natural motivator to finally get off the couch and go out into the fresh air.
There are many studies supporting outdoor exercise. A systematic review of 133 scientific papers shows that physical activity in the air has a positive effect on health: it improves cardiovascular function, reduces the risk of certain types of cancer, obesity and type 2 diabetes, contributes to a better psycho-emotional state of a person and even improves quality of life. Researchers believe that all of these effects are based on a combination of factors: adequate synthesis of vitamin D, better oxygen availability, feasible physical activity, socialization. Analysis of data from 2,500 women from Biobank UK showed that just a couple of minutes of intense outdoor exercise increased the chances of avoiding osteoporosis (compared to women who do not bother with outdoor activities).
However, the same scientific review emphasizes that outdoor fitness has its drawbacks. Researchers have noted a higher risk of injury, especially when practicing extreme sports like paragliding. But far more popular factors that can negate the benefits of fitness on a hot day are high air temperatures and the negative effects of ultraviolet rays on the skin. In sunny weather, the body is forced to spend more energy on thermoregulation, which inevitably affects the well-being and productivity of the workout. Sweating and blood pressure increase, pulse quickens, blood becomes thicker due to loss of moisture, which increases the load on the heart.
To avoid health problems and benefit from outdoor exercise, experts advise:
Choose dawn or dusk hours for your workout, when the air temperature and solar activity are minimal. The optimum temperature for fitness, according to the SanPin Gyms and the American College of Sports Medicine guidelines, is 20-23 ° C with a humidity of 20-60%.

Cancel the workout or transfer it to an air-conditioned room with an air temperature above + 26 ° C. A small study on professional soccer players showed that at + 30 ° C, stress biomarkers were statistically significant even in trained athletes.

Use an SPF cream on all exposed areas of the body. Remember to apply it to your ears, back of your neck, feet and toes.

Choose light, light-colored clothing and footwear that wicks moisture away. Technological synthetic fabrics do this better than linen or cotton.

Sun protection clothing or cream with a high UV protection rating is also required for water sports.

Take a few sips of water or isotonic every 15 minutes of your workout to stay hydrated.

Monitor your condition. Pulse jumps, a feeling of lightheadedness, confusion, sudden dryness of the skin, pallor, convulsions are characteristic signs of heatstroke. At the first sign of discomfort, it is recommended to go into an air-conditioned room or shade, drink water, and, if possible, take a cool shower.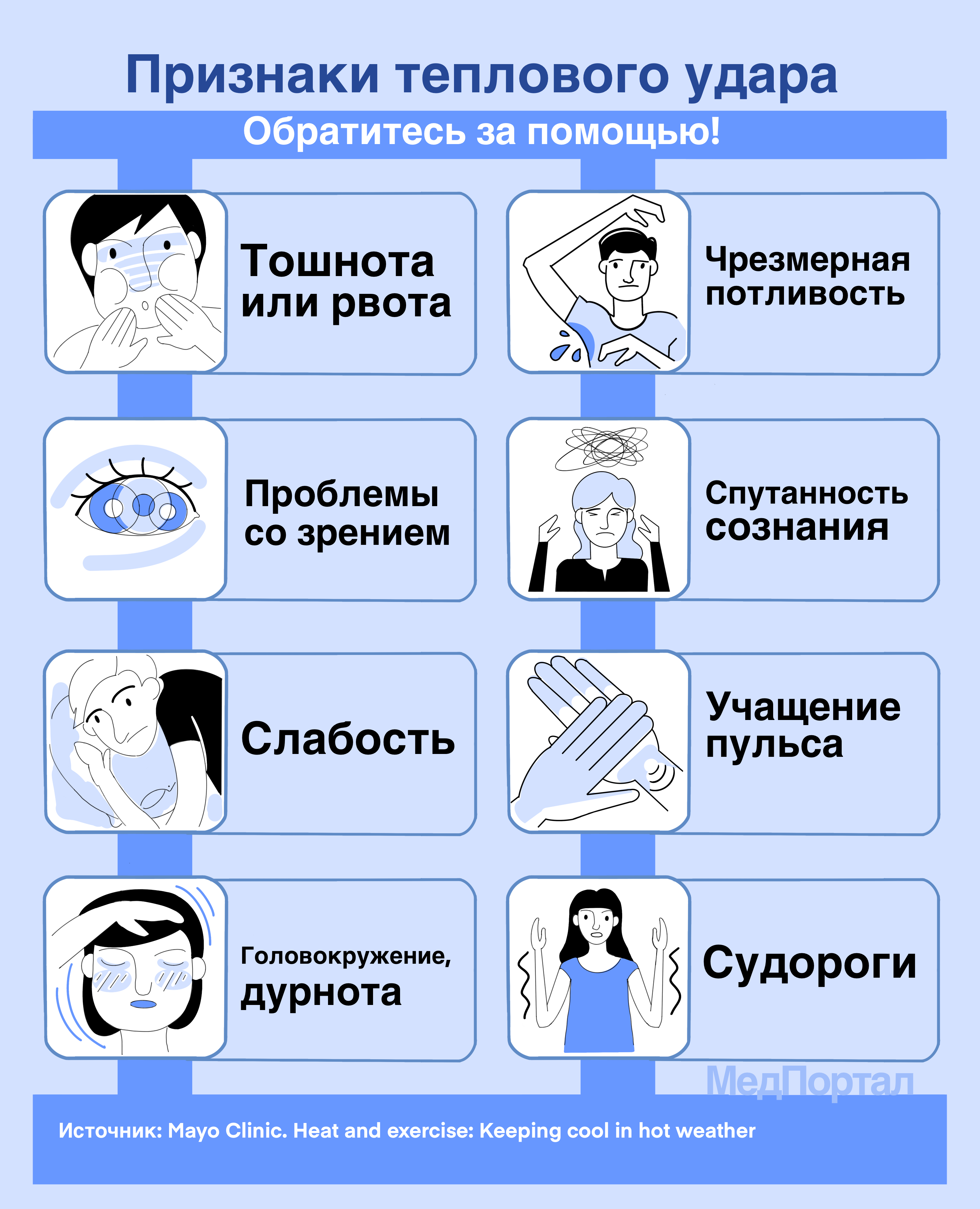 Article Categories:
Health