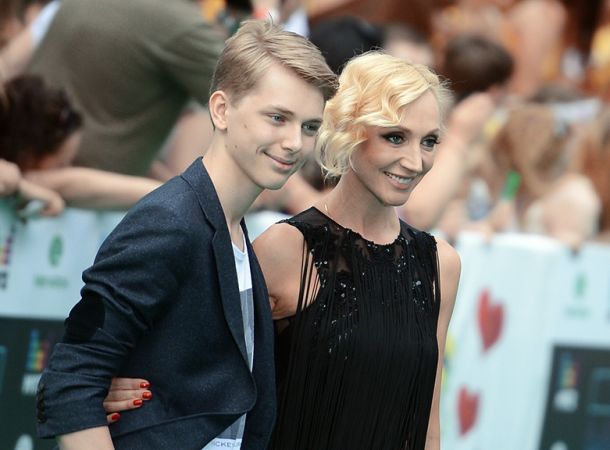 The youngest son of Kristina Orbakaite, Denis Baysarov, recently celebrated his birthday. Of course, first of all, his closest relatives congratulated him, including mother Kristina Orbakaite and grandmother Alla Pugacheva. But the girl Denis Maria could not remain silent.
Passion of a young man published a beautiful and gentle post in his personal Instagram in English. She reminded the birthday girl how much she loved him, called him her soulmate and added that she was incredibly happy next to Denis.
The blogger Lena Miro, however, could not seriously take the words of the girl Denis Baysarov. As the critic noted, all that Maria did in her congratulations to her son Kristina Orbakaite was to mark the territory, demonstrating to all potential competitors that Baysarov was already busy with it. Lena noticed that Orbakaite's son is an enviable and wealthy bridegroom, and Maria obviously doesn't want to miss such happiness. that he is busy to stick to a famous family, to enter into its circle, his girlfriend Masha congratulated Denis (...) Masha marked the territory: everything is very serious with us, love is in the grave, and the boy belongs to her, and she is ready to defend her (... ) Such girls are like sticking. Their rag is on the door, so they are through the window. And at the same time they shout with a note of insanity in a voice about unearthly love forever and tell everyone that they have - like Romeo and Juliet, "she mocked the idyll of Denis and Masha Lena in her LJ.
That's just Masha, Miro continues, and ultimately runs the risk of becoming disappointed in Kristina Orbakaite's son, because he's unlikely to be a good guy. Lena recalled that Denis's father quit Orbakaite rather quickly and is now married to a young Chechen. Lena has every reason to believe that Baysarov will be the same as his father.
Earlier, we recall that the son of Kristina Orbakaite shaved bald.