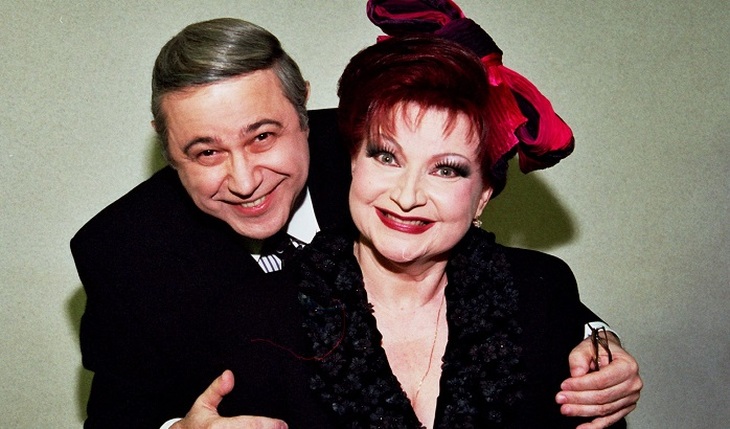 Petrosyan's lawyer Sergei Zhorin hinted that Elena Grigoryevna was unfaithful to Yevgeny Vaganovich in marriage …
Why was it necessary to disclose the juicy details of the ex-spouses' personal lives? And why now?
Public opinion has not been on the side of Yevgeny Petrosyan so far. Still: after 30 years of a happy, as it seemed, marriage, he took it and went to a young mistress. He married her and is already raising a son. And the abandoned Stepanenko is still alone. And suddenly everyone found out that she was not alone at all. And that, perhaps, she had a lover during the marriage … Petrosyan's lawyer Sergei Zhorin hinted at this: "Evgeny Vaganovich and Elena Stepanenko have not lived as a family for 15 years. Who said that Elena Grigorievna has no one? Of course I have! Who exactly, we do not distribute this information. Each of them led an independent life for 15 years.
This statement became a sensation. Firstly, no one suspected that long before the official divorce, the couple's family relations had already broken up, and the reputation of the loving spouses Petrosyan and Stepanenko was supported only for the sake of joint performances. Secondly, no one knew about the presence of Elena Grigoryevna's friend, who, perhaps, appeared during the marriage. According to the lawyer, it was beneficial for Stepanenko to hide this in order to maintain the image of an abandoned and unhappy woman. It is curious that Petrosyan was silent all this time. And now, suddenly, his official representative revealed all the ins and outs. What for? It is possible that this is due to a certain decisive stage in the protracted process of the division of property. Recall that for more than three years Petrosyan and Stepanenko have been unable to agree on who and what will get from the jointly acquired property (according to some reports, we are talking about real estate and antiques worth a total of about 1.5 billion rubles). Elena Grigoryevna, according to Zhorin, claimed 80% of all wealth. But last summer, the court ruled that each of the former spouses would get 50%. Stepanenko was not satisfied with this. First, she filed an appeal, and in November 2021, she also filed a demand for a re-examination, since she did not agree with the previous assessment of the property. So the judicial mechanism began to spin again. How long it will spin this time is unclear. And then information suddenly pops up about the betrayals of Elena Grigoryevna, who until that moment looked infallible and acted as a victim of the treacherous Petrosyan.
– Any lawyer strives to create a favorable opinion about his client and, if possible, to form some alertness in relation to the side that has to be fought in court, – lawyer Ksenia Kiseleva explained to us. – This is called judicial PR, which is widely practiced in the West. We also started using this tool. Direct pressure on a judge is impossible according to the law. But no one forbids a lawyer to create a positive information field around the client and, let's say, a negative background in relation to the opponent. When making a decision, the judge, of course, will be guided by the current legislation, and not by public opinion. But the judge is still not a robot, he has emotions. Therefore, the general attitude can indirectly affect how attentively he will treat the arguments of certain participants in the process.
Mikhail Nechaev.
Photo: A. Lomokhov.
Article Categories:
Show Business