For several years Russia and Belarus have been trying to agree on the terms of integration. State Duma Deputy Artem Turov spoke about the key condition for the unification of the two countries into the Union State.
The political crisis in Belarus is not abating. The opposition, disagreeing with the results of the presidential elections, takes tens of thousands of protesters to the streets of Minsk and other cities every Sunday.
According to Turov, political instability in Belarus is the main obstacle to integration. The formation of a full-fledged Union State is impossible without the resolution of the protracted crisis, the parliamentarian is convinced.
The MP supported the initiative of President Alexander Lukashenko to carry out a constitutional reform. Resolving political issues through protest actions could lead to a repeat of the Ukrainian events, the legislator warned.
The constitutional reform will make it possible to overcome the political crisis through dialogue, Turov is sure. The Belarusian authorities should discuss the future of the country together with the protesters, the parliamentarian said at a press conference on the Ukraina.ru portal.
Earlier, political scientist Alexander Rahr spoke about the format of the Union State. In his opinion, Russia and Belarus are moving towards the creation of a confederation. This is a political union, in which the parties retain most of their independence, but must pursue a single financial, economic, foreign and defense policy.
The European Union did not recognize the re-election of Alexander Lukashenko for a sixth term and imposed sanctions against his entourage. The position of Brussels gives Moscow a good opportunity to resolve integration issues with Minsk, the expert is convinced.
If earlier Lukashenka pursued a multi-vector policy and maneuvered between Russia and the West, now the Belarusian leader has only one way left - to the East, the political scientist noted. After the dispersal of the protest rallies, Batka finally became a handshake in the European Union and the United States, Rahr stated.
"Putin can now gently force Lukashenko to make further concessions," the political scientist is sure.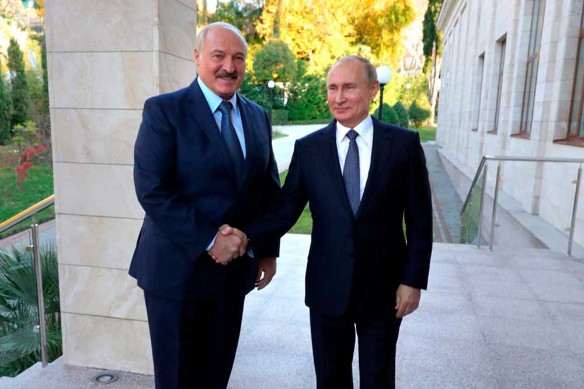 Despite the quarrel with the West and the grave crisis in Belarus, Lukashenka is still in no hurry to integrate with his eastern neighbor. In an interview with Russian media, he said that rapprochement between the two countries on the basis of the 1999 Union Treaty is impossible. During this time, a new generation has grown, so we need to look for other forms of integration, the president explained.
Article Categories:
Politics