Time for preparing: 30 minutes
Cuisine Soviet / European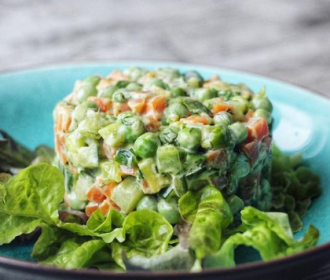 Until the new Year 2021 there is not much time left – it's time to pick up a recipe for Olivier salad, which has long been considered an integral part of the New Year's table.
The classic is the recipe for this salad, which was popular during the Soviet era – then they used the most affordable vegetables and boiled sausage.
New Year's salad can be prepared not only with sausage, but also with meat and chicken. Glavred decided to find awesome recipes for the star of the festive table – classic and original.
How to cook Olivier – a classic recipe
Ingredients:
Boiled potatoes – 3-4 pieces;
Boiled carrots – 2-3 pieces;
Boiled eggs – 4-5 pieces;
Boiled sausage – 330 r;
Pickled cucumbers – 2-3 pieces;
Canned peas – 1 can;
Green onions – 1 bunch;
Mayonnaise – to taste.
How to make a classic Olivier salad – step by step recipe
Cut the peeled vegetables into small cubes. Chop the green onion. Drain the excess liquid from the peas.
Transfer all the ingredients to one container and stir. It is better to grease the dish with mayonnaise before serving. Classic olivier tastes much better when chilled.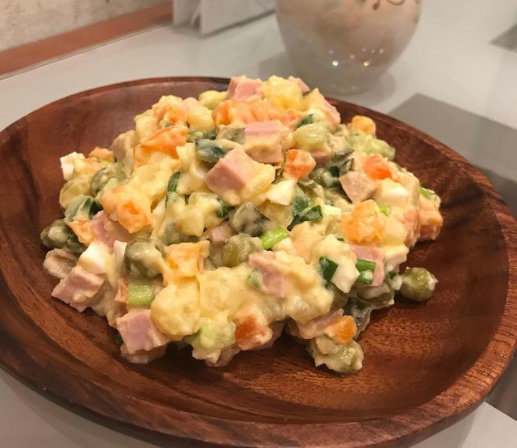 How to make an unusual New Year's salad with meat and chicken
Original meat salad – composition:
Boiled potatoes – 3-5 pieces;

Boiled beef tongue – about 250 g;

Pickled cucumbers – 4-5 pieces;
Capers – 64 r;
Boiled quail eggs – 6 pieces;
Mayonnaise – 150 g;
Sour cream 25% fat – 3-5 tablespoons;
Table horseradish – 1-2 tablespoons;
Dill – 30 r;
Green onions;
Fresh cucumber;
Pepper, salt – to taste.
How to prepare Olivier with meat – step by step recipe
Cut warm peeled potatoes into cubes, add mayonnaise and capers. Cut the cucumbers into cubes and chop the dill. Transfer the cucumbers to a sieve, press down with something and wait for the excess liquid to leave. Then pepper the cucumbers and mix with the dill.
Peel the boiled tongue and cut into cubes. Combine the horseradish and sour cream and add the sauce to the chopped tongue.
Take a large dish and combine all the ingredients. Taste the salad if necessary – add salt.
Garnish the salad with thinly sliced ​​fresh cucumber strips, half boiled quail eggs and green onions.