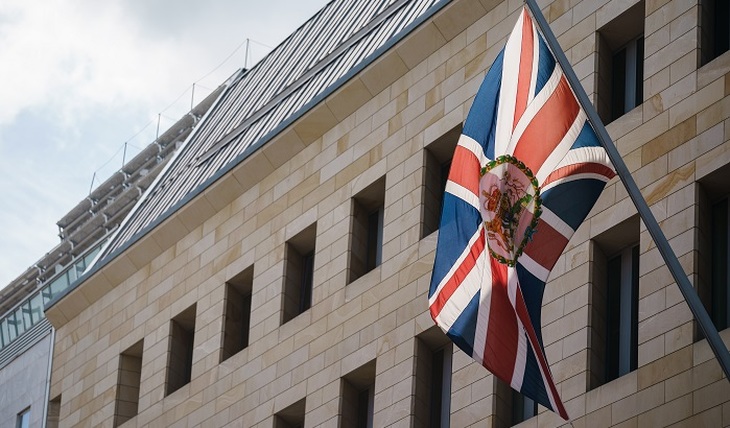 Recently, an employee of the British Embassy in Berlin was detained, who was accused of spying for Russia.
For the United States, Britain served as a bridge to mainland Europe. While other EU countries tried to establish a dialogue with the Russian authorities, the UK has repeatedly pushed the EU to take tough anti-Russian positions.
Further evidence that Germany does not intend to follow the British and American lines was the failure to detain a British embassy guard in Berlin. He was declared an "agent of the Kremlin" who allegedly transferred important information to Russian intelligence for a monetary reward.
However, it soon became clear that the only reason for his demonstrative arrest with handcuffing not accepted in Germany was that for some time he had not used his credit card. This "main evidence" meant that the cash came to him from somewhere else. As a result, everything turned into another spy provocation by MI6 (the British National Security Service) and put German intelligence in a stupid position. No one can say what documents and to whom "Agent Smith" handed over. Moreover, he worked as an ordinary security guard, and, according to the former British Foreign Office security adviser Peter Ricketts, the guards do not have access to classified information.
But the scandal was inflated according to all the canons of the detective genre: the apartment of the "spy" was searched, it was furnished in accordance with Western ideas about the refuge of a fan of Russia – in the corners of the Russian flags, military caps, chevrons, as well as Russian books, which Smith is unlikely could read.
British users ridiculed the "spy scandal" in Germany after viewing photos from the suspect's apartment published in the media. "MI6 is underperforming! Why didn't you find the matryoshka, balalaika and parachute? Russian spies do not work without them, everyone knows that … "- the readers joke. There is only one conclusion: many collectors have such collections, so they cannot be used as evidence.
The British media, trying to hype this spy story by declaring the detained guard a supporter of the Donbass separatists, quickly fizzled out due to a lack of necessary information. The scandal soon subsided, and Merkel calmly went to Moscow for a farewell meeting with Putin.
Nikolay Ivanov.
Photo: EPA / TASS
Article Categories:
Politics