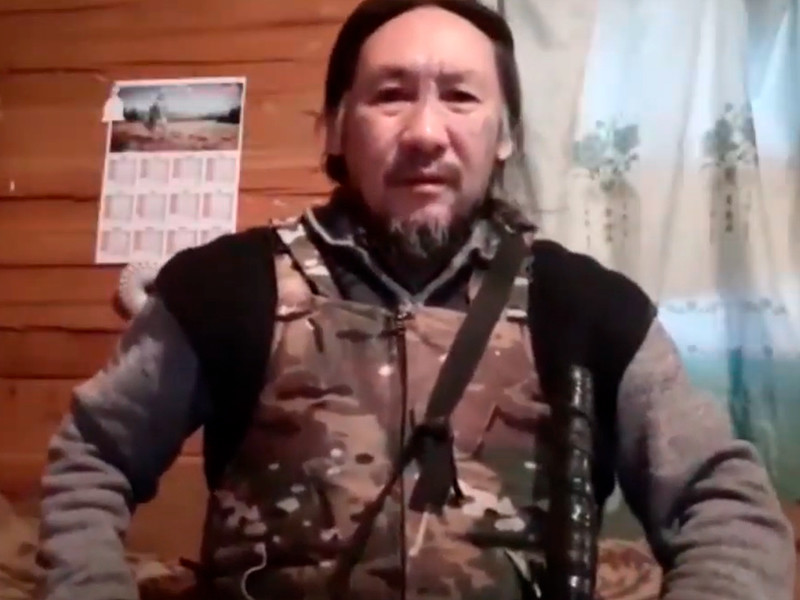 STEP – Shaman Alexander Gabyshev / YouTube
The police came to the Yakut shaman Alexander Gabyshev, who recently announced a new campaign against Moscow. Aleksey Pryanishnikov, the coordinator of the "Human Rights Protection of the Postcard," told Sibir.Realii that the shaman was detained and again placed in a neuropsychiatric dispensary on an unknown basis.
The police did not name the purpose of their visit, Gabyshev, in turn, refused to open the door for them. In a conversation with MBKh Media, Pryanishnikov suggested that the police could have come because the shaman did not appear at the dispensary for a check. According to Gabyshev's sister Ekaterina, among those who came there was a woman doctor and "some high-ranking police officer."
Later, the "Legal Protection of the Postcard" reported in its Telegram channel that the doors of Gabyshev's house had been broken open, all the things inside were scattered, there were stains on the floor that looked like blood. "His phone and notebooks were all confiscated. Supporters of the shaman were kept near the fence, not letting them into the yard. OMON and cars with flashing lights were on duty a kilometer from the house," the message says. In Yekaterina's house, the security forces closed the shutters on the windows outside before the capture of Gabyshev.
After the New Year holidays, the shaman announced a spring campaign to Moscow on a white horse. The supporters were going to accompany him in cars. "The goal remains the same: to reach Moscow, to the Kremlin, to fight there with dark forces, with evil spirits in power. According to the prediction, we will be able to overthrow the demon, and for this we are going," Gabyshev said in an interview with Sibir.Realiyam.
Gabyshev added that he, "as a shaman, was predicted that the demon would be overthrown in August 2021." He noted that he was not afraid to make a new attempt at the campaign, while he did not rule out that they would try to kill him, "because he did not want to obey and did not shut up."
The shaman's first trip "to the Kremlin" ended after his arrest on the border of Buryatia and Irkutsk region in September 2019. Before that, the shaman managed to gather several meetings in cities on his way. A criminal case was opened against Gabyshev about public calls for extremism (part 1 of article 280 of the Criminal Code of the Russian Federation).
In May 2020, Gabyshev was forcibly hospitalized in a neuropsychiatric dispensary, he spent more than two months there. The medical commission of the Yakutsk PND issued a conclusion about the danger of Gabyshev for himself and others. After that, the dispensary filed a lawsuit for the compulsory hospitalization of the shaman, stating that he had allegedly voluntarily been treated there before.
Instead of a medical description of Gabyshev's state of health, the lawsuit stated that he suffers from "an overestimation of his personality", as he expressed ideas "to harm the government and overthrow Putin" – "the demon and the Antichrist", and also "called for the overthrow of the legally elected government."
Article Categories:
Politics