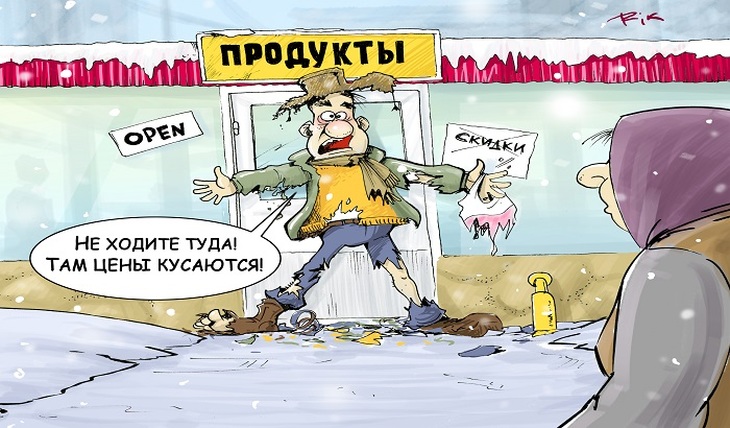 As you know, pessimists are well-informed optimists. Expert structures say that another surge in food prices is coming from January.
Perhaps to some, these statements will seem like malice or intrigues of foreign agents. Moreover, against the backdrop of emergency measures taken by the government to freeze price tags for basic products. However, we are not talking about intrigues – the economy, head over heels immersed in market realities, has its own strict laws.
Yes, Prime Minister Mikhail Mishustin signed several decrees that should stabilize the situation with prices for basic products. They will be in effect until the end of the first quarter of 2021 and will allow "to reduce and maintain prices at a normal level" for certain basic products, in particular, sugar, sunflower oil, bread and a number of other important goods.
But it is one thing to squeeze the speculators who profit from the crisis, and quite another to limit the real costs of production. Moreover, the main assortment of demanded products is much wider than the one fixed by the government. You can't freeze all price tags!
And most importantly, the cost of products today is influenced by many factors, which the agricultural sector and retail chains have not been relieved by either the government decree or import substitution.
"The main factor behind the growth in the cost of products in Russia is the devaluation of the ruble," says Artem Deev, head of the analytical department at AMarkets. – Domestic manufacturers use a lot of imports, starting with equipment and components in the fields, including pesticides, veterinary drugs for animals, compound feed and ending with packaging, preservatives in food production. The growth in the value of these derivatives of the food industry is directly reflected in the final prices – manufacturers increase the purchase price, retail also increases prices, since it cannot sell below the selling prices. "
Experts note that Russian retailers have adopted a moratorium on price increases for a number of basic products in order to somehow support the demand in stores during the period of maximum New Year's sales. The moratorium was in effect until the end of the year. But from January 2021, this rule may be revised, which will lead to higher prices for many products.
It's like covering a pot of boiling water tightly – the consequences are inevitable. Manufacturers will be forced to compensate for the costs of products not included in government documents.
That is, the freeze will not be "deep" – the market will push through the thaw. Or expose empty store shelves.
Pavel Maksimov.
Caricature by D. Trofimov.
Article Categories:
Economy