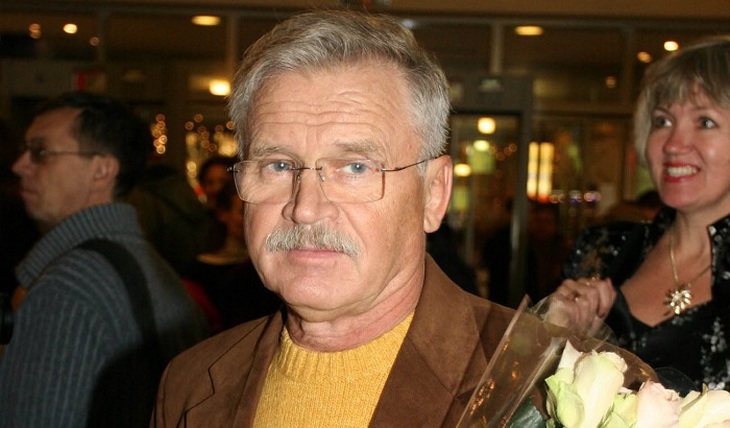 He's the one who fit into the new era. As he began to act 60 years ago, as a student at VGIK, he continues.
More than 200 films are already in stock. And still full of energy and strength. It's hard to believe that Sergei Nikonenko just turned 80 years old!
– Sergey Petrovich, how did you celebrate the anniversary?
– On the morning of my birthday I flew in from Crimea, where one project is being filmed. And in the evening he played the play "Kalina Krasnaya" at the Theater of Nadezhda Babkina. It's not a tradition to celebrate a birthday on stage, it just happened to coincide in dates.
– As far as we know, you dreamed of becoming an actor since childhood. However, upon admission they experienced great difficulties …
– I really wanted to study at the Shchukin school, because I lived a 15-minute walk from it on Sivtsev Vrazhka and, by the way, I have not changed my registration for 80 years. So, I went there until the third round, but, surprisingly, I did not find my last name on the list of those accepted. I auditioned at the Shchepkinskoye School. That year, Viktor Pavlov, Mikhail Kononov, Oleg Dal, Vitaly Solomin entered one course … And they didn't take me there either.
There were still the Moscow Art Theater and GITIS. Everywhere I reached the third round – and again they didn't take me. These were all theater schools, I wanted to be a theater artist, I saw all the performances of Vakhtangovsky and Mayakovka, I didn't even think about cinema then. But still he decided to try his hand at VGIK – and unexpectedly entered!
Then I realized that up there, heavenly forces were leading me to Sergei Gerasimov and Tamara Makarova, on the course to which I got. And I am so grateful to all those four theater universities that did not accept me!
When Sergey Gerasimov handed me a student card, he said: "Young man, we will take you, Tamara Fedorovna Makarova insisted on this. But I would like to warn you that you will have to part with the stamps that you acquired in the amateur performances. You play, but you should live the role. " What I was taught – to live in the image. This was the main component. And even during my studies, much attention was paid to what kind of citizens we will grow up to. To have a sense of responsibility not only for your actions, but also for what you do as an actor. You must be the author of your image.
– Are the actors being taught differently now?
– There are talented guys, and talent, as they say, cannot be spent on drink. You can drink health only! (He laughs.) But now you rarely see serious work – the drama has just become weak. How can you play something good in a film that doesn't have any drama? If there is a very good script, it is difficult to make a bad film. I had a great practice of 227 film roles in 60 years. And one role was even in 320 episodes. Or in "Kamenskaya" there were also a lot of them – 90! But they were all great. And now all this is turning into a conveyor belt, especially in TV series. Young actors do not have time to build relationships between the characters. I always ask young artists on the stage: "What is more important: learn the lyrics or understand what and how you will play?" For me, how and what is more important, but to learn the text is already a second time.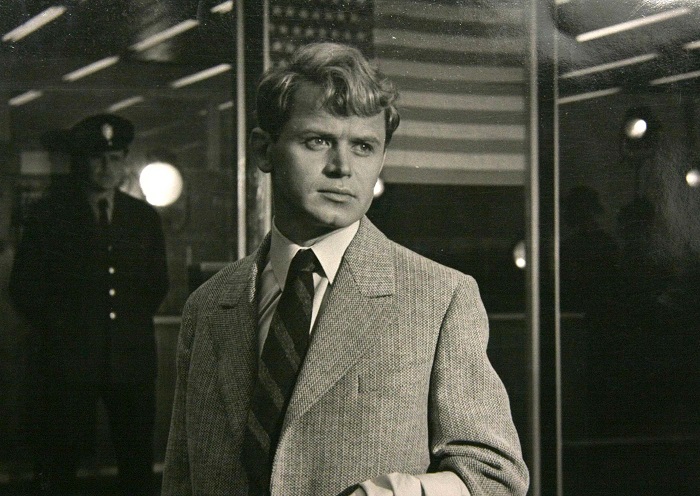 In the role of Sergei Yesenin
"SHUKSHIN WAS A HOMOMAN"
– How do you feel about your popularity? After all, it turns out that your life is also almost in full view of everyone.
– This is part of the profession, I think so. The artist is a public person, he is seen by millions on screens. Many people want to take a photo with you, and some ladies can even snuggle closer to you during the shooting. (Laughs.) But an actor is a profession such that he is popular only when he is filming. If not, then in five years – a maximum of ten people forget about him …
– You were always in business, there were no pauses. And could, as they say, slide down the slope?
– Do not renounce your wallet and prison. So I look at many people who have reached some heights in creativity. The impression is that they do not even think: could everything have turned out differently? Or maybe it was a case, or could this case have turned them in a completely different direction? ..
I think that nothing could infect Shukshin with some kind of fanaberia. It would be another matter if he had gone to his Srostki, probably he would have stayed alive: he would have built a house at the picket, he would have become a writer.
After all, I found that time when Vasily Makarovich was a homeless person. It's hard to imagine now. No, he was not beaten, he was not dirty, like the bums we meet now. But the fact that Shukshin was homeless is a fact. He wore breeches and boots. He probably had nothing else to wear. Somewhere he accidentally spent the night, sometimes he stayed with me, he was not allowed into the hostel. But he clung so stubbornly to Moscow – I won't leave, that's all. After all, they offered to work in Minsk, at the Odessa studio.
– And you, judging by the extensive filmography, do not refuse offers?
– No, why – I refuse. Once, I remember, they gave me a script – well, pure porn. They offered to play an artist who seduces minors: he persuades little girls to pose, and then persuades them to cohabitation. Here is such a disgusting absolutely disgusting …
– Didn't they ask why you were "given a high honor"?
– Not. Such people came, at the sight of which a chill ran through me. They put 10 thousand dollars in front of me, said: take an advance. And all the work cost 50. "Only ten shooting days, – they say, – well, where else will you get paid that much?" "Guys," I said to them, "let me think well, well …" More, thank God, we did not meet.
– What role do you consider significant in your filmography?
– A lot of them. But, probably, the first serious work, which was remembered most of all, was in the "Journalist" with Sergei Apollinarievich Gerasimov. I played a provincial journalist and after that I felt that I can do something in my profession. And in addition, this character was somewhat like me, I recognized myself in him.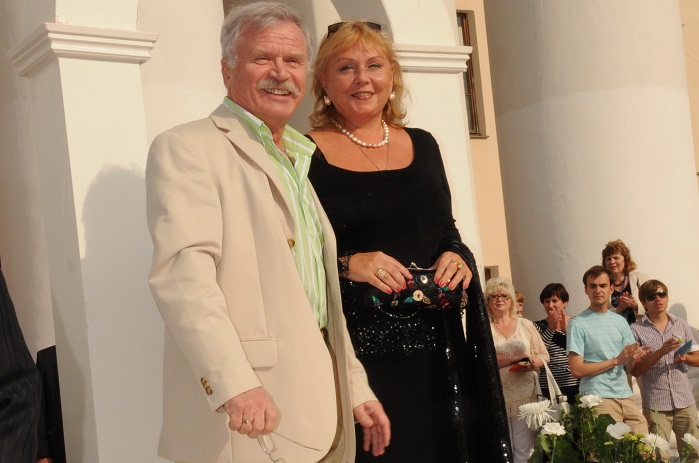 With his wife Ekaterina
"I HAVE FOUND MY IDEAL!"
– You are not only an actor, but also a director. At what point did you realize that you want to master this profession too?
– I independently put some excerpts, while still studying to be an actor. And a little later, when I was assigned to the Mosfilm film studio, I felt that the acting profession is so unreliable: if they take you, they won't take you … You are like a young lady of marriageable age – waiting all the time. In addition, I liked some topics that I did not find on the screen, and I wanted to reveal them to the viewer. For me, these were serious reflections at that moment. So my work as a director is not a whim, but an important decision. And then I studied at the directing department.
– You have a very warm relationship with your eldest grandson Peter, who will soon turn 13. What is his hobby? Maybe become an actor?
– He is interested in other things, for example, chemistry. They still have no such subject in the seventh grade, but he is already advanced in this science. When Petya was little, he was fond of all sorts of insects, cockroaches, he looked at them constantly. I then gave him a microscope and called him a biologist. But once my grandson told me that he was not a biologist, but a chemist. Since then, this hobby has remained. He is very serious. Thank God he doesn't want to be an artist.
– So you wouldn't want your grandson to become an artist?
– Not. This is the profession of desperate people, and I was just like that. Already at the age of 13 he decided to become an artist – and no one else! I pressed on all the pedals. Therefore, I participated in amateur performances, and so on.
– You are faithful not only to your profession, but also to your wife – you have been together for almost 50 years. How did you manage to keep the relationship?
– It didn't work the first time. And with the second, too, there was a misfire (Nikonenko was married three times, the first two marriages were short-lived. – Ed.). What cannot you endure on the way to the ideal! (He laughs.) I found my ideal. Difficult, difficult, very beautiful. And this is my wife Katya. With a very serious character. Delicate, and she has a steel rod inside! And there were difficulties, where could we go without them. But they only tempered and united us! As you can see, there are no special secrets, you just need to love each other! ..
Valeria Shelovanova
Photo by V. Tarakanov,
B. Kremer
Article Categories:
Show Business