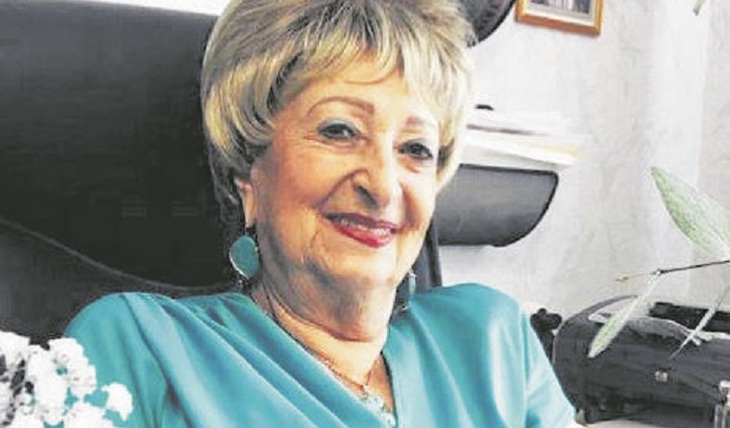 One can only talk about this amazing woman in a superlative degree.
Elegant, always well-groomed and tastefully dressed, she is one of those ladies, when you meet her on the street, you will definitely turn around and look after her. And after talking with her, you will certainly feel the charm of the mind and femininity, which, combined with a sense of humor and self-irony, makes her completely irresistible.
And this is all about Nonna Grigorievna Brodskaya, unique and unrepeatable if only because she is about to turn 92 years old. Her homeland is Odessa, her native street is Deribasovskaya. Hence – subtle humor and an optimistic outlook on life. From her parents, she inherited intelligence, stubborn character, dedication and a profession that largely determined her fate. At the insistence of her father, Grigory Bass, she entered the Odessa Civil Engineering Institute, where he headed the department of water supply. No, not out of pull, I honestly passed all the exams and became a student of the "Heat and Gas Supply" faculty. I got involved, I liked it. Here she met the main and only man of her life – Vladimir Brodsky, with whom she lived 57 happy years and raised a son, whom she is rightfully proud of.
It is possible to write a great novel about the history of her family, whose fate became a reflection of an entire era – repression, war, the building of socialism, and then communism. But Nonna Grigorievna has no time for that yet. A lot of work. However, it has always been so. And then, when she and her husband, having received distribution in Nizhny Tagil, worked at a local metallurgical plant. And in 1960, when their young family moved to Tver and received an invitation to work at Kaliningrazhdanproekt.
There Nonna Brodskaya worked for 30 years – at first she was the head of the heat engineering department, then the chief engineer of projects and, finally, the chief heat engineer of the institute. This is how her professional reputation was formed, which today no one doubts. The official confirmation of this is the title "Honorary Builder of the USSR" and the badge "For Merit in the Development of the Tver Region".
Nonna Grigorievna never ceases to amaze even those people who know her well. Judge for yourself. At 62, when her peers have been sitting at home for a long time and babysitting her grandchildren, she leaves. No, not for retirement, but for business. In the early 90s, when the institute was left without orders, she was offered to establish in Tver the production of heating boilers, then very scarce equipment. She agreed without hesitation. This is how NPO TVEMOS LLC appeared, which means "Tver – Moscow", and Nonna Brodskaya became a business woman.
At first, she knew little about entrepreneurship – the Soviet institute with the foundations of Marxism-Leninism made itself felt. But she quickly penetrated and even launched, together with her husband, the production of boiler houses, orders for which came from almost all over the country. Among themselves, the customers said: "I ordered a boiler room from Brodskaya." This meant a kind of quality mark, as a personal mark of well-known artisans in Russia.
After the death of her beloved husband, she was able to pull herself together, and her relatives and friends helped her in this. A reliable assistant was the son Alexander, who, after graduating from the Odessa Construction Institute, followed in the footsteps of his parents. When the whole family gathers in Nonna Grigorievna's house, she never orders festive meals in a restaurant. She cooks everything herself, so much so that any chef will envy. He reads a lot, listens to music, mostly classical, depending on his mood. She is engaged in charity work, helping the abbess of the Orsha and Catherine monasteries, with whom she has long-standing friendship.
When Nonna Grigorievna is asked about the secret of her creative and human longevity, she honestly says:
– I do not know. But I can assume that optimists, among whom I consider myself, and people who do what they love, live longer. Personally, I'm going to work as long as my head works. And she hasn't let me down yet …
By the way, she never turned to plastic surgeons for help. Even in my thoughts there was no such stupidity. As for the diet, over the years, some features have appeared in it. She completely gave up tea and coffee, she drinks only rosehip broth. Prepares lunch mainly in a double boiler.
This is what Nonna Grigorievna herself tells about her exemplary menu.
– In the morning I eat 5-9% cottage cheese plus a spoonful of grated currants with sugar. I drink the brewed rosehip. For lunch I have something meaty: chicken, for example, with a slice of whole grain bread and walnuts. For dessert – a small piece of cake from those that I usually bake myself. I eat a little for dinner and not too much. Usually after a working day there is no strength for anything – you have to be content with a sandwich without butter. Of course, with cheese or liver pâté …
And yet, the main components of her longevity are optimism, beloved work and a wonderful family.
Svetlana Avdeeva, Tver
Article Categories:
Interesting