Route "Intestines – Lungs"
Did you know that our immunity is formed in the intestines? It is here that almost 80% of all immune cells are concentrated. ² Representatives of the beneficial microflora of this powerful organ secrete special substances – biologically active metabolites that have a regulatory effect on intestinal immunity and affect the state of other organs and systems, including the lungs. You probably don't even know what a close relationship is established between them and the intestines! Scientists have named this tandem the gut-lung axis. Changes in the composition of the intestinal microbiota can provoke pathological processes in the respiratory system, or vice versa, help us protect ourselves from them.
A number of studies on animals have already been carried out, the results of which convincingly prove that with the help of special probiotic strains we can influence the state of the lungs. ³ The Lactobacillus plantarum DR7 strain is of great interest to scientists.
How does Lactobacillus plantarum DR7 work?
In two clinical studies conducted by the American Scientific Association (ADSA), it was shown that the probiotic L. plantarum DR7 in the intestine stimulates the formation of immune cells that migrate with the bloodstream to other mucous surfaces, including the respiratory tract. response1, increases the amount of oxygen in the blood and improves breathing.
In an in vitro study, L. plantarum DR7 has been shown to be highly effective.
It has also been confirmed that the probiotic normalizes the intestinal microflora during antibiotic treatment.
Lactobacillus plantarum DR7 is now in Russia!
The first probiotic in Russia containing L. plantarum DR7 – ORVIS Probiotic from the Evalar company. Each capsule of ORVIS Probiotic contains 1 billion (1 × 109 CFU) probiotic organisms L. plantarum DR7 of European quality, which help to maintain the function of the respiratory tract and strengthen the immune system. The drug can be taken daily for three months for best results. Suitable for adults and children from 3 years old.
When the lungs are under threat – ORVIS Probiotic Evalar! This is what you need to keep your airways healthy!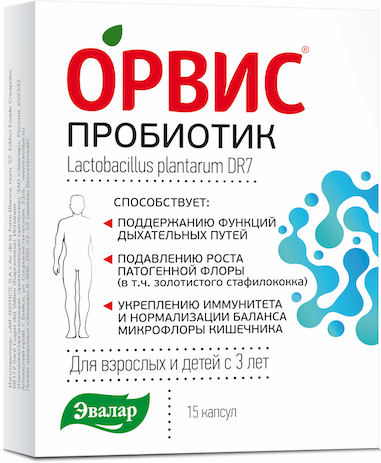 __________________________________________________________
¹ Chong HX, Yusoff NAA, Hor YY, Lew LC, Jaafar MH, Choi SB, et al. Lactobacillus plantarum DR7 improved upper respiratory tract infections by enhancing immune and inflammatory parameters: a randomized, double-blind, placebo-controlled trial. J Dairy Sci. June 2019; 102 (6): 4783-97.
² Oganezova I.A. Gut microbiota and immunity: immunomodulatory effects of Lactobacillus rhamnosus GG // Russian medical journal. 2018. No. 9. P. 39–44.
³ Zolnikova O.Yu., Ivashkin K.V., Bueverova E.L., Ivashkin V.T. Intestinal microbiota, nutrients and probiotics from the perspective of the interaction of the "gut-lungs" axis // Questions of nutrition. 2019.Vol. 88, No. 3. P. 13–22.
⁴ Joint Expert Council of the Food and Agriculture Organization of the United Nations (FAO) / World Health Organization (WHO) on the assessment of the health and nutritional properties of probiotics in food, including milk powder with live lactic acid bacteria, 2001
⁵ Vos T., Allen S., Arora M., Barber R.M., Brown A., Carter A. et al. Global, regional and national incidence, prevalence and years lived with disabilities for 310 diseases and injuries, 1990 –2015: A systematic analysis to study the global burden of disease 2015. Lancet. 2016 October 8; 388 (10053): 1545-602.
⁶ In vitro – "in glass", "in a test tube".
⁷ According to the data of the state register of registered dietary supplements.
Article Categories:
Health