The sharp conflict between the singer's daughter and her stepson hit the top of news and kitchen gossip.
It is believed that the scandal was hyped for the fees that talk show participants are paid. But perhaps the stakes are higher than they seem …
Andrey Malakhov's show has not received such a tidbit for a long time: a scandal in a family that has receded into the shadows, but a rather large star. Moreover, the conflict turned out to be multi-layered! Here you will find garbage secrets thrown out on the public, and insults, and even a fight on the air!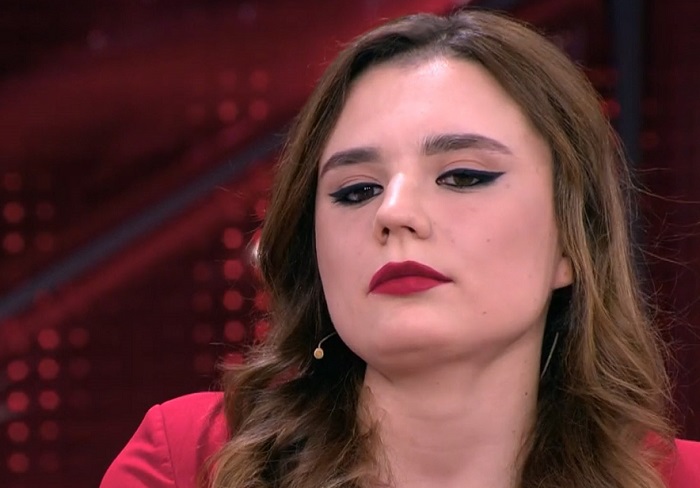 Recall that the youngest daughter of Masha Rasputina – also Masha – accused her paternal half-brother Roman of harassment, that is, an attempt at incest. Moreover, criminal inclinations on the part of an adult man allegedly took place at a time when the girl had not yet turned 18. The novel, in turn, told the world about the obscene behavior of his sister, who "offered herself to everyone," even kind of like friends of their common father …
During the showdown, it also became clear that Rasputin, whose marriage to businessman Viktor Zakharov seemed ideal and very strong, is not actually his official wife. Their long-term relationship has not been registered, which means that there is no marriage as such. Moreover, the luxurious mansion in which the singer now lives is decorated in the name of Zakharov himself and his first wife (Roman's mother). That is, if something happens to Rasputina, they may be asked to leave with things at any time. And her beloved daughter has already gone through this: Masha Jr. had to move out of her home in the summer because of a strained relationship with her father. And her contact with her mother became thinner …
It is not surprising that the sofa commentators suggested that the girl arranged all the fuss on the talk shows for the sake of royalties. It is difficult to live without a parental wallet, so I found an easy way to make money. Andrei Malakhov himself somehow announced the size of the fees that are paid in his transfer to the stars or their relatives in connection with any high-profile stories: on average, it is 500 thousand rubles. But according to the assurances of PR technologist Vadim Gorozhankin, recently the channels have become generous and can pay about a million for the transmission.
Masha Jr. and her brother took part in two episodes of "Live". Their revenue is easy to calculate. It is possible that the third issue will also be: Rasputin herself will come to the studio to tell "how things really are." In this case, her daughter and stepson will earn more money, and the singer herself will remind of herself that it will not be superfluous now, when orders for New Year's corporate parties are being formed. Producer Olesya Sazykina even suggested that the brother and sister played out the play. Is it possible that Masha Rasputina was aware of and even approved the production script herself?
"I'm sure that Rasputin has nothing to do with this," says the writer, psychologist and permanent talk show expert Yulia Shilova. – She had enough of the scandalous story with her eldest daughter Lida, who told nasty things about her mother in talk shows and brought out a lot of unsightly things for general discussion. You can think anything about the singer, but she would not attract attention to herself and place orders for corporate parties in this way. Any self-respecting woman, and I think Rasputin is just that, would not go to the point of using children to spark interest in her person.
In addition, it is unlikely that the artist would have allowed to tell, for example, that she was not painted with Zakharov … No, and again no! It was Masha Jr. who ignited the conflict. For what? Partly for the money. She began an independent life, and, of course, she does not have enough money. I got used to living in chocolate behind the backs of dad and mom, but here I have to raise funds myself. Well, she decided to get them in this way, which, by the way, she probably liked, because Masha has long aspired to publicity, dreamed of becoming a media person (these words are confirmed by the fact that the girl has her own media manager. Ed.). She tried to take part in the show "Bachelor" with Timati, but for some reason she was eliminated. And now the whole country is talking about her!
But talk show fees and longed-for publicity are the flowers. It was not for this that everything was started, something more is at stake, namely the property of Viktor Zakharov. His business assets, real estate. Zakharov has already suffered two strokes. And the relatives, apparently, believe that he does not have much time left. ("He is already on the way," – said Roman about his father.) That is, in fact, we are facing a struggle for the future inheritance. The novel, I believe, sees itself as the main, and perhaps the only heir. After all, he is a son, a successor of the family. And despite the fact that he served four years for stabbing, and then quarreled with the administration in the company of his father, his father recently brought him closer to him. But Masha Zakharova, on the contrary, moved away from her dad. Therefore, it seems to me, she just needed this whole scandal to denigrate her brother. But he is not simple either: he denigrated his sister in response.
In fact, children bury their parent alive and publicly and try to win back the inheritance from each other in advance. Typical golden youth spoiled by money. And the way Masha behaved is, frankly, game. As a mother, I am insanely sorry for Masha Rasputina, who invested everything in her youngest daughter, absolutely everything! And now I received such "gratitude": everything that should have remained inside the family, the spoiled beloved girl brought to the screens. I think she will very much regret what she did later …
Lydia Mezina.
Photo: A. Lomokhov,
"Russia 1".
Article Categories:
Show Business