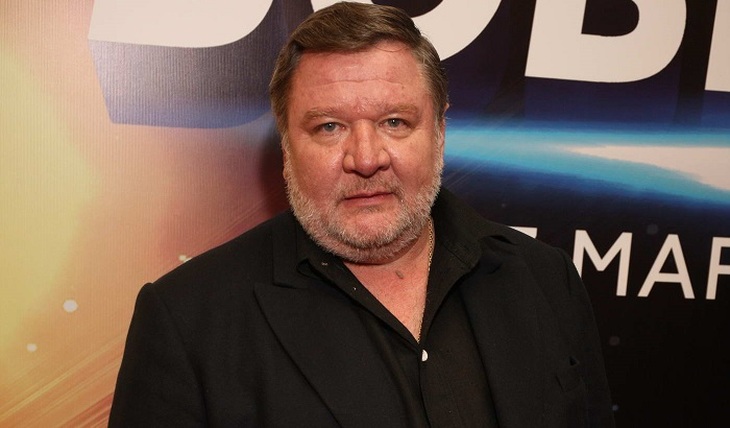 Unlike famous singers who prefer to celebrate round dates on the stage, the famous actor Roman Madyanov celebrated his anniversary at his dacha: on the set, he was given a "day off" on this occasion. Well, in fairness, I must say: he deserved it.
Of his 60 years, 50 Roman Sergeevich has been acting in films, starting with the role of Huckleberry Finn in the film "Completely Lost" by George Danelia …
At the moment, in the filmography of Roman Madyanov there are two and a half hundred roles, many of which are the main ones. But even in the minor ones, his bright characters are hard to forget. The head of the special department, Major Kharchenko in the "Penal Battalion", Colonel Kolobkov in "Soldiers", General Merezhko in "Burnt by the Sun – 2", the mayor of the city in "Leviathan" – you can list for a long time … And we met with the hero of the day on the set of the series " Alla, taxi! ", which is filmed for the Russia-1 TV channel. We talked about the anniversary, and about the roles, and about many other things …
"SOMETIMES YOU NEED TO LISTEN TO THE BODY"
– Roman Sergeevich, happy birthday to you! How did you celebrate your birthday? You now have a busy shooting schedule, probably, did you celebrate at work?
– Thanks! They took pity on me a little: they gave me a day off. Colleagues on the set of "Alla, Taxi!" happy birthday over the phone. They called via video link, waved the pen. There were no special festivities … In general, the anniversary, of course, was not easy. I gave an interview and during this time – about a month – probably, the corn rubbed on my tongue! (Laughs.) They came to my dacha, recorded interviews – and all the time by the pond. I, in order to somehow change the picture, the only thing I did was change my shirt. Here I am in a blue shirt – for one TV channel, but here in a blue one – for another! (Smiling.)
– Well, what to do, your profession is such a public one – you have to report, including about the years you have lived.
– Yes, of course, interviews should be given. But in moderation and with respect. This is the cost of the profession.
– There was no desire to philosophize before the anniversary? Still, it's a good date…
– It's called "gundet, itch, become a bore." No, in no case was there such a desire! Yes, this is such a transitional period, it is not very simple. When you are 25 or 30 years old inside – in any case, you feel like that – and your body, which is 60, says: "Stop! Where are you going? This is where you need to rest!" Sometimes you have to listen to your body, which is why you sometimes think ten times before you do something. Everything should be organic. But to sit and grumble is terrible, as Alexander Anatolyevich Shirvindt says.
"OTHERWISE YOU WILL NOT WASH"
– There are many roles in your filmography, but you still often refuse to shoot. Do you come across many scenarios when you say a categorical "no"?
– I can't say that there are a lot of them, but there are, of course. I can't agree to everything.
– What repels: the role, the script?
– Firstly, when there is a checkmate in the script … Of course, it's a sin for me to complain about the checkmate after Leviathan. But there I could afford it. I spoke before filming with Andrei Zvyagintsev (director of the film Leviathan. – Ord.) that you can do the same thing without uttering swear words at all, but at the same time everyone will perfectly understand what exactly I mean. No, he refused. But this is his right. And there it was completely justified. But when I open some new scenario and literally from the first lines there is a frank mate about nothing – that's definitely not necessary! I won't even read the script beyond this page. Although there is, perhaps, some brilliant text… Then it starts: "Oh, you know, we didn't think that and didn't mean that!" I don't know what you were thinking, I opened and read. Then prepare it so that it is not on your knee, so that everything is clear to me, and then there will be a conversation. Otherwise, you will never wash off later in your life. And this is not fear – it's just respect for one's own reputation. You are no longer in that status and at the wrong age. You need to understand perfectly that you can earn a reputation all your life. You walk calmly, minding your own business … And then you can break everything once! ..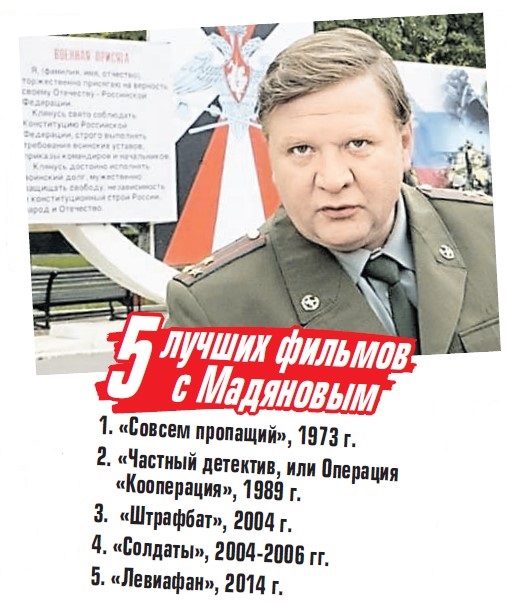 – Can you yourself, thanks to the same status, insist on some changes in the script, in your role?
– You know, I was always interested to understand why I was invited to this or that role. After all, it's not just that the director calls my last name – it means that he sees something, something suggests that it is Madyanov who can play this. When I come to the set, first of all I want to understand not that I will dominate here … Or I won't. It's all wrong. And what does the director want from me as from Roman Madyanov. It could have been Sidorov, Ivanov, Petrov, but they took me, Madyanova … I am deprived of the thirst for rivalry, competitiveness. In general, I think that there should be a wonderful, upbeat atmosphere on the site, everyone should be in a good mood. It is necessary to enjoy the work, and not go there as if to Calvary. As soon as scandals, conflicts begin, this will not lead to anything good, except for trouble for the cinema that is being made …
"BEST HOLIDAY IS FISHING"
– You have been acting in films for 50 years. Is there any role or any film that you are closest to?
– Are you asking me to choose among 250 paintings?! What can I tell you? And my childhood period was good, and there are my favorite paintings. Because back then there were some other memories behind the scenes … I can't say which films are closer to me or better. It is necessary to ask the audience who and what of my work remembered … Most, of course, will call "Soldiers". And who is more attentive, speaks of "In the first circle", "Penal Battalion", "Wild Field". The same "Leviathan" is often remembered… I have many works, there were also significant ones. Of course, the first big push of popularity was brought by the "Penal Battalion", the second – by "Soldiers". Yes, this is a series, but nevertheless, we took it seriously, and it was amazingly popular with the audience!
– They say that now our series have become better than a full meter. Confirm?
– I can say that a truly high-quality product is often made. And this is good. I hope that all this will continue to go in a normal direction … Now I am still filming in a fairy tale. Charm! What genre! I play the king-priest Feofan (the film "By the Pike's Command." – Ord.). It's such a thrill – just a song for an artist!
– But fairy tales are just not so often filmed here …
– Good artists will immediately go to a fairy tale to act as soon as they are offered, without hesitation!
– It turns out, this is your favorite genre?
– Absolutely! Artists – especially of the old school – instantly react to a fairy tale!
– You are watching TV?
– I rarely watch. If someone from my family is watching, then I'll just look at what they show there, well, I'll pass by.
– How do you feel about criticism?
– There is no more terrible critic than myself! Absolutely self-critical. But I don't drive myself, I don't bully …
– Well, how do you like to relax?
– Fishing. Fishing is the people with whom you go on exploration. You will not go with strangers. They go fishing with those people with whom you can sit all day without uttering a single word, being two meters from each other. And we won't be bored! And I will not be gnawed by the thought that I need to ask something, to talk. That's what it means to be on a fishing trip – it's mutual assistance. As a vacation – wonderful. Fantastic elements converge in nature. And if there is also a fire – just fine! These three things – sky, water and fire – can be looked at endlessly …
Alexandra Sokolova
Photo by V. Tarakanov.
Article Categories:
Show Business