17:15, 09/15/2020
The artists are planning to become parents again.
Regina Todorenko and Vlad Topalov met at the rehearsals of a theatrical production. By that time, the singer already knew his partner, as he watched the show "Heads and Tails". The first date of the future spouses took place after one of the rehearsals. The constant traveling of the TV presenter did not prevent the couple from developing their relationship. Six months after the beginning of the novel, Topalov made Todorenko a marriage proposal.
Todorenko and Topalov did not succeed in getting married right away, as it turned out that the artist was pregnant with her first child. As a result, in the fall of 2018, the lovers modestly signed in Moscow a few months before giving birth. In December of the same year, Regina and Vlad became the parents of a boy, who was given the name Mikhail. At home, call your son Michael more often. Only in the summer of 2019, the couple decided to arrange a magnificent celebration on the occasion of the wedding. The lovers organized a luxurious holiday in Italy.
Regina Todorenko with her son Michael
Todorenko and Topalov did not hide that not everything is perfect in their marriage, however, they prefer to work on relationships. The artists did not hide their personal lives - in their microblogs on Instagram, the couple often talks about the details of their life together, and also shows a photo of their son Michael. The lovers do not plan to stop at one child. Moreover, Regina and Vlad have already come up with names for future children. The couple wants to call the boy Roma, and the girl Lena.
"Of course, I want to have another child. Maybe not just one. How people understood me - I am not responsible for this. But if we talk about children, then, if God willing, soon it will really happen, "Todorenko shared with the journalists of the" 7 days "publication.
When exactly Todorenko and Topalov plan to become parents, they have not yet announced. Moreover, now the stellar couple is fully engaged in filming in the Ice Age project. Regina skates in tandem with Roman Kostomarov, and Vlad got Elena Ilinykh as his partner. Also, Todorenko intends to return to the Eagle and Tails show, where he will travel across Russia. Traveling away from home is now not so easy for a TV presenter.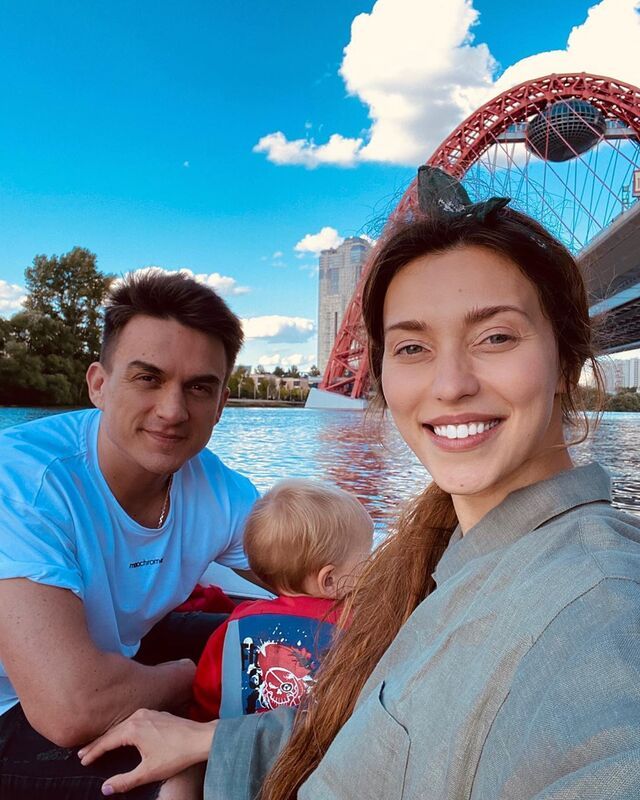 Vlad Topalov, Regina Todorenko and their son Misha
"Guys, in the last couple of months you have all witnessed my sentimental posts about separation from my husband and son. Yes, yes, it was me who suffered on the plane during takeoff and landing, going on another trip, because it is sooooo difficult for a young mother to leave two beloved men for so long. But we did it !!! And now I am happy that my boyfriends manage to spend time together without their mother, "wrote Regina Todorenko in her microblog on Instagram (the author's spelling and punctuation are hereinafter given without changes. - Prim. line.).
Earlier, Regina Todorenko published a video with her son, made in the children's kitchen. The young mother believes that games like these help children get involved in cooking. Also before that, the star shows how he teaches his son to speak with a regular pencil.
Read also:
Regina Todorenko published a video of her one and a half year old son doing gymnastics
Regina Todorenko told how her one-and-a-half-year-old son reacted to his father's performance in the "Ice Age
Regina Todorenko told how she teaches her one-year-old son to talk
Article Categories:
Show Business