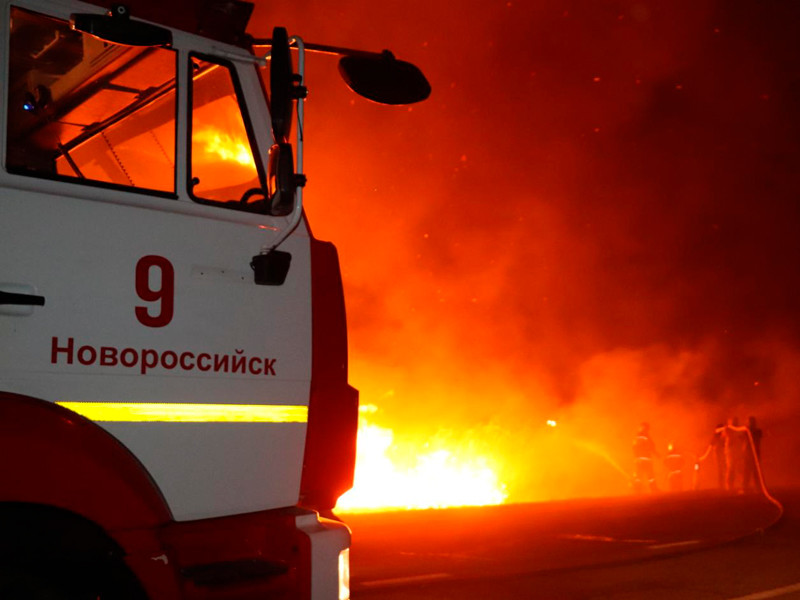 GU EMERCOM EMERCOM of Russia for Krasnodar Territory
The area of ​​the natural fire in the village of Anapskaya, which is two kilometers from Anapa, has increased to two thousand square meters, according to the Russian Ministry of Emergency Situations. There, reeds are burning in the floodplains.
"The area of ​​active combustion is 2,000 square meters. 94 people and 33 units of equipment were involved from the RSChS, 60 people and 15 units of equipment from the Russian Emergencies Ministry. There is no threat to settlements. An operational group of the Ministry of Emergency Situations in the Krasnodar Territory is working on the spot," in the message.
The situation is under special control. A high-traffic technique was used to organize extinguishing in hard-to-reach places.
Extinguishing is complicated by hard-to-reach terrain and strong winds with gusts up to 16 m / s, Kubanskie Novosti clarifies.
Local residents note that the fire of reeds in large areas occurs in the Kuban almost every year.
The Anapa floodplains occupy an area of ​​more than 1200 hectares and have been a state ornithological reserve since 1962. They burned repeatedly.
In April 2020, the area of ​​the fire in the Anapa floodplains reached 2,000 sq. m. Then it took 12 hours to extinguish.
Near Anapa on an area of ​​2000 sq. m is burning reeds. The site employs 94 people and 33 pieces of equipment. There are no threats to settlements, the Emergencies Ministry said. pic.twitter.com/3IO2TiKQTh

– TV channel 360 ° (@ 360tv) January 25, 2021
In the Kuban, every year the same thing, reeds are burning under Anapa! pic.twitter.com/Z5zkdwvZQg

– Victor in KRASNODAR ™ ???????? (@KrasnodarIn) January 25, 2021
In Anapa, reeds are burning, most likely set on fire.

Video: @ kuban24 pic.twitter.com/QTlcOg6Fb5

– Favorite Sochi (@sochi_love) January 25, 2021
Article Categories:
Politics