12:29, 30.12.
As a result, the actress managed to change her role.
Marina Aleksandrova has been shining in theater and cinema for twenty years. The 38-year-old actress fell in love with the audience for her roles in the TV series "Poor Nastya" and "Ekaterina". According to the audience, the artist harmoniously fits into the historical images. Marina was afraid that at one moment such a role could firmly gain a foothold in her. In the end, it happened.
"The same scripts with the same characters started coming in. I understood that I didn't want to work like that, "said the actress. Her husband, director Andrei Boltenko, reacted to this by saying that his wife lacks a youth audience. He recommended Marina to change her role. After that, Alexandrova put her career on pause.
Marina Aleksandrova in the TV series "Ekaterina"
Alexandrova did not act for nine months and waited until she was offered a worthy role of a different plan. "I was terribly tormented about this. There were many, enough suggestions. But they were all such that I understood that I would repeat myself, "said Marina. According to the star, at that moment she was scared. Alexandrova compared her work to addiction. If a person loses it, certain processes take place in his body, which have resulted in health problems. During this time, the actress had been ill with atypical pneumonia, she developed sinusitis. Marina spent two months at home.
Alexandrova's expectations were crowned with success. Ultimately, director Pyotr Buslov and screenwriter Semyon Slepakov invited her to the comedy series House Arrest. "It was such a thrill to work there. This is an absolutely creative team, it was in a state of creative flight. It was such a formulated dream of mine. I wanted to show very much that I can be a characteristic artist. I really want to surprise myself, "Marina admitted.
Marina Aleksandrova in the series "House Arrest"
Aleksandrova stated that after she married Andrei Boltenko, her career began to build. "But not only because everyone thinks that he began to help me in this, to promote me somewhere. But because he began to formulate me, give hints, "- said the actress during a conversation with director Fyodor Bondarchuk as part of the program" Cinema in detail. "
Recall that Marina and Andrei got married eight years ago, and they began a romantic relationship in 2011. The couple are raising two children: Andrey, born in the summer of 2012, and Ekaterina, who appeared in September 2015. The actress rarely publishes pictures of her son and daughter on social networks.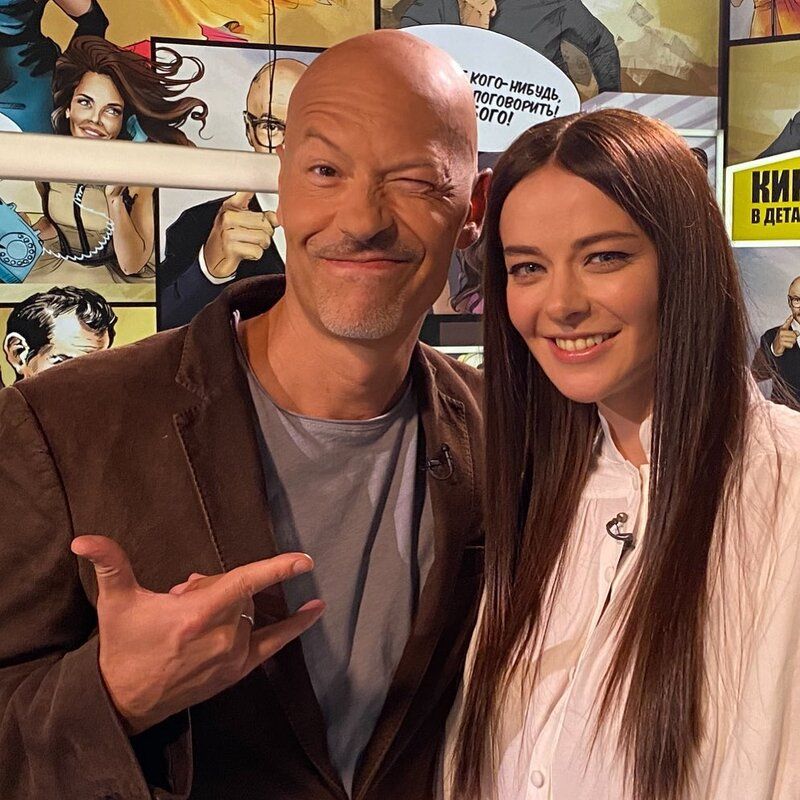 Fedor Bondarchuk and Marina Alexandrova
Previously, Marina Alexandrova was in a relationship with actor Alexander Domogarov for two years, with whom she parted in 2007. And a year later she married actor Ivan Stebunov. The celebrity couple broke up because of Ivan's betrayal, which he told about only eight years after the divorce. The actor, in a conversation with Boris Korchevnikov, admitted that he did not want to tell his wife about this, but she, like any woman, felt that something was wrong. After the incident, Stebunov and Alexandrova tried for a year to glue the relationship and forget what happened, but in the end nothing came of it.
Marina Alexandrova and Andrey Boltenko with children
Read also:
Marina Aleksandrova showed a rare photo of her children
Marina Aleksandrova boasted that her husband gave her a moped for her birthday
37-year-old Marina Aleksandrova told why she refused social networks

Article Categories:
Show Business