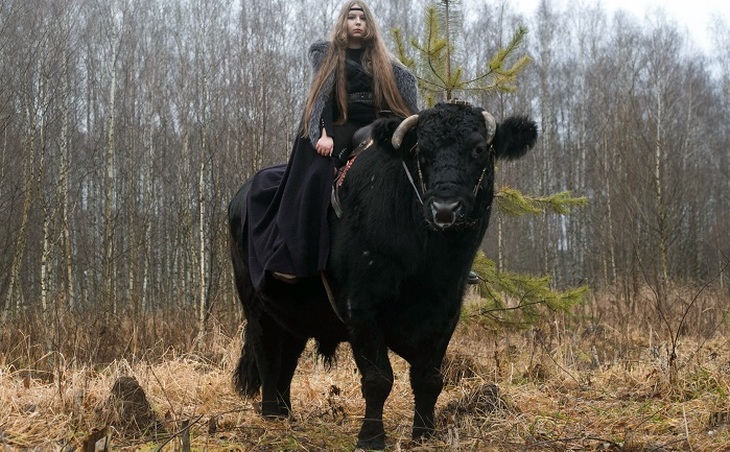 Only a few days are left before the New Year – according to the eastern horoscope, the year of the Bull awaits us. Information portal "World of News" decided to get to know this animal better.
A NATURAL ACTOR
Finding a real live bull these days is not so easy, but in urban conditions it is completely impossible. But we found it! The Kovcheg cinema studio not far from the city of Kashira is home to 100 animal actors on just 12 hectares. These are deer, raccoons, goats, horses, dogs, foxes, wolves and even Carlos the talking raven.
But the real star of the screen is Rambo the bull. He starred in an advertisement for a well-known company as a cashbook, and in the Moscow-24 screensaver, and even in the Battle of Psychics. He is 9 years old, he weighs almost one and a half tons, Rambo's height is 165 cm, but with such seemingly power, Rambo is completely non-aggressive, benevolent and peaceful.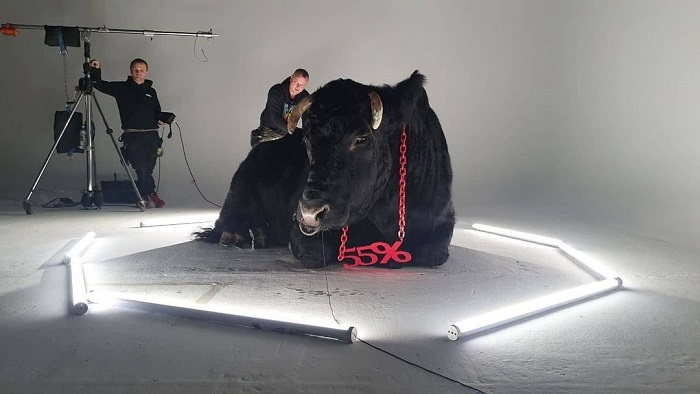 – Let's hope, – says the owner of the film studio Anna Ponomareva, – that the coming year of the Bull will be as peaceful and kind as Rambo. This is not to say that he is affectionate like a kitten: if he licks you with his rough tongue or steps on your foot, it will not seem a little. Like all large animals, he is awkward and awkward, but still a very good boy.
When Anna comes with Rambo to the shooting, the crowd scatters in fear, the actors try to hide away, and the bull rests and does not want to act. But as soon as the spotlights are lit, the animal transforms – a proud posture appears, it poses, obediently fulfills commands and is ready to perform any tricks for a carrot.
RESIDENTS OF THE ARK
Anna and I go to the so-called photo zone. We pass by the talking raven Carlosi. This bird is also the star of the "Battle of Psychics".
– Anya, Anya, – says Carlos. – Hi! And then it appears: "Good Carlos!"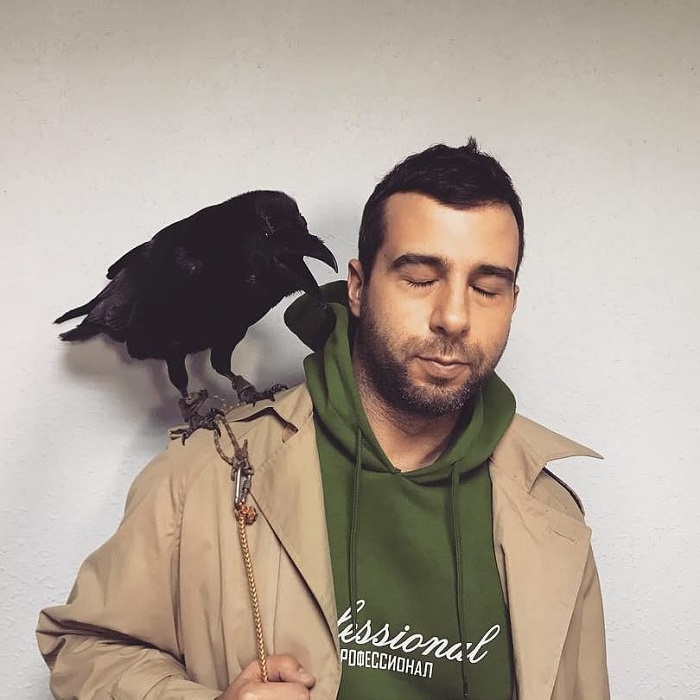 What did Carlosha whisper in Ivan Urgant's ear?
The spotted deer Mia appears next to us. This is the same actress – she recently starred in the TV series for Channel One and in the movie "Fitness". Miu was raised by her adoptive mother, the goat Katya, who nursed her when a wild fawn was taken to a zoo when a very young child. Now they are inseparable.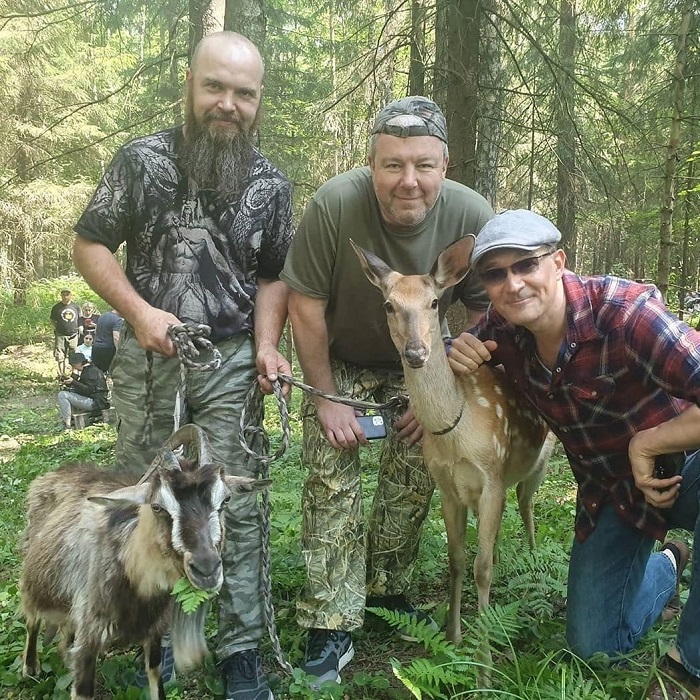 Recently, the deer Mia starred in the series "War of Families" on TNT
Several goats, including Katya, recently starred in an action movie: in front of them a car was falling into the river at high speed. But mostly they are the actors of the episode.
– Of course, we would not have survived only by filming, – says Anna. – Today they are, tomorrow they are not, so we organize photo sessions, arrange festive performances with our wards.
Wolves are filmed more often than other animals, but also mainly in episodes, so Anna does not even remember the names of the films in which they are involved. Most often these are scenes when a man walks through the forest, and suddenly a wolf suddenly appears from behind a tree. True, the older wolf even has the experience of walking the red carpet. She walked through it with the singer Katya Nova when she starred in her video "Lone Wolf".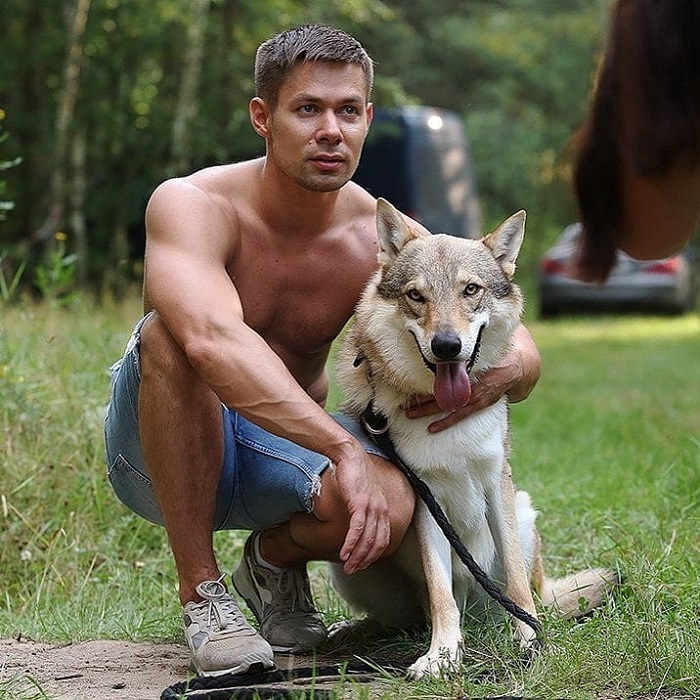 Stas Piekha quickly found a common language with local wolves
Hostess
Most of the inhabitants of the "Ark" are tame animals, they all have a portfolio: some have acted in films, some in programs, some in videos, and some simply take part in photo shoots. And everyone needs their own approach: you need to know the psychology of animals, understand them and, of course, love.
– It's easier to work with dogs, – continues Anna, – they have lived next to a person for centuries. They are accustomed to consider him the master and obey, but with wild animals it is a completely different matter, because they do not depend on man. They cannot be forced to do something. You can only negotiate with them. Someone will do everything, because he is interested, and someone for a treat – and it will not work in another way.
Anna has been working with animals for 25 years. It all started with horses, as a child she went in for equestrian sports. And one day I came home all in tears. "Dad," the girl choked. "They give Falad for meat! .." And dad had to buy out Falad, and then Nochka, so they got their own stable.
We approach the photo zone with the hostess. It is noisy, fun, children's laughter is heard – children are photographed with raccoons Krosh and Senya. The fuzzies are very cute, they are irreplaceable in photo shoots, besides, Krosh and Senya have already gained popularity – they starred with the Comedy Club star Garik Kharlamov.
In the "Ark", in addition to the representative Rambo, there are a few more bulls, which Anna is going to adapt for sledding. And for future filming in the cinema it can be useful, and little visitors can be pleased. Earlier, Rambo also allowed himself to ride on horseback, but now the famous star is somehow undignified to do this.
Let's hope that the upcoming year of the Ox will be as peaceful, kind and even a little slow and clumsy as its Rambo symbol, because we are all tired of the frenzied race.
Natalia Zhuravleva.
Photo: A. Ponamareva,
INSTAGRAM.
Article Categories:
Interesting